View More:
---
Title
Studies for 'Whispers' and 'Wedded'
---
Artist
Lord Frederic Leighton
England
03 Dec 1830 - 25 Jan 1896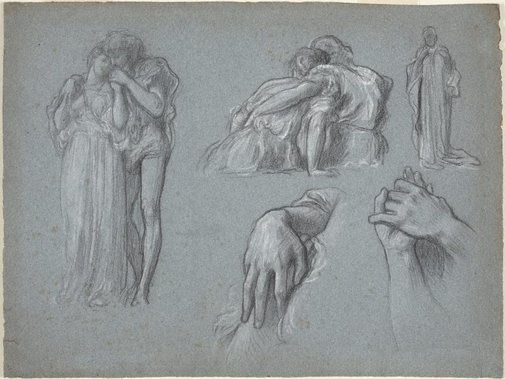 ---
About
This graceful drawing comprises figure and detail studies for two paintings by Leighton: Whispers c1881 (whereabouts unknown) and Wedded 1882. The latter was purchased by the Art Gallery of New South Wales from the Royal Academy exhibition in London in 1882 (opposite, below right). It depicts two chastely embracing lovers standing beneath an archway of the ruined Greek theatre at Taormina in Sicily.
In the drawing the lovers are clearly recognisable on the left side of the sheet, although their garments are different to those seen in the finished work. By comparison with the study, the female figure is shown with her head and torso tilted further back in an attitude more powerfully expressive of her yearning. Her male companion is also rather more idealised, and assumes a more graceful contrapposto stance. The separate studies of hands in the lower half of the sheet were more or less incorporated into the painting, apart from minor adjustments to the placement of the fingers.
Leighton routinely produced quantities of preparatory figure studies – most of them in black and white chalk on blue- or brown-tinted papers – directly from the model, a practice that distinguished him from the majority of British artists active in the second half of the 19th century. His outstanding talent as a figure painter can largely be ascribed to his Continental education, founded on the academic tradition of life drawing. It was through drawing that Leighton was able to understand human anatomy and to perfect the classically restrained gestures and poses of his figures, which he habitually sketched as nudes before covering them with drapery (see 41.1975).
Leighton was the most renowned exponent of Victorian classicism, an artistic tendency in many ways antithetical to the Pre-Raphaelite movement (which it immediately followed on from) and its espousal of truth to nature. While classical in inspiration, Leighton's art nonetheless made an important contribution to the Aesthetic movement, with its pursuit of ideal beauty unrestrained by meaning or moral. Leighton sought such beauty in an imaginary antique world of eternal summertime.
Leighton benefitted from a cultivated and cosmopolitan upbringing, spending much of his childhood and adolescence in Europe with his family. By the age of 11 he was already enrolled in drawing classes in Florence. He continued his art studies in Frankfurt, Brussels and Paris. From 1852 he based himself in Rome before settling permanently in London in 1859.
He was elected an associate of the Royal Academy in 1864, a full member in 1868, and a decade later became its president. His reputation as a pillar of the Victorian art establishment was indisputable. His extraordinary studio- house in Kensington, featuring the opulent Arab Hall as its centrepiece, was built from 1864 and extended over the next 30 years into a private palace of art. Here Leighton entertained the great and good of London society.
A fastidious, patrician figure, Leighton never married. In 1896 he became the first artist to be raised to the peerage, and died Baron Leighton of Stretton.
Peter Raissis, Prints & drawings Europe 1500–1900, 2014
---
Details
---
Media category
---
Materials used
black and white chalk on blue paper
---
Dimensions
23.5 x 31.2 cm sheet (irreg.)
---
Signature & date
Not signed. Not dated.
---
Shown in 5 exhibitions
Exhibition history
---

Victorian Olympians:

Dreams and realities: Victorian works on paper, Art Gallery of New South Wales, Sydney, 07 Aug 1993–24 Oct 1993

Sketches and studies 19th century English drawings from the collection, Art Gallery of New South Wales, Sydney, 14 Nov 1997–02 Mar 1998

Michelangelo to Matisse: Drawing the figure, Art Gallery of New South Wales, Sydney, 20 Nov 1999–27 Feb 2000

European prints and drawings 1500-1900, Art Gallery of New South Wales, Sydney, 30 Aug 2014–02 Nov 2014
---
Referenced in 5 publications
Bibliography
---
Renée Free and Rose Peel, Dreams and realities: Victorian works on paper, Sydney, 1993, p 9.
Renée Free and Peter Laverty, Victorian Olympians, Sydney, 1975, p 34, illus p 69. cat no D6
Terence Maloon and Peter Raissis (Editors), Michelangelo to Matisse: drawing the figure, Sydney, 1999. cat no 186
Peter Raissis, Prints & drawings Europe 1500-1900, Sydney, 2014, p 164, col illus p 165.
Leighton Drawings Project. rbkc.gov.uk/lordleightondrawings