Aboriginal and Torres Strait Islander art
View More: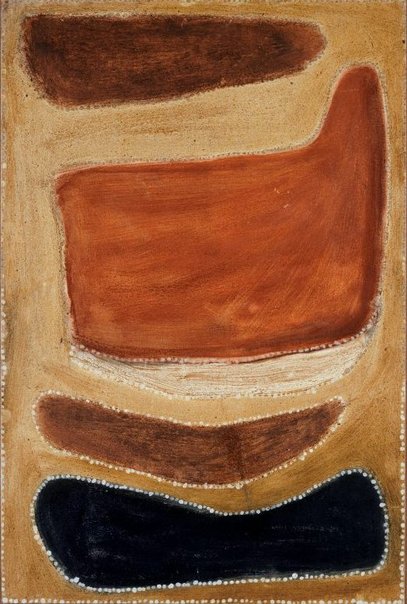 ---
About
In late 1974, an elderly woman died on her way to hospital, following a car accident on the flooded road to Warmun (Turkey Creek), an Aboriginal community in the East Kimberley. After her death, the old woman travelled eastwards from the west coast of northern Australia. During her journey home, she met other spirit beings. She also witnessed the destruction of Darwin by Cyclone Tracey, understood to be the retributive act of the Rainbow Serpent, warning against the decline of Indigenous cultural practices. In a sequence of dream visitations, the old woman revealed her story to Thomas (who was her son, according to the regional Aboriginal kin system).
Thomas's revelation was the catalyst for the Gurrir Gurrir, a ceremony that recounted historic and contemporary events and associated sites throughout the East Kimberley. During public performances, dancers carried painted boards on their shoulders to illustrate the narrative. Today, the artists of Warmun still refer to their paintings on canvas as boards. Like Thomas and his pioneering fellow artists, the late Paddy Jaminji, George Mung Mung and Queenie McKenzie, contemporary Gija painters use locally mined ochres.
The afterlife journey of the old woman and its subsequent cultural interpretation may be understood as a metaphor for the conceptual logic that underpins much Aboriginal art. Nowhere has the merging of past and present, the spiritual and the physical, been more clearly realised than in Thomas's visionary paintings. His landscapes are corporeal, vacillating between figuration and abstraction to suggest the topography of the East Kimberley and the presence of unseen forces within it. In 'ndubhill', 1991, the route of the Great Northern highway passes by a Ngarrankarni shade tree. In Thomas's tour de force painting, 'Two men dreaming', c.1985, the form of an old ancestral man, turned to stone, is accentuated by the gleam of the rising moon. In 1994, the National Gallery of Australia, Canberra, staged a solo exhibition of Rover Thomas's work.
Although his paintings are now considered synonymous with East Kimberley art, his origins lie further to the south in the Great Sandy Desert, from where he travelled working as a stockman. His paintings have demonstrated the ability of art to not only transcend indigenous cultural borders, but to also become a source of revelation for an international audience. This significance was not lost on Thomas, whose sighting of a Mark Rothko painting caused him to famously remark, 'That bugger paints like me!'
Hetti Perkins in 'Tradition today: Indigenous art in Australia', Art Gallery of New South Wales, Sydney, 2004
© Art Gallery of New South Wales
---
Details
---
Media category
---
Materials used
natural pigments on canvas board
---
Dimensions
91.0 x 61.0 cm sight; 106.8 x 76.5 x 3.5 cm frame
---
Signature & date
Not signed. Not dated.
---
Place
Where the work was made
Warmun (Turkey Creek)
---
Shown in 4 exhibitions
Exhibition history
---

Rover Thomas: I want to paint:

One sun, one moon, Art Gallery of New South Wales, Sydney, 03 Jul 2007–02 Dec 2007

Country Culture Community (2008-09), Art Gallery of New South Wales, Sydney, 12 Nov 2008–19 Apr 2009

Sentient lands, Art Gallery of New South Wales, Sydney, 04 Jun 2016–08 Oct 2017
---
Referenced in 7 publications
Bibliography
---
Art Gallery of New South Wales, Art Gallery of New South Wales Annual Report 2000, 'Year in review', pg. 8-20, Sydney, 2000, 10 (colour illus.).
Belinda Carrigan (Editor), Rover Thomas: I want to paint, East Perth, 2003, 10, 11 (colour illus.), 68 (illus.). cat.no. 5
Hetti Perkins, Tradition today: Indigenous art in Australia, 'Rover Thomas', pg. 136, Sydney, 2004, 136, 137 (colour illus.).
Hetti Perkins, Art + soul: a journey into the world of Aboriginal art, 'Dreams + nightmares', pg. 88-153, Carlton, 2010, 102, 103 (colour illus.), 280.
John E. Stanton, One sun one moon: Aboriginal art in Australia, 'Contemporary art of the East Kimberley', pg. 239-247, Sydney, 2007, 238 (colour illus.).
Jill Sykes (Editor), Look, 'An artist who loved to paint', pg. 31, Sydney, Feb 2004, 31 (colour illus.).
Judith White, Look, 'The old man who became a rock', pg. 20, Melbourne, Aug 2000, 20, 21 (colour illus.). titled 'Untitled' [before change from Ken Watson]