Aboriginal and Torres Strait Islander art
View More:
---
Title
Ngajuu Ngaay Nginduugirr (I see you)
---
Artist
Brook Andrew
Australia
1970 -
Language group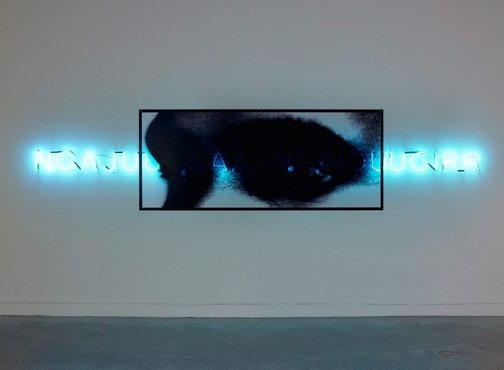 ---
About
Brook Andrew has created a visually strong and conceptually incisive body of work that reflects on indigenous and Australian identity, history, media culture and art practice. In 'Ngajuu Ngaay Nginduugirr (I see you)', a large photographic image cropped to focus on a man's eyes is suspended in front of neon text in Wiradjuri, the language of Andrew's ancestors.
The image is taken from a late 19th or early 20th century photograph from the archive of the Australian Institute of Aboriginal and Torres Strait Islander Studies. Andrew has used the full photograph in another work, 'Sexy and dangerous II', 1996, where the face and bared torso of the handsome young man are overlaid with apparently Chinese calligraphy, suggesting a more complex interplay of cultural exchange that lies within usual Australian histories. In 'Ngajuu Ngaay Nginduugirr', the original photograph has again been enlarged, but this time cropped to focus on the eyes - the gaze of the man who looks back to us as we pass in front of the image.
The text translates as "I see you", suggesting an interchange of gazes within the gallery. Passing in front of this work, the viewer is as much the subject of being looked at as they are of looking. "I see you" also suggests histories of visibility and invisibility, of being present and the disappearing of presence that marks indigenous and non-indigenous Australian relations. In recent years much work has been done to identify the subject of historic photographs and the circumstances in which images were recorded, but many images remain anonymous, mute evidence of the power imbalances that may be inscribed within the photographs existence.
The idea of history looking back at us however, and particularly a history brought into the present which continues to shape our future is an important idea. Within Andrew's work some of the complexities of contemporary Australian identity begin to unfold.
---
Details
---
Media category
---
Materials used
diptych: neon and transparency face mounted on acrylic
---
Dimensions
a - neon, 50 x 350 cm
b - transparency mounted on acrylic, 56 x 200 cm, image
---
Credit
Contemporary Collection Benefactors 2007 with the assistance of Anonymous, Mark Baxter, Luca & Anita Belgiorno-Nettis, Peter Braithwaite, Kemsley Brennan & Stephen Buzacott, Andrew Cameron, Trevor & Carole Chappell, Jen Dowling & James Hill, Rob Gould, Stephen Grant & Bridget Pirrie, Ginny Green, David Kent, Robyn Norton & Stephen MacMahon, Nicola Pain & Michael Harris, Lisa Paulsen, Sue Salmon, Penelope Seidler, Bernard Shafer, John Sharpe, Vivienne Sharpe, Stephen Solomons, Miriam & Les Stein, Rachel Verghis, Michael Whitworth & Candice Bruce, Corinne & John Young
---
Location
---
Shown in 4 exhibitions
Exhibition history
---
Referenced in 3 publications
Bibliography
---