Aboriginal and Torres Strait Islander art
View More:
---
Artist
Tracey Moffatt
Australia, United States of America
12 Nov 1960 -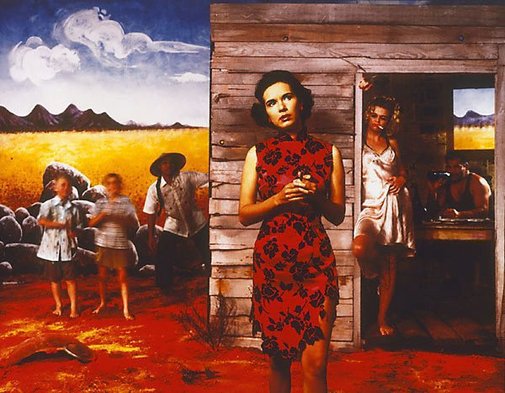 ---
About
Tracey Moffatt is probably Australia's most successful artist, both nationally and internationally. She is certainly one of the few Australian artists to have established a global market for her work. A filmmaker as well as photographer, Moffatt has held around 100 solo exhibitions of her work in Europe, the United States and Australia. Her films, including 'Nightcries – A rural tragedy', 1990, and 'Bedevil', 1993, have been screened at the Cannes Film Festival, the Dia Centre for the Arts in New York, Centre for Photography in Paris and the Museum of Modern Art, New York.
Over the last 25 years Moffatt has produced a cohesive body of work, from her celebrated 1989 series 'Something more' to 'Fourth', 2001 to Picturesque Cherbourg 2013 . Each series devolves upon an unwritten narrative – a story is implied, but never stated. Part of the artist's project is to dismantle the conventions of storytelling, paradoxically by using artifice alone to tell her tales. At the same time, the power of her work derives from the persuasions of myth. Moffatt's subjects touch on deep-seated, implacable issues, on the wounds that never heal – hence the title of her tragicomic series, 'Scarred for life', 1994. Based on true stories told to the artist, this series captures both the pain and the restless energy at the heart of suburban life, its potency is due to the fact that, as the artist has explained, everyone has a tragic tale to tell'.
Like the work of Destiny Deacon, Moffatt's art is sharpened with pain and humour. In works such as 'Something more' and, most explicitly, 'Laudanum', 1999, she engages the rhetorical confusions of racism through the sadomasochistic dynamic of the colonised subject. Indeed, her avowed ambivalence about being categorised as an indigenous artist is at odds with her commitment to the fostering of Aboriginal culture, and to the central place of Indigeneity in her work. This seeming contradiction – an apparent moral inconsistency – is resolved in her dedication to the accoutrements of success: as much as Moffatt's work is about pain, it is also about glamour.
Moffatt's vision is essentially theatrical, and one might argue that being an artstar - with all its attendant posturing is as much a part of her practice as the art itself.
adapted from Hannah Fink in 'Tradition today: Indigenous art in Australia', Art Gallery of New South Wales, Sydney, 2004
© Art Gallery of New South Wales
---
From the Gallery Shop
---
Details
---
Other Title
Untitled (woman in shed)
---
Media category
---
Materials used
Cibachrome photograph
---
Dimensions
102.6 x 131.7 sight; 109.4 x 138.5 x 4.0 frame
---
Signature & date
Not signed. Not dated.
---
Credit
Hallmark Cards Australian Photography Collection Fund 1989. Commissioned by the Albury Regional Arts Centre with assistance from the Visual/Craft Board of the Australia Council, the NSW Ministry for the Arts, and the Regional Galleries Association of NSW Exhibitions Development Fund.
---
Shown in 3 exhibitions
Exhibition history
---
Referenced in 14 publications
Bibliography
---
Art Gallery of New South Wales, Great gifts, great patrons: an exhibition celebrating private patronage of the Gallery, Sydney, 1994. no catalogue numbers
Anthony Bond and Victoria Lynn, AGNSW Collections, 'Contemporary Practice - Here, There, Everywhere ...', pg. 229-285, Sydney, 1994, 270, 271 (colour illus.).
Sandra Byron and Isobel Crombie, Twenty contemporary Australian photographers - from the Hallmark Cards Australian Photographic Collection, Melbourne, 1990, 36 (colour illus.), 44.
Centre national de la photographie and Centre Cultural de la Fundació "la Caixa", Tracey Moffatt, Paris, 1999, 31 (colour illus.), 32 (colour illus.).
Deborah Edwards, Daphne Wallace, Margo Neale, Victoria Lynn and Sandra Byron, Review: works by women from the permanent collection of the Art Gallery of New South Wales, "Women Artists in the Contemporary Collection", Victoria Lynn, p13-15, Sydney, 1995, 14 (illus.), 15, 23. no catalogue numbers
Helen Ennis, Photography and Australia, 'Black to Blak', pg.31-50, London, 2007, 46-48.
Hannah Fink, Tradition today: Indigenous art in Australia, 'Tracey Moffatt', pg. 90, Sydney, 2004, 90, 91 (colour illus.).
Bruce James, Art Gallery of New South Wales handbook, 'Australian Collection: Australian Photography', pg. 198-207, Sydney, 1999, 207 (colour illus.).
Ewen McDonald (Editor), Biennale of Sydney 2000, Sydney, 2000, 9 (colour illus.), 84. titled 'Something More No.1'. AGNSW edition not used in this exhibition.
Robert McFarlane, Critic's Choice, Sydney, 1994, 3 (illus.), 10.
Gael Newton and Tracey Moffatt, Tracey Moffatt Fever Pitch, Sydney, 1995, 17, 39, 57 (colour illus.).
Laura Pia, Look, 'Tracey Moffatt: On the subject of Alfred Stieglitz and Prince...", pg. 25-27, Sydney, Aug 2010, 26 (colour illus.).
Dr Miranda Wallace, Brought to light II: Australian art 1966-2006, 'Tracey Moffatt's visual pleasures', pg. 308-315, South Brisbane, 2007, 312 (colour illus.). NOTE: this is not the AGNSW print
Judith White, Look, 'Vital signs', pg.38-39, Melbourne, Apr 2000, 39 (colour illus.).