View More:
---
Title
Do you have a rooster, Pedro? ( Adda manok mo, Pedro?)
---
Artist
Rodel Tapaya
Philippines
1980 -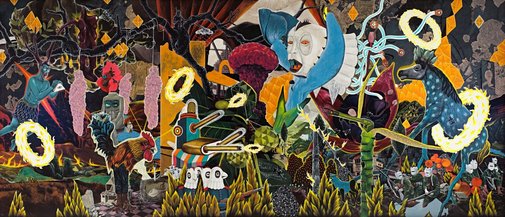 ---
About
In his accelerated rise to international acclaim Tapaya has developed a highly sophisticated visual vocabulary and multi-layered oeuvre of narrative painting that employs symbolism drawn from pre-colonial mythologies, traditional folklore and Catholicism to discuss contemporary social realities.
In this painting, by way of the question, Adda Manok Mo, Pedro? (Do You have a Rooster, Pedro?) Tapaya interrogates the relationship between a child's game, political manoeuvring, battle strategies and ultimately the violence of war.
In a dense jungle inhabited by demons, soldiers, mythological creatures a battle takes place where modern warfare intersects with traditional belief systems. A blackened tree stretches its deformed and naked limbs outward. Perched at its centre high above is Kan-Laon, a reccurring figure in Tapaya's painting, he is the Creator and King of Time who presides over the world. Further down the branch, three pink mummified bodies hang from a rope that looks more like spider web waiting to be devoured by the spider like- black figure of Kan-Laon. This is not the tree of life, a motif well established in the art of Southeast Asia but rather a gallows' tree. The kind of site infamous for savage, impromptu hangings without call to law or justice. Below the hanging bodies stands the rooster in question.
Amidst the ruins of a concrete villa that alludes to the many abandoned and decaying Marcos family mansions that litter the Philippines countryside, the rooster pecks at the head of decapitated statue. His own head, removed and placed on the shoulders of a nearby troop of national guards provides a metaphor for the circulatory nature of dictatorships in the Philippines and their links to the military.
The rooster is a complex symbol that holds multiple meanings for Tapaya. He features prominently in a children's game played in Ilocano, in the north of the Philippines in which the participants struggle for influence and control. In myths of creation, local to Tapaya, the rooster was deemed violent and unruly and so as a form of punishment, the god Bathala (seen here as the blue figure holding a triangular all-seeing eye) made him into a flightless bird. Furthermore Tapaya relates the image of the rooster to the story of Saint Peter's (San Pedro's) betrayal of Jesus at which the rooster crowed three times. These images of the rooster as a symbol of control, violence and betrayal are employed by Tapaya to bring to the fore the events of 25 January 2015 in which a fatal clash between elite police officers and liberation fighters from the Muslim Mindanao region of southern Philippines once again disrupted negotiations for the establishment of an autonomous region. Tapaya says; "In the end, war, like games and battles is a harsh reality where no one ends up to be the winner".
---
Details
---
Media category
---
Materials used
acrylic on canvas
---
Dimensions
300.0 x 700.0 x 5.0 cm
---
Credit
Gift of Geoff Ainsworth AM & Johanna Featherstone 2016
---
Shown in 1 exhibition
Exhibition history