View More:
---
Artist
David Stephenson
United States of America, Australia
1955 -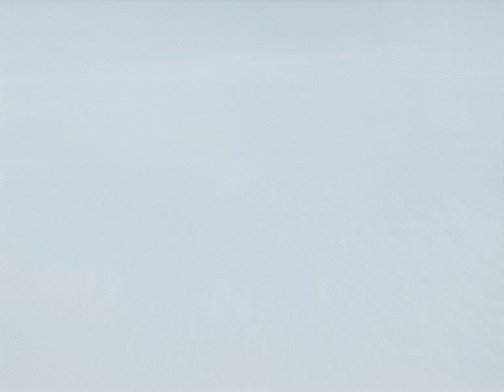 ---
About
Throughout his career, photographer David Stephenson has been drawn to sacred spaces, whether they are sites of religious worship or landscapes that cultivate a sense of the sublime. Stephenson's affinity with the American New Topographic movement in the 1970s precipitated his fascination with the tradition of landscape photography. Pursuing new ways to represent the land outside the aesthetic strictures of the documentary approach, Stephenson's work is, according to Australian writer Daniel Palmer, 'imbued with romantic sensibility' 1 and confronts philosophical concepts such as the infinite and the unknown with a minimalist sensibility and poetic acuity. Discussing his landscape photographs, Stephenson alludes to the way they 'refer to the history of landscape imagery, because to recall this history is to recall the history of human landscape consciousness.' 2
His 1991/1992 series 'The ice' depicts a landscape that exists at the edge of the known world and at the frontier of human comprehension. Shot in Antarctica, these stark photographs contain no figurative reference points. They are images of uninhabited landscapes on the point of erasure, their geographic features barely perceptible. It is difficult to orient oneself in these spaces because scale is indeterminate. There is nothing that identifies the images as either cropped close ups or vast panoramas of a desolate plane. The differentiation between land, air and sea is also ambiguous. These are insinuated or suggested landscapes evoked purely by slight changes in tone.
While subtle colour variation is the only thing that distinguishes one scene from another, the ice-blue tone that permeates each photograph is fabricated. To produce these images, Stephenson printed black and white photographs on colour paper and played with colour filters to achieve the desired hue. As nebulous abstractions, Stephenson's ice photographs are poignant reminders of the immensity and impenetrability of the land and its capacity to evade and supersede human perception. Of his time in Antarctica, Stephenson has remarked: 'nature does not appear to be benevolent or even awesomely hostile to humankind, as in the old sublime aesthetic of the eighteenth and nineteenth centuries. Nature is simply indifferent.'3
1. Palmer, D. 'David Stephenson'. In 'Twelve Australian Photo Artists' (ed. B French & D Palmer) 168-183. Sydney: Piper Press. 2009 p169
2. Quoted in: van Wyk, S. 'Sublime Space: Photographs by David Stephenson 1989-1998'. Melbourne: National Gallery of Victoria. 1998 p 2
3. Quoted in: Ibid p 4
---
Details
---
Dates
1991-1992
printed 2003
---
Media category
---
Materials used
type C photograph
---
Dimensions
54.5 x 70.3 cm image; 82.9 x 97.4 x 4 cm frame
---
Signature & date
Signed label c. verso frame, black ink "David Stephenson". Not dated.
---
Credit
Donated through the Australian Government's Cultural Gifts Program 2013
---
Shown in 3 exhibitions
Exhibition history
---

Breaking ice: re-visioning Antarctica, Adam Art Gallery Te Pataka Toi, Wellington, 29 Jul 2005–02 Oct 2005

Looking South, Plimsoll Gallery, University of Tasmania, Hobart, 2005–2005

David Stephenson: human landscapes, Art Gallery of New South Wales, Sydney, 15 Apr 2017–23 Jul 2017
---
Referenced in 6 publications
Bibliography
---
Art Gallery of New South Wales, Photography and Place: Australian landscape photography, 1970s until now, Sydney, 2011.
Art Gallery of New South Wales, The ice, Sydney, 1993.
Centre Culturel Calouste Gulbenkian, Paris, Symmetries sublimes, photographies de David Stephenson, Paris, 2006.
Frances Lindsay, Fieldwork: Australian art 1968-2002, Melbourne, 2002.
National Gallery of Victoria [St Kilda Road], Sublime space: David Stephenson photographs 1989-98, Melbourne, 1998.
D Palmer, Twelve Australian Photo-Artists, 'David Stephenson', Sydney, 2009.