Title
Head of a woman in profile, with beret
1938
Artist
Spain, France
25 Oct 1881 - 08 Apr 1973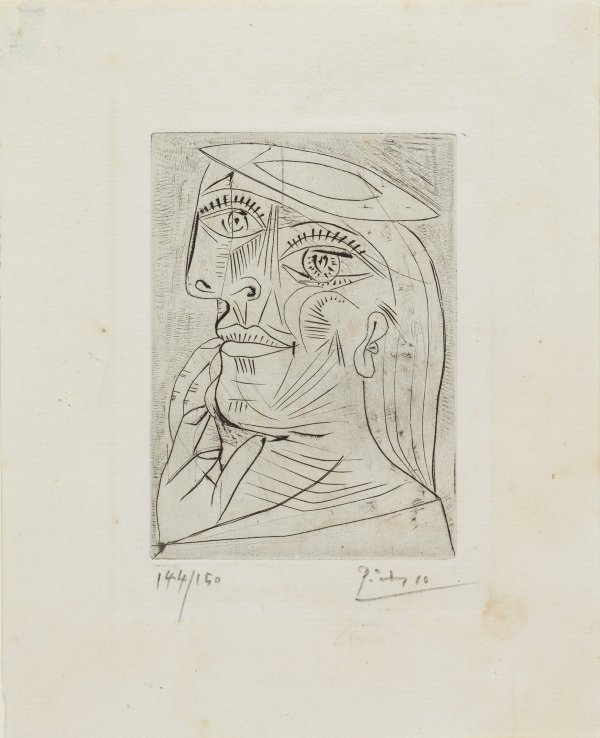 Details

Alternative title

Tête de femme au béret, de profil

Date

1938

Media category

Materials used

etching

Edition

144/150

Dimensions

10.4 x 7.4 cm platemark; 18.0 x 14.1 cm sheet

Signature & date

Signed l.r, pencil "Picasso". Not dated.

Credit

Gift of Jocelyn Plate in honour of Carl Plate 2018. Donated through the Australian Government's Cultural Gifts Program

Location

Not on display

Accession number

295.2018

Copyright

© Pablo Picasso/Succession Pablo Picasso. Licensed by Copyright Agency

Artist information

Pablo Picasso

Works in the collection

Share

About

'Head of a woman in profile, with beret' is from the portfolio 'Solidarité', which comprises of a poem by Paul Éluard 'November 1936' and seven prints by various artists, printed by Atelier 17 in Paris, and published by Guy Lévis Manon, 15 April 1938, edition 144/150 (165 impressions were printed and numbered 1/150 to 150/150 and H.C.I/XV to H.C. XV/XV).
Paul Éluard's poem was first published in French Communist Party newspaper L'Humanité on 17 December 1936. A denunciation of the Spanish Civil War, the poem is said to have inpsired Picasso's set of prints Dream and lie of Franco created a few months later (acc no 339.2017.1-2). A close friend of Picasso, Éluard had introduced Dora Maar, a talented photographer associated with the Surrealists, to the Spanish painter in 1935. It is believed that the portrait in 'Head of a woman in profile, with beret' is Dora Maar, who was identifed as the source for the famous 'weeping woman' and other expressive heads in Picasso work between 1937 and 1938.
In 1937, Éluard entrusted his poem to the English printmaker Stanley William Hayter, who had established the famous print workshop Atelier 17, at 17 Rue Campagne Première in 1933. Hayter's support for creative and experimental collaboration in printmaking attracted a wide range of international artists. In the late 1930s, Atelier 17 harboured Spanish refugee artists and maintained considerable contact with the International Brigades. Vehemently anti-fascist, Hayter initiated the communal print project 'Solidarité', inviting 6 artists to contribute a print each, along with Éluard's poem. The project aims to help the Republican cause and raise support for children orphaned in the Spanish Civil War. Deeply disturbed by the rise of dictatorship in Europe and the tragedy of the situation in Spain, all six artists were supporters of the Republican cause: two English artists John Buckland-Wright and Dalla Husband, two Spaniards Pablo Picasso and Joan Miró, and two French Surrealists Yves Tanguy and André Masson – Hayter provided the seventh print. In 'Head of a woman in profile, with beret', Picasso focused on a female head but as usual in his work, the woman is the vehicle for the expression of intense emotion, but the feelings expressed are those of humanity at large.

Exhibition history

Bibliography

Referenced in 3 publications

George Bloch, Pablo Picasso. Catalogue de l'œuvre gravé et lithographié, vol 1, Bern, 1968-1979, p 97, no 317, illus p 97.

Bernhard Geiser and Brigitte Baer, Picasso peintre-graveur. Tome III. Catalogue raisonné de l'oeuvre gravé et des monotypes 1935–1945, Bern, 1986, p 141, no 635c, illus p 141.

Art without epoch: an exhibition of overseas loan works exhibited by the Contemporary Art Society of NSW, Sydney, 1950, p [2], no 58. As 'Head', lent by C.O. Plate, Esq.
Other works by Pablo Picasso