Aboriginal and Torres Strait Islander art
View More:
---
Title
Kabirriyalyolme (the discussion)
---
Artist
Wamud Namok AO
Australia
circa 1926 - 2009
Language group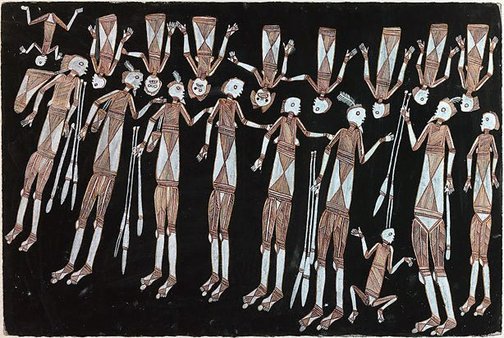 ---
About
'Kabulwarnamyo Kunred Ngarduk - My Country Kabulwarnamyo', held at Annandale Galleries in Sydney in June-July 2003 was Lofty Bardayal Nadjamerrek's first solo exhibition. This painting on paper 'Kabirriyalyolme (the discussion)' 2003, is from this exhibition. It displays the artist's distinctive use of ochre and characteristic line work.
The artist made the following statement about this painting:
"Here a group of people are standing and having a discussion, groups of men and women, groups of husbands and wives, men and women. This (small figure) is a crippled man and he is telling them to finish their talk and to make plans to leave (on a journey). 'Stop your disagreement and let's go,' (he says). As they are talking the crippled man says 'Don't take us too far away.' We two are not strong (there are two crippled figures). Their discussions continue, pairs of husbands and wives, men and women, these here in this row and down here, the women here, with breasts. That's how the old people discussed things. They have stone blade shovel nose spears, two of them here, and here another, and this one is a pronged spear, and another there. This one is a stone blade shovel nose spear."
The catalogue which accompanies the exhibition also gives the following quote by the artist:
"I was born in Yirridja country, my mother's country. When my father first took me to Ankung Kunred, our wild honey country, he said, 'This is our dreaming.' I couldn't talk then, I was just like a little baby that goes 'gurgle, gurgle'. Then I grew and got big and could talk a bit and then he said to me, 'This is our dreaming/sacred site, you look after it when I die,' he said. 'You look after the dreaming at Kururrkkurduk and at Bibidday, Djabidj Bakaluy, and look after Barmurrngkarleya and look after Karlkbo and look after Marlindji' he said, calling all the names of the places (of Kabulwarnamyo), 'You look after Kulnguki'".
Documentation relating to the creation of Lofty Bardayal Nadjamerrek's work states that: 'Bardayal's paintings stem from thoughts of country that have their epicentre at Kabulwarnamyo. He will often sing a relevant traditional song before starting to paint. Some of his most recent art has produced potent first time images, painted with a developed confidence and offering us an experience that draws our attention, as thought he paintings are enchanted. Of stark simple images that can roar with a silent depth and weightlessness. Of the human and figurative works that communicate with delightful animation. Of painting that can balance the horror and beauty with the ordinary or sublime. These paintings embody the man and his country. They extol the virtues and richness of an active life and the joys, essence and spirituality of native honey.'
Born in 1926, Lofty Bardayal Nadjamerrek passed his childhood and youth in the centre of the Arnhem Land Plateau. He continued to live in the bush, making occasional visits to centres such as Katherine and Maranboy, and did not come to Oenpelli until the 1950s when he came to seek his promised wife who was attending school there at the time.
At Oenpelli, he worked on different community projects such as sawmilling and road-making, but since about 1970 has devoted much of his time to painting. In 1972, he left Oenpelli to settle with his family and clan group on an outstation at Table Hill near the Liverpool River.
He is an important song-man and ceremonial leader and performs in many ceremonies involving members of his own clan groups of the Gunwinngu (sic). During 1977 he established his own outstation in the traditional country of his clan, south of Table Hill.
Bardayal was awarded first prize for best work on paper at the Telstra Aboriginal and Torres Strait Islander art award in 1999. He was also commissioned to do a painting which appeared on the Australian 40c stamp in 1982. His work is held in numerous public and private collections in Australia and overseas.
© Aboriginal & TSI Art Department, Art Gallery of New South Wales, 2003
---
Details
---
Place where the work was made
---
Materials used
natural pigments on paper
---
Dimensions
105.0 x 75.0 cm sheet
---
Signature & date
Not signed. Not dated.
---
Credit
Don Mitchell Bequest Fund 2003
---
Place
Where the work was made
Western Arnhem Land
---
Shown in 3 exhibitions
Exhibition history
---
Referenced in 5 publications
Bibliography
---
Annandale Galleries, Lofty Bardayal Nadjamerrek, Annandale, 2003, front cover (colour illus.).
Anne Loxley., The Sydney Morning Herald, 'Rapt in the spirit of ancient tradition', Sydney, 11 Jul 2003, (illus.).
Anthony Murphy, Bardayal 'Lofty' Nadjamerrek AO, 'Working with a giant - a personal insight into the relationship between Bardayal 'Lofty' Nadjamerrek AO and Injalak Arts', pg. 101-107, Sydney, 2010, 147 (colour illus.).
Connell Nisbet, Look, 'Tracking the spirit of inventiveness', pg. 28--33, Sydney, Sep 2004, 30 (colour illus.).
Hetti Perkins, Crossing country: the alchemy of western Arnhem Land art, Sydney, 2004, 147 (colour illus.), 227.