View More:
---
Title
Aba gwaro (armbands)
late 19th century-early 20th century
---
Artist
Langalanga people
Solomon Islands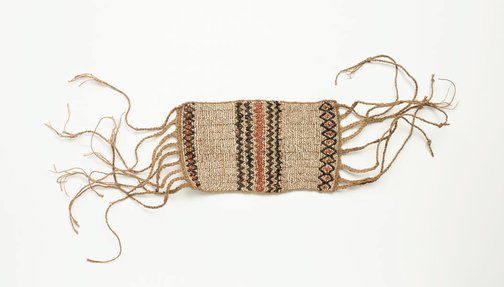 ---
About
Malaita is one of a group of islands that forms the Solomon chain, which lies southeast of the island of New Guinea. Large reefs and lagoons are found on both sides of Malaita. The Langalanga, who live mainly on artificial or semi-artificial islets in a lagoon on the west coast, produce various kinds of shell 'money', which is distributed and exchanged throughout the island.
Four species of marine shells are sourced to produce the red, white and black beads that are incorporated into shell valuables. Red is the most important and powerful colour and is associated with adulthood. Red shells are incorporated in the most valuable objects still used today as part of gift exchanges in marriage ceremonies. White is often used in children's ornaments, and the word 'kwao' means shining, or clear, and denotes innocence. Black is largely used to delineate designs or to flank red areas of shell disc work. According to researcher Kay Ross, the word for black - 'bobora' - 'has the connotation of earthly, unclear and dark' (1). Black vegetable seeds called 'fulu' from the 'sisis' tree are also used to produce black beads.
According to Charles Woodford, who published the earliest study of Malaitan shell money in 1908, women produced the small round shell discs, however, only men polished the finished beads, known as 'bata', which are strung onto lengths of bush fibre string called 'lili' (2).
Shell armbands are traditionally made of exceptionally fine red, white and black shell discs and are worn by men on special occasions such as feasts and weddings. The longitudinal pattern of each of these armbands is composed of twelve strips of white shell discs set at alternating 45° angles, with the central section comprising a zigzag pattern of red shell discs, flanked by alternating rows of white and black discs arranged in a zigzag pattern. Each end consists of a border of chevrons of red shells with a border of black shells, which are roughly symmetrical. The discs are threaded onto plant fibre string and ties are left at each end so the armbands can be adjusted to fit the wearer. Although the symbolism behind these geometric designs is not definitely known, Ross suggests that the 'W' or zigzag designs may be based on frigate birds, a favourite motif in Solomon Islands art.
Natalie Wilson
Curator Australian & Pacific Art
(1) Kay Ross, 'Shell ornaments of Malaita', Expedition, Winter 1981, pp 20-26
(2) C M Woodford, 'Notes on the manufacture of the Malaita shell bead money of the Solomon Group', Man, vol 8, 1908, pp 81-84
---
Details
---
Place where the work was made
---
Cultural origin
---
Date
late 19th century-early 20th century
---
Media categories
---
Materials used
red-lipped oyster shell (Chana pacifica), black mussel shell (Atrina vexillum), ridged white cockle shell (Anadara granosa), black 'fulu' seeds, plant fibre string
---
Dimensions
dimensions variable :
a - armband, 21.5 x 12.5 cm, beaded panel (approx.)
a - armband, 71 cm, length including tassels (approx.)
b - armband, 21 x 13 cm, beaded panel (approx.)
b - armband, 56 cm, length including tassels (approx.)
---
Credit
Purchased under the terms of the Florence Turner Blake Bequest 2015
---
Accession number
259.2015.a-b