View More:
---
Title
Vishnu reclining on the serpent Ananta (Vishnu Anantasesha)
---
Artists
Unknown Artist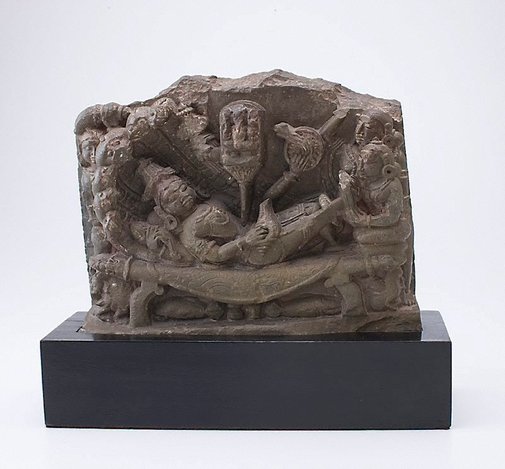 ---
About
This sculpture visualising the primordial scene of creation depicts Vishnu, the preserver of the world, reclining on the multi-headed serpent Ananta, representing endlessness or eternity. Vishnu holds his weapons, the conch and wheel (cakra) and the creator god, Brahma issues from a lotus which springs from his navel. The reclining Vishnu is attended by numerous gods including his consort Lakshmi, seated at his feet.
Asian Art Department, AGNSW, April 2002
---
Details
---
Shown in 1 exhibition
Exhibition history
---
Referenced in 3 publications
Bibliography
---
Ramesh Shankar Gupte, Iconography of the Hindus, Buddhists, and Jains, Mumbai, 1972.
K.V. Soundarajan, Artibus Asiae [vol. 29, no. 1], 'The typology of the Anantasayi icon', pp.67-84, United States of America, 1967, 67-84.
Heinrich Zimmer and Joseph Campbell, The art of Indian Asia: its mythology and transformations, New Jersey, 1960.