Title
Figure composition (Man and woman with two bulldogs)
1912-1913
Artist
England
18 Nov 1882 - 07 Mar 1957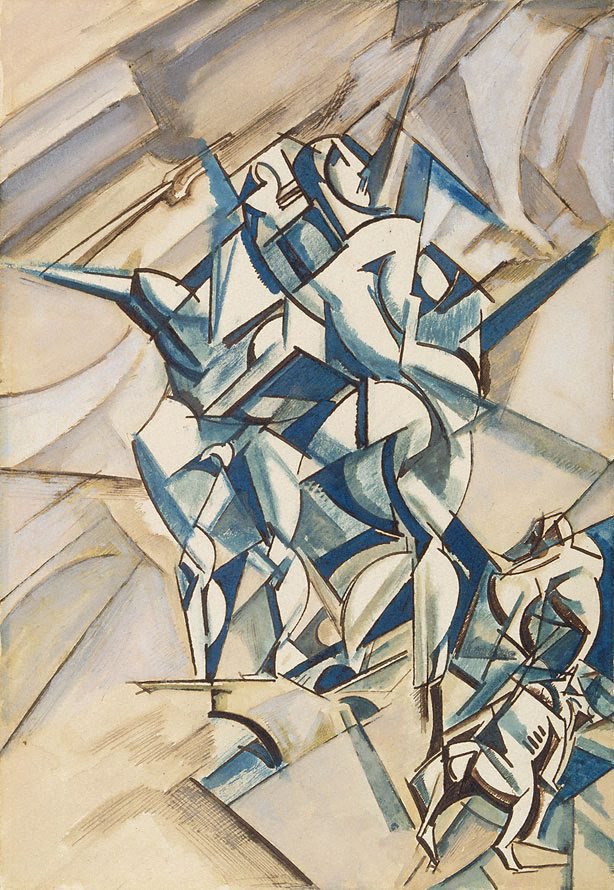 Details

Other Title

Figure composition (with bulldogs)

Date

1912-1913

Media category

Materials used

pen and ink, watercolour, gouache

Dimensions

31.3 x 21.7 cm sheet; 63.6 x 52.0 x 3.2 cm frame

Signature & date

Not signed. Not dated.

Credit

Purchased 1983

Location

Not on display

Accession number

226.1983

Copyright

© Estate of Mrs G A Wyndham Lewis

Artist information

Percy Wyndham Lewis

Works in the collection

Share

About

The eclectic sensibility of Percy Wyndham Lewis equipped him perfectly for his role as the gadfly of the English avant-garde. It was the avowed mission of this painter, writer, publisher and propagandist to radicalise society through art, to 'blow away dead ideas and worn out notions'. Lewis's explosive rhetoric was often only that, but he managed to found the most important British response to European modernism in a movement he named vorticism. Launched with his 1914 periodical 'Blast', vorticism synthesised the cubist and futurist techniques Lewis had been experimenting with previously. This image from 1912 is already precociously vorticist. The essential steeliness of the style is clear. Jagged lines, sharp angles and metallic colours - an overall effect of shattering - comprise its outward features. The transformation of the figures occasioned by this treatment is brutalising and mechanistic. Lewis was none too gentle in his appraisal of human worth. Here, the bulldogs demonstrate more character than their owners.

Art Gallery Handbook, 1999.

Exhibition history

Bibliography

Referenced in 14 publications

Provenance

Sir Michael Sadler, pre 1943?, Oxford/England, d'Offay catalogue as Sadleir

The Redfern Gallery, 1949, London/England

Michael Tachmindji, circa 1956-circa 1974, United Kingdom, Tate catalogue [1956] as lent by Michael Tachmindji. Arts Council catalogue [1974] as lent by Michael Tachmindji.

Christie's London, 13 Jun 1980, London/England, cat.no. 105 [not sold]

Christie's London, 06 Nov 1981, London/England, cat.no. 71, Modern British and Irish Paintings, Drawings and Sculpture £9000/$16900

Anthony d'Offay Gallery, pre 23 Sep 1983, London/England, Purchased by the AGNSW from Anthony d'Offay Gallery 1983. Purchased from the exhibition 'Wyndham Lewis Drawings and Watercolours 1910-1920', 13 April - 14 May 1983.