Aboriginal and Torres Strait Islander art
View More: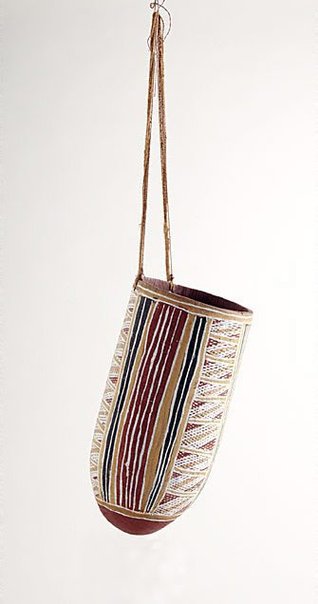 ---
About
'There is a little creek near there, called Gunyunmirringa, and in that creek is where the practice of the first hollow log ceremony took place for the Dhuwa people. They say that this is where a crow made one of these logs ... The soul is indestructible. It stays behind ... The log is thought of as the flesh, as the skin, and putting the bones inside is like putting the soul back into the body ... This is painted with a design like a body design ...'
Used as a repository for the bones of deceased people, badurru (hollow log coffins) have been created for exhibition since the 1950s. They refer potently to the spiritual universe beyond earthly existence. The shapes of the cylindrical logs lend themselves to the calm, insistent rhythm of Philip Gudthaykudthay's geometric designs, which the artist has also successfully translated onto bark paintings.
In the work 'Badurru and Dindin', 1985, equidistant black bands encircle the badurru. They define the two sections painted with distinct patterns, signifying Gudthaykudthay's clan lands at Gurryunmirringa, forested country to the east of Ramingining, Arnhem Land. The design on 'Badurru (Hollow log)', 1986, is another variation, with the rectangular grid containing unhatched diagonal stripes. Bands of yellow ochre at either end magnify its intense golden hue, 'Badurru (Hollow log)', 1986, is entirely covered in Gudthaykudthay's clan design and has a band of thick black beeswax anchoring the lower edge.
Philip Gudthaykudthay was born to the east of Ramingining in central Arnhem Land. Following the death of his parents he was adopted by a Murrungun clan family and initiated around 1949 at Gatji lagoon. Gudthaykudthay has worked as a crocodile hunter, stockman and stationhand. He now lives and paints at Ramingining, his mother's country, where he is known as 'Pussycat' (a reference to the native cat, one of his ancestral totems).
Gudthaykudthay had his first solo exhibition in 1983 at the Gary Anderson Gallery, Sydney. He has had several exhibitions in the years since then, and has also exhibited in many group shows. In 1997, Gudthaykudthay participated in printmaking workshops held in Ramingining, and his paintings were included in the exhibition, 'The Painters of the Wagilag Sisters Story 1937-1997', held at the National Gallery of Australia, Canberra.
Ken Watson in 'Tradition today: Indigenous art in Australia', Art Gallery of New South Wales, Sydney, 2004
© Art Gallery of New South Wales
---
Details
---
Other Titles
Mindirr - ceremonial dilly bag
Dindin (wooden mindirr)
---
Media category
---
Materials used
wood, ochre
---
Dimensions
29.8 x 15.2 cm
---
Signature & date
Not signed. Not dated.
---
Place
Where the work was made
Ramingining
---
Shown in 3 exhibitions
Exhibition history
---
Referenced in 6 publications
Bibliography
---
Ewen McDonald, AGNSW Collections, 'From Colonialism to late Modernism', pg. 7-106, Sydney, 1994, 96 (colour illus.).
Djon Mundine, One sun one moon: Aboriginal art in Australia, 'The concept of style in Central Arnhem Land', pg. 99-104, Sydney, 2007, 105 (colour illus.).
Margo Neale, Yiribana: Aboriginal and Torres Strait Islander collection, Sydney, 1994, 88 (colour illus.), 136-37, 139. plate no. 39
Hetti Perkins and Ken Watson, A material thing - objects from the collection, Sydney, 1999.
Paul S.C. Tacon, Aratjara: art of the first Australians, 'The Power of the Image among the Past and Present Peoples of Arnhem Land', pg. 127-196, Dusseldorf, 1993, 156 (colour illus.), 334. cat.no. 22
Ken Watson, Tradition today: Indigenous art in Australia, 'Philip Gudthaykudthay', pg. 52, Sydney, 2004, 52 (colour illus.), 53 (colour illus.).