View More:
---
Title
The sleep of reason produces monsters
---
Artist
Francisco de Goya Y Lucientes
Spain
1746 - 1828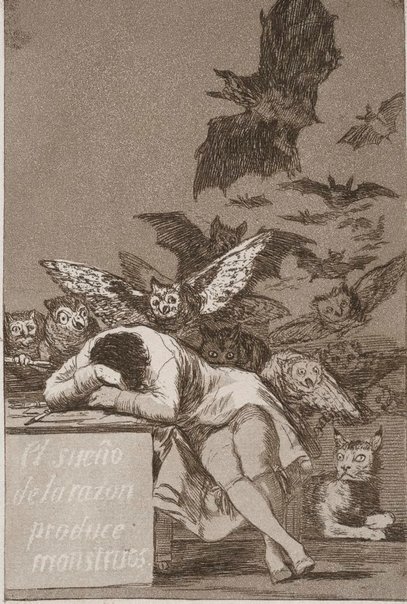 ---
About
Los caprichos (The caprices) was Goya's first masterpiece of printmaking: a series of 80 prints that blended fantasy, irrationality and satire, ridiculing the crippling deficiencies of Spanish society as the artist perceived them. His targets ran through every social group and included superstition, vanity and folly, as well as hypocrisy, cruelty, greed and injustice. In the Caprichos, the young and the old, clergy and nobility, peasants and prostitutes, witches and goblins all coexist in a dark netherworld of moral corruption. Goya devised pithy, ironic captions for his images, which were printed on the copper plates and add an extra dimension of meaning (and ambiguity) to the images. But beneath the sustained ugliness and pessimism of the series is an artist of profound humanity – a harbinger of the tradition of the artist as trenchant social critic.
Goya was the most powerful and original printmaker working in Spain – if not the greatest printmaker of the 18th century – whose unforgettable imagery gave expression to his enlightened conviction that the advancement of humankind entailed conquering ignorance and oppression. His earliest etchings date from the late 1770s and show the influence of the Tiepolo family. But as printmaking increasingly became Goya's preferred medium to express a more private, introspective outlook, his style changed, and he started using the recently discovered process of aquatint, mastering it to great effect in order to add tone to his designs. His newfound determination to pursue personal fantasy and creative invention marked a sharp contrast to his activity as a successful public painter working within the system of royal and ecclesiastical patronage.
Goya's new direction in the 1790s resulted in quantities of drawings, mainly in brush and ink, which culminated in the prints of Los caprichos. One such study, from a series Goya called Sueños (Dreams), served as the model for his most famous etching, The sleep of reason produces monsters. On the detailed pen and ink drawing, now in the Museo del Prado in Madrid, Goya wrote: 'Universal language. Drawn and etched by Francisco de Goya in the year 1797.' The inscription, amounting to a statement of artistic intent for the entire series, continues below the image: 'The author dreaming. His one intention is to banish harmful beliefs commonly held, and with this work of caprichos to perpetuate the solid testimony of truth.'
Goya had intended to make The sleep of reason produces monsters the frontispiece to Los caprichos, however he ended up using a profile self-portrait instead and made the print number 43 in the series. The etching portrays the artist with his head buried in his arms and slumped over a desk (bearing the title of the work on its side), on which sheets of paper and drawing tools are placed. Menacing creatures, taking the form of bats, owls, a cat and a wide-eyed lynx, loom around the collapsed figure. One owl has even seized the crayon holder and is about to prod the artist with it.
With the grip of reason loosened, the artist is able to give free rein to his imagination, unleashing nightmarish fantasies and inner demons normally held in check by the rational faculties. But is the artist a victim of these dark, uncontrollable forces? Or is he the beneficiary of a liberating power, enabled to 'see' – like the nocturnal creatures – what is normally not seen in the clear light of day?
When Los caprichos was first advertised for sale in the Diario de Madrid on 6 February 1799, Goya played down the potentially inflammatory nature of the prints' content, evidently anticipating criticism and perhaps fearing harsh retribution from the authorities. Goya claimed that he had 'chosen as subjects suitable for his work, from the multitude of follies and mistakes common in every civil society and from the vulgar prejudices and lies authorised by custom, ignorance or self-interest, those that he has thought most fit to furnish material for ridicule, and at the same time to exercise the artist's imagination'. The newspaper article went on to insist that the artist's intention was not to satirise particular individuals.
Unable to sell them through a book dealer, Goya put the prints on sale in a liqueur and perfume shop. Of the approximately 300 sets published, only 27 were sold over the next four years. In 1803 Goya presented the copper plates and the unsold sets to Charles IV in return for a substantial pension for his son. The plates were transferred to the Calcografía Nacional in Madrid where subsequent editions were printed.
Peter Raissis, Prints & drawings Europe 1500–1900, 2014
---
Details
---
Alternative title
El sueño de la razón produce monstruos
---
Media category
---
Materials used
etching and aquatint
---
Edition
First edition of 1799
---
Dimensions
21.5 x 15.0 cm platemark; 30.4 x 20.8 cm sheet
---
Signature & date
Not signed. Not dated.
---
Shown in 4 exhibitions
Exhibition history
---
Referenced in 11 publications
Bibliography
---
Loys Delteil and Harold Wright, Catalogue raisonné of the etchings of Charles Meryon, with the addition of many newly discovered states and edited by Harold JL Wright, New York, 1924, vol 14. no 80
Nicholas Draffin (Curator), The bitten image: European etchings from the collection, Sydney, 1980, p 10. no catalogue numbers
Nicolas Draffin, Three years on: a selection of acquisitions 1978-1981, 'Prints and Drawings - Australia, European and American', pg. 47-66, Sydney, 1981, p 54, illus p 55.
Nicolas Draffin, Art Gallery of New South Wales handbook, 'Prints & Drawings', pg. 109-124, Sydney, 1988, illus p 117.
Renée Free, AGNSW Collections, 'The Western Heritage, Renaissance to Twentieth Century', pg. 108-172, Sydney, 1994, p 108, col illus p 126.
Pierre Gassier and Juliet Wilson, Goya: his life and work with a catalogue raisonné of the paintings, drawings and engravings, London, 1971, pp 163, p 181. no 536
Tomás Harris, Goya: engravings and lithographs, Oxford, 1964, vol 2, pp 115-116. no 78
Kathryn Hendy-Ekers, Louise Chamberlin and Deryck Greenwood, Art-iculate: art for VCE units 1-4, 'The role and purpose of art', pg. 84-87, Port Melbourne, 2009, col illus p 84. dated 1799
Bruce James, Art Gallery of New South Wales handbook, 'Western Collection: Works on Paper', pg. 78-92, Sydney, 1999, illus p 81.
Peter Raissis, Prints & drawings Europe 1500-1900, Sydney, 2014, p 108, col illus p 109.
Irena Zdanowicz, Masters of emotion, Mornington, 2007, p 50. cat no 45