View More:
---
Title
1. Evadne in green dimension, from the portfolio Bunk
---
Artist
Sir Eduardo Paolozzi
Scotland
07 Mar 1924 - 22 Apr 2005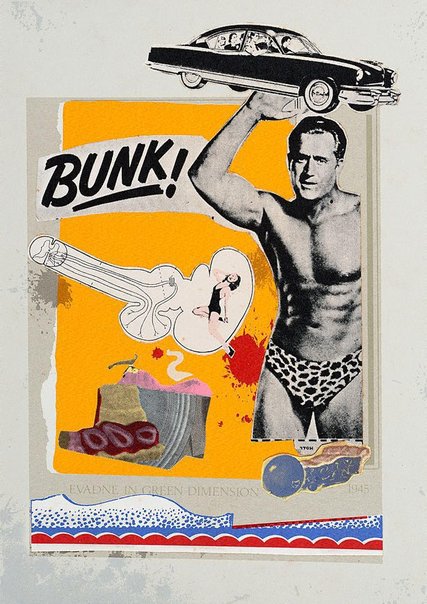 ---
About
Letter from Tony Reichardt to Anthony Bond, Head Curator 2002
"In 1947 Kurt Schwitters had his last exhibition in London. He sold nothing and all the critics described his collages as utter rubbish. He died shortly afterwards, but his comment about his reviews was that 'In ten years time all the critics will praise my work. It will be too easy for them. They should not bother about me but look closely at the work of young artists'. He said this to the philosopher Stephan Themerson, who repeated it to me.
Exactly 10 years later there was another Schwitters exhibition in London at the Lords Gallery. It was praised to high heaven.
Concurrently with the Schwitters exhibition in 1947 a young artist named Eduardo Paolozzi held his first exhibition in London. All the works were drawings. The reviews were mixed but every single drawing was sold. This was amazing because in 1947 nobody bought modern art.
Young Paolozzi spent most of the time while his exhibition was on taking a very good look at the collages of Schwitters. Several of Schwitters' works contained pop themes, but it was the actual bits of paper, which Schwitters loved – bus tickets, feathers, bits of newspaper. Of course Picasso had used newspapers before in his work, but only on the basis of 'Why paint one when I can stick one on the canvas'. With Schwitters it was 'Why paint one when I can use the real thing'. Of course young Paolozzi realised what was going on, and for the next few years created thousands of drawings, collages, ready mades, and what have you all depicting what he loved - popular ad images. Conscious Pop Art started in England from 1947 with Paolozzi.
In 1961 Paolozzi and Kitaj were very close and worked together on two works. That was the year I took over the New London Gallery and gave Kitaj a contract. One day Paolozzi and Kitaj came into the gallery with a very stern looking old man, Henry R Luce, editor of 'Life' magazine. He asked to see Kitaj's paintings, and bought several small works. I asked him what else he had in his collection. He said 'I don't have a collection. I have only ever bought the works of three artists. In 1944 I bought paintings by an artist called Pollock. In 1947 I bought all the drawings in Paolozzi's exhibition. Now I am buying this artist's paintings'. While he was in the showroom with Paolozzi, Kitaj and me, he sat on an antique French chair. It broke and he fell on the floor. It didn't break, it disintegrated! We all roared with laughter but not for long. He looked as if he could kill us. Later, Paolozzi told me that he was very amused, but that his face was paralysed and he could never smile."
Bunk: A Box-file containing 45 images from Eduardo Paolozzi's files. Sizes vary from 15.0 x 19.0cm to 29.0 x 41.0cm. Most images are hand-torn, creased, and adhered to papers and boards in various colours.
Special Edition: 50 sets, 45 images all individually signed and numbered by the artist. De Luxe Box-file.
Secondary Edition: 100 sets, 45 images of which 5 have been selected, signed and numbered by the artist. Standard Box-file.
Project arranged by Christopher Betambeau. Text by Frank Whitford. Screenprinting, and finishing by Advanced Graphics London. Photo-Litho arranged by Gordon House. Boxes made by F&J Randall. Published by Snail Chemicals (Publishing) 1972. © Snail Chemicals (Publishing).
Signed l.r. title page, pencil "Eduardo Paolozzi". Not dated.
Inscribed l.c. title page, ink "5/50".
---
Details
---
Shown in 5 exhibitions
Exhibition history
---
Referenced in 4 publications
Bibliography
---
Gregory Burke and Hanna Scott (Editors), Drive: power>progress>desire, New Zealand, 2000, 37 (colour illus.). no catalogue numbers
Daniel F Herrmann (Curator), Eduardo Paolozzi, 'Bunk!', pg.80-91, London, 2017, 89 (colour illus.). pl.40
Wayne Tunnicliffe, Pop to popism, 'The future is now: origins of pop art', pg. 17-33, Sydney, 2014, 19.
Kay Vernon, British prints of the 1960s and 1970s from the collection of Tony Reichardt, Sydney, 1990, 2 (illus). no catalogue numbers