View More:
---
Title
White lines (vertical) on ultramarine
---
Artist
Tony Tuckson
Egypt, England, Australia
18 Jan 1921 - 24 Nov 1973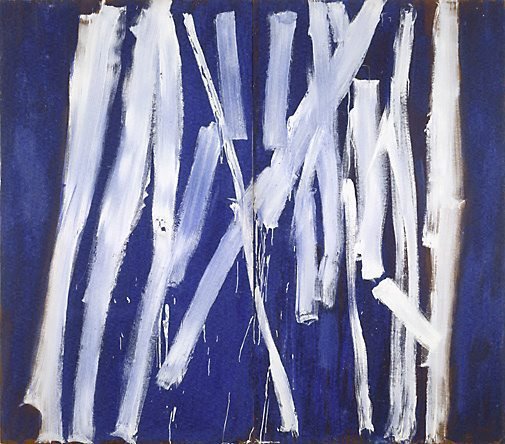 ---
About
If we consider the several components manifested in a work of art ... foremost is man himself, the artist ... but equally important is the use of his intuitive faculties - the influence of the unconscious.
Tony Tuckson 1964
It is for his later paintings such as 'White lines (vertical) on ultramarine' that Tony Tuckson is admired as one of Australia's finest abstract expressionists. From the late 1950s, he used increasingly simplified forms and restricted colour to concentrate on the act of painting. While absorbing developments in European and American abstraction and admiring the work of fellow Australian artist Ian Fairweather, Tuckson's approach is perhaps most strongly allied to his lifelong interest in Aboriginal and Melanesian art.
---
From the Gallery Shop
---
Details
---
Media category
---
Materials used
diptych: synthetic polymer paint on hardboard
---
Dimensions
213.5 x 244.6 cm board overall :
a - left panel; 213.5 x 122.3 cm; board
b - right panel; 213.5 x 122.3 cm; board
---
Signature & date
Not signed. Not dated.
---
Credit
Gift of Annette Dupree 1976
---
Location
---
Accession number
127.1976.a-b
---
Referenced in 13 publications
Bibliography
---
Deborah Edwards, Two centuries of Australian painting: a selection from the Art Gallery of New South Wales, 'Introduction', pg. 8-14, Sydney, 1986, 40 (illus.). cat.no. 44
Sasha Grishin, Australian art: a history, 'There is no art capital in Australia', pg.492-501, Carlton, 2013, 498, 499 (colour illus.), 553, 569. plate no. 45.5
Bruce James, Art Gallery of New South Wales handbook, 'Australian Collection: Painting and Sculpture', pg. 102-181, Sydney, 1999, 165 (colour illus.).
Jonathan Jones and Sherman Contemporary Art Foundation, Jonathan Jones: the tyranny of distance, 'Jonathan Jones in conversation with Hetti Perkins', pg. 12-19, Sydney, 2008, 14 (colour illus.).
Sandra McGrath, Art and Australia (vol. 12, no. 2), 'Tony Tuckson', pg. 156-166, Sydney, Oct 1974-Dec 1974, cover (colour illus.). dated c.1972-73.
Barry Pearce, Australian art: in the Art Gallery of New South Wales, 'Landscape and gesture', pg. 239-240, Sydney, 2000, 259 (colour illus.), 302.
Nick Waterlow (Director), The 1988 Australian Biennale: from the Southern Cross: a view of world art c.1940-88, List of works in the exhibition 276-282, Sydney, 1988, 282.
Susan Borham (Editor in Chief) and Michael Hutak (Editor), Australian art collector, Sydney, Apr 2001-Jun 2001, 60 (illus.).
Susan McCulloch, Alan McCulloch and Emily McCulloch Childs, The new McCulloch's encyclopedia of Australian art, 'A prophet in his own country', pg. xi, Carlton, 2006, xi, 967-968.
Renée Free, Unknown and Daniel Thomas, Tony Tuckson, Sydney, 2006, 140 (colour illus.), 200. plate no. 153
INK: Whiteley and Others, Sydney, 2006. List of works
John Saxby (Editor), Look, 'Art that made me: Ildiko Kovacs', pg. 14-15, Sydney, Apr 2016, 15 (colour illus.).
Ewen McDonald, AGNSW Collections, 'From Colonialism to late Modernism', pg. 7-106, Sydney, 1994, 87 (colour illus.).