Poetic reflections on Shadow catchers: Ali Whitelock
Print this set
By the Art Gallery of NSW
Ali Whitelock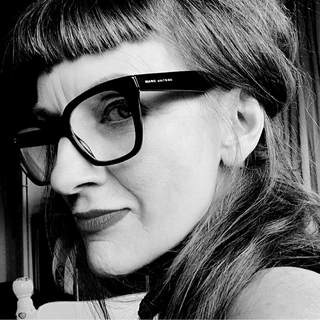 Uploaded image
Ali Whitelock is a Scottish poet/writer living in Australia. Her first book, a memoir titled Poking seaweed with a stick and running away from the smell, was published to critical acclaim in Australia and the UK. Her first poetry collection, And my heart crumples like a coke can, is a result of this time. Her second collection The lactic acid in the calves of your despair launched in March 2020.
Ali Whitelock reflects on the commission.
I accepted the commission on the spot, despite being engulfed in a greater than average dose of terror – laced with wild excitement. The moment I emailed my acceptance, I immediately downward spiralled into, what if I can't write a single word? What if what I manage to write is garbage? What if I don't follow the rules? What if I get it wrong? The shadows of our pasts are long. No matter how much time passes, they can still wreak havoc on our present.
Despite my fears, the work had to be done. The minute I received images of the three artworks I was to respond to, I planned. I had seven weeks to write three poems, which for me was not much time at all. I gave each of the artworks one full week to get the bones of the poem down, then spent the remaining four weeks re-writing, editing, tweaking, refining and finger-crossing. Under normal circumstances, I write without boundary, without time constraints, without fear. Here I had boundaries (the artworks – though there were no boundaries as to how I could respond to them), I had time constraints and a super-sized serving of fear. I have never worked so hard. Once the poems were well underway, my terror gave way to quiet exhilaration. I could never have imagined at the start of this process that the artworks would have taken my poetry to the places they did. When I pressed send on the final poems I felt I had conquered something. A demon, perhaps? Maybe even two.
This is an excerpt from Ali Whitelock's reflection. For the full comment:
redroomcompany.org/projects/shadow-catchers
---
'and the angel of the lord appeared to him,
and said to him,'the lord is with you, O
mighty man of valor'' [judges 6:12]
her eyes are * blootered / swollen like the
plums that were not in the ice box / but kneedeep
by the river rotting in torrential scottish
rain / they were bruised & slimy / burst & oozing /
he was probably saving them for breakfast /
** [Q: what do you tell a woman with two black eyes?
A: nothing, you already told her twice]
the photo of my parents on their wedding
day is torn in half / held together by the twenty
four hour emergency plumbing magnet stuck to
the door of my westinghouse where i hang all
memories requiring refrigeration / in my
father's half he looks like a boy in a hired
evening suit / his brylcreemed hair peaking to
attention like the great wave off kanagawa / his
legs are spread hands clasped ring finger sporting
the knuckle duster he would cherish from that day
forward for richer, for poorer, in sickness & increasing
sickness / in her
torn half she stands meek / stiff as the plastic
bride perched on top of their 3-tier wedding
cake / her stilettos sunk so deep into the icing
they have reached the marzipan / in the
years that followed she would obey & forsake /
take the hammer & smash the ring with which
she he wed / walk into endless doors / set fire
to her white lace dress / swallow
the tut tuts from the good women in line at the
bakery, each teetering precariously on the fragile
shells of their own hypocritical meringues
whispering, look at the bruises would you ...
why in god's name does she stay?
blooter, blouter, bluiter n. and v.
[′blʌutər, ′blutər] –– to obliterate, strike excessively hard [often refers to a football]
** In 2020, this still passes as a joke.
kickasshumor.com > funny-joke > what-do-you-tell-a-woman-with-two-black-eye
---
i
leaned
my
head
against
yours
as though my forehead were a mouth i could share
secrets through. i was never a good person though
somehow i am surrounded by angels.
as children we weren't twins but we dressed almost
the same in clothes mum made from remnants of be-
wildered reds, injured blues, disquieting yellows. too
often there was enough fabric for matching headscarves.
with our monobrows in our grey scottish swing parks
we were the frida kahlos of our time.
when i no longer knew what to do with it i breathed
my secret into your forehead––
then careened through the
fog of the swing park, my
bulkhead taking on water
pulled on a puncture repaired
life jacket with a red light &
a whistle for not attracting
attention. in the shadow of
a marooned shopping trolley
i tore the wings off butterflies
drowned bees
in a jar.
in the days before anti-caking agents my grandmother
kept her salt cellar on the hearth of the fire, her blini
ingredients behind the fluted glass doors of the kitchen
cabinet. two ceramic swans swam lazily across her
sideboard, their hollow backs transporting house keys,
fisherman's friends, silver shillings down the river
to nowhere––
the last time i saw him was
in my dreams––
––wrapped in curtains that don't
quite reach the floor, shuffling towards a roaring log fire.
i watch on, hoping he'll trip & be engulfed in flames. in-
stead he pirouettes from the curtains & turns to face me,
his pink fingers, fat like pork sausages spread terrifyingly
across the mantelpiece. i wake thinking of bees.
in the blackpool boarding house the landlady wipes
down her condiment sets after breakfast, stores them
away behind the fluted glass doors of her kitchen
cabinet. the five of us sleep in the same room
in the absence of a telly
my father, itching for a
drink and not knowing
what to do in a room full
of his own children makes
sad shadow puppets on the
wall––a one eared dog, a
not-preying–drowning mantis,
a peace dove having a heart
attack mid-air
after breakfast we stroll along the seafront filling
our lungs with the good sea air we're instructed to
inhale deeply. we pause by the amusement arcade with
its shop selling lacklustre starfish, brightly embarrassed
crabs, fragile seahorses that once danced to the music of
the sea, a solitary shaved coconut transformed into a little
hand bag, golden rapunzel braids dangling off each side,
its womb-like interior lined with warm velvet––a place
to whisper my secrets, to bury the bees
i've yet to drown.
---
A TABLE IS A FLAT SURFACE WITH LEGS –––CE N'EST PAS UNE PIPE
[The sighted woman asks the blind
man, how do you see beauty? The
blind man replies, In the same way
you close your eyes & imagine
taking a warm bath, how it feels to
float–––this is how I see beauty. ]
WE SIT in the dark of the room. the ophthalmologist
instructs my husband to move his head forward, place
his chin here his forehead there takes her ophthalmo-
scope & checks his retina for threatening new bleeds
his macula for further degeneration her keratometer to
explore the sudden craters & soft folds in the parched
paddock of his cornea. then she opens the manilla folder
removes the lid from her mont blanc & carefully charts
each new contour in the ordnance survey map of my
husband's eyes. the ceiling light is turned back on. our
pupils recoil in the fluorescence of its truth. a requiem in
D minor exits the ophthalmologist's opening & closing
mouth one note at a time like slow cars over a cliff as my
husband's vision is committed to the ground earth to
earth, ashes, dust etcetera with no hope of resurrection
to eternal life. the ophthalmologist advises there'll be a
letter to take to centrelink, something about a pension
card cheap travel discount on our water rates royal blind
society scanners white canes magnifiers guide dogs con-
cessions at the theatre two movie tickets for the price of
one. outside rain pools in pavement drains blocked like
tear ducts all beauty sucked like diesel from the petrol
tank of the world. the sky, black as a detached retina
riddled with blind spots is strewn with stars that twinkle
like braille spelling out a million angry messages to god.