Conversations through the Asian collection children's trail
Print this set
By the Art Gallery of NSW
Explore the Gallery's Asian collections and see old and new together in a series of dynamic conversations between artworks.
Due to their fragility, some works are regularly changed over with similar works.
Click on an image for more information (including whether it is on display) and to view the work in the Gallery collection.
Get looking and make, draw and create.
Our children's trails are available online or as free printed booklets at the Gallery. They are designed to engage young children aged 6-12 with selected objects and images in the Gallery and our exhibitions. They present looking and interpreting, drawing and writing activities for children to do in front of the art with extension ideas for activities away from the Gallery.
Many of these suggestions can be adapted for use at home or in the classroom, even if you can't visit or the particular artworks are not on display.
---
Look at this large head of Buddha.
The Buddha was an Indian prince who gave up his riches to search for peace and enlightenment.
Notice how peaceful this Buddha's face is. He is in deep thought, meditating.
Spot the flakes of gold lacquer on the sculpture's surface.
Imagine what this sculpture looked like when it was new. What do you think the rest of the Buddha used to look like? Where do you think it was placed?
Draw a beautiful place for this sculpture to go.
At home find out more about the Buddha and paint a picture about his life.
---
View this unusual bowl.
This large bowl was made by Thai artist Montien Boonma. Its shape is based on special bowls used by Buddhist monks to receive gifts of food or money.
Look at the inside of the bowl. Do you recognise what the jagged shapes are? Boonma has lined the bowl with imprints of his own teeth and moulds of his hands grip the outside. Now you know what they are, how do they make you feel?
Imagine you could design a bowl using something unusual and unexpected. What would you use?
Draw your idea.
At home find out more about Buddhist monks and write an adventure story about becoming a monk.
---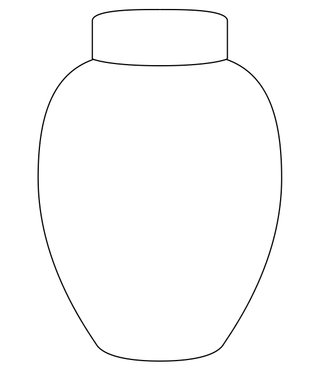 Uploaded image
Spot this red dragon.
In China, dragons are a symbol of luck, power, heaven and the lord of water.
Notice the swirling blue water pattern below the dragon on this flask.
This dragon is made up of different animal parts. What ones do you recognise? Are they all fierce and powerful creatures?
Invent your own dragon design using the outline of the ceramic shape (right-click on the image to download). What animal parts could you combine?
At home draw or paint a picture of a Chinese dragon in bright colours and think about where it could live.
---
Locate this vase.
China is famous for its high- quality ceramics, in particular fine white porcelains with a distinctive blue glaze.
Look closely at this vase. What's unusual about it?
The artist Xu Zhen has taken a traditional vase design but changed it by bending its neck so it looks less than perfect.
Notice the figures painted on it. What do you think they are doing?
Create a story about these figures and write or draw it here.
At home look at all of the patterned ceramics you have in your home. Draw your favourite one or design a new one.
---
Spot this moving image.
Chinese artist Yang Yongliang has been inspired by traditional Chinese landscape scroll paintings to create a video work that shows how nature is being taken over by humans.
What things do you recognise? How does it make you feel?
Look closely and watch as the scene changes and things move. What message could the artist be telling us about our world today?
Create a poster or image that makes us think about nature and the environment and what we can do to be more responsible.
At home find out more about the animals and plants that live in China and the type of environments they need to survive.
---