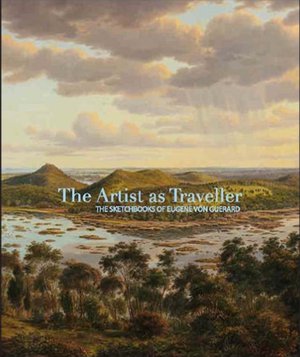 The Artist as Traveller : The Sketchbooks of Eugene von Guérard
written by Dr Ruth Pullin
Art Gallery of Ballarat | ISBN 9780648162148
Hardback
$87.00
Member's price: $78.30
Usually ships within 2–11 business days.
JANE'S STAFF PICK 2018:
This is the perfect selection for the polymath in your life. Spanning more than sixty years, Von Guerard's sketchbooks and subsequent paintings cover much more than the artist and his practice. Geographer, traveller, environmentalist, botanist, explorer, are all revealed through exquisite drawings and vivid recounts of the harsh, wild Australian landscape. The book's creamy pages and detailed sketches allow a glimpse into our colonial history from the goldrush to pastoral practices. Von Guerard's manifesto was to be 'true to nature' and his works document the geography of Australia meticulously. As a walker, I marvelled at the maps showing the distances Von Guerard covered in rugged and extreme climates. This is a book for the thoughtful and inquisitive art lover in your life.
___________________________
The Artist as Traveller: the sketchbooks of Eugene von Guérard retraces the momentous journeys that shaped von Guérard's career, from 1834 to 1900, through the lens of his sketchbooks. Rediscovered drawings from sketchbooks thought missing are brought to light, the narratives of his expeditions feature never-before-translated diary entries and his late career is revealed in his little-known English sketchbooks. Like graphic travelogues, these sketchbooks contain von Guérard's direct and most immediate responses to people and places, as well as detailed and exquisitely finished studies and drawings that were the foundation of his studio practice.
Eugene von Guérard's sketchbooks were his most personal and treasured possessions. This book presents a new and intimate view of one of Australia's greatest and most adventurous landscape painters.
Artist: Eugene von Guérard
Similar items