Christo

John Kaldor Family Collection artist room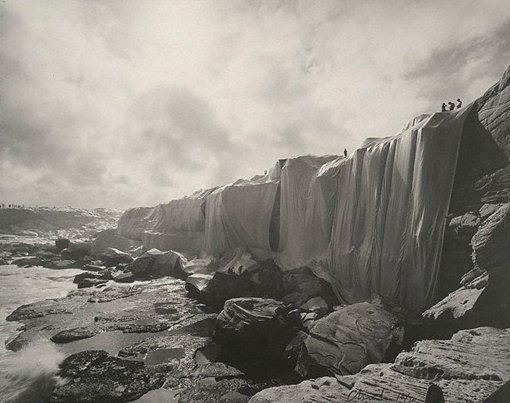 Christo is known, with his life and work partner Jeanne-Claude (1935–2009), for 'wrapping' public monuments, buildings and features of the landscape as well as his own projects wrapping smaller objects.
Born in 1935 in Bulgaria and now living and working in New York, he began this technique – which recalls drapery from classical sculpture and painting – in the late 1950s. Whether small or almost unimaginably large, these everyday pieces of the world when veiled become unfamiliar, mysterious, magical.
In 1969, Christo and Jeanne-Claude directed a team of mountain climbers, workers and volunteers in wrapping 2.5 kilometres of Sydney coastline with more than 90,000 square metres of fabric. It was not only the first Kaldor Public Art Project but one of the most important early environmental or land art works anywhere in the world and the largest single artwork that had ever been made.
This display from the Art Gallery of NSW, which includes the John Kaldor Family Collection, features photographs and maquettes for this groundbreaking project, as well as other historic works and individual sculptures.
It is the first in an intended series of touring 'artist rooms' drawing on the Kaldor collection, which represents a number of great international artists in depth. Each show will bring together a wealth of work over a number of years by an individual artist of note.
---
Contemporary app
Christo and his work Packed Coast, One Million Square Feet, Project for Australia 1969 are part of the Gallery's free Contemporary app for iPad