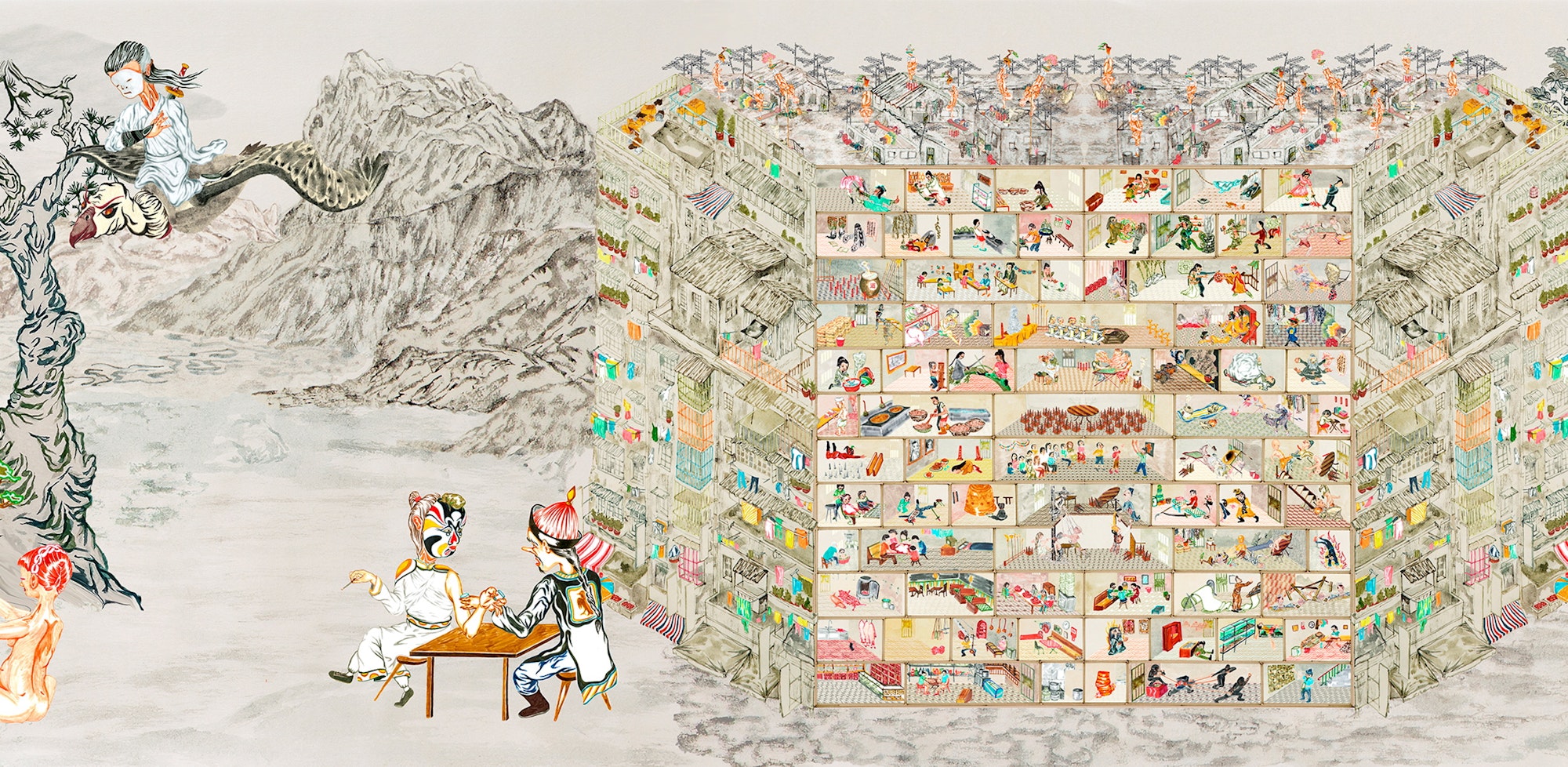 Celebrating the antiheroes of popular culture with works from the Art Gallery's collection, in our first-ever purpose-built gallery for time-based art.
Outlaw
3 December 2022 – 2024
Art Gallery of New South Wales
For centuries, artists and audiences have been inspired by the escapades of fugitive rebels. Our imaginations thrill to stories of outlaws, on the run or in hiding, precisely because they break rules or defy unjust laws. In the three contemporary works on display, outlaws are sometimes exiled or persecuted people seeking a place in the world and sometimes romantic icons of rogue justice.
Merging ancient Chinese martial-arts stories with scenes from the legendary Kowloon Walled City in Hong Kong, Howie Tsui creates a monumental animation of everyday life in an ungoverned realm. Similarly, Eko Nugroho celebrates the inventiveness of underground communities with banners featuring comic book avatars and scrambled political slogans overheard on the streets of Indonesia. Meanwhile, Meriem Bennani's playful video work invites us to a futuristic island in the mid-Atlantic where Moroccan refugees fight for freedom.
Showcasing historical collection works that reveal how outlaw iconography has evolved over time, this exhibition in the Art Gallery of New South Wales' new North Building assembles an unruly cast of characters.
Rather than lone rangers, these are antiheroes who band together, forming improvised communities of resistance, solidarity and celebration. The outlaw is not simply outside conventional society or national boundaries; the outlaw is on the edge, in conversation with the present moment, pushing at its limits.
Note: The Howie Tsui artwork contains graphic images that may cause distress to some visitors.