Sulman workshop: the pizza effect
With Claire Healy and Sean Cordeiro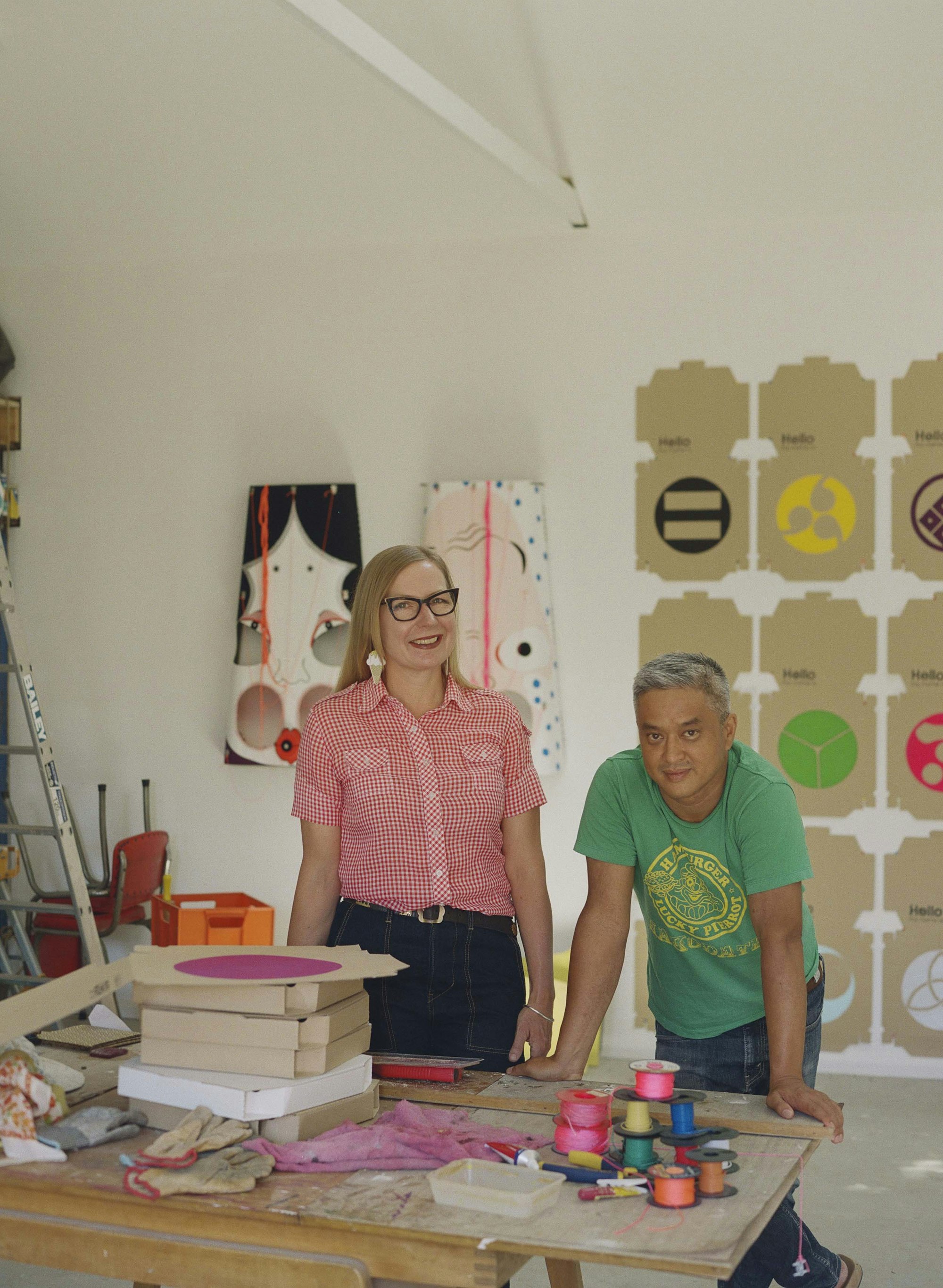 Exploring the art of storytelling, each year the Sulman prize is awarded to the best subject, genre or mural painting. Join artist duo Claire Healy and Sean Cordeiro in a drop-in style drawing workshop inspired by their 2022 Sulman Prize winning work Raiko and Shuten-douji and the concept of 'the pizza effect'. Learn how to draw cute figures and characters with step-by-step instructions or create your own! All materials provided and no experience necessary.
'The pizza effect' is what happens when a piece of culture is taken from its origin, transplanted into a different culture, then returns to the original culture in an elevated or mutated form. It challenges ideas of the Authentic and shows just how fluid culture is. Healy and Cordeiro's work in the Sulman Prize 2022 is a rendering of a Japanese folk story – a fight between the Warrier Raiko and the demon Shuten-Douji – that would usually be painted on a kite but in this work has been painted on a piece of army surplus helicopter.
Claire Healy and Sean Cordeiro use their artistic practice as a tool to help locate themselves within the systems employed by our contemporary society. Career Highlights include solo exhibitions at the Künstlerhaus Bethanien, Berlin; The Art Gallery of New South Wales; The Corcoran Gallery, Washington DC and a survey exhibition at the MCA, Sydney. Life Span was part of the Australian representation at the 53rd Venice Biennale in 2009. They have also participated in the Auckland Triennale, the Adelaide Biennial, Setouchi Triennale and the Oku-Noto Triennale, Japan. Their latest public art commission, Place of the Eels is located in Parramatta Square.
Sulman workshop: the pizza effect
With Claire Healy and Sean Cordeiro
Wednesday 25 May 2022
5–7pm, 7.30–8.30pm
Duration 3 hours
Entrance Court
Art Gallery of NSW
Free, no bookings required
Wednesday 25 May 2022 5–7pm

Wednesday 25 May 2022 7.30–8.30pm