Projections #6
New Australian video art | Cycle 1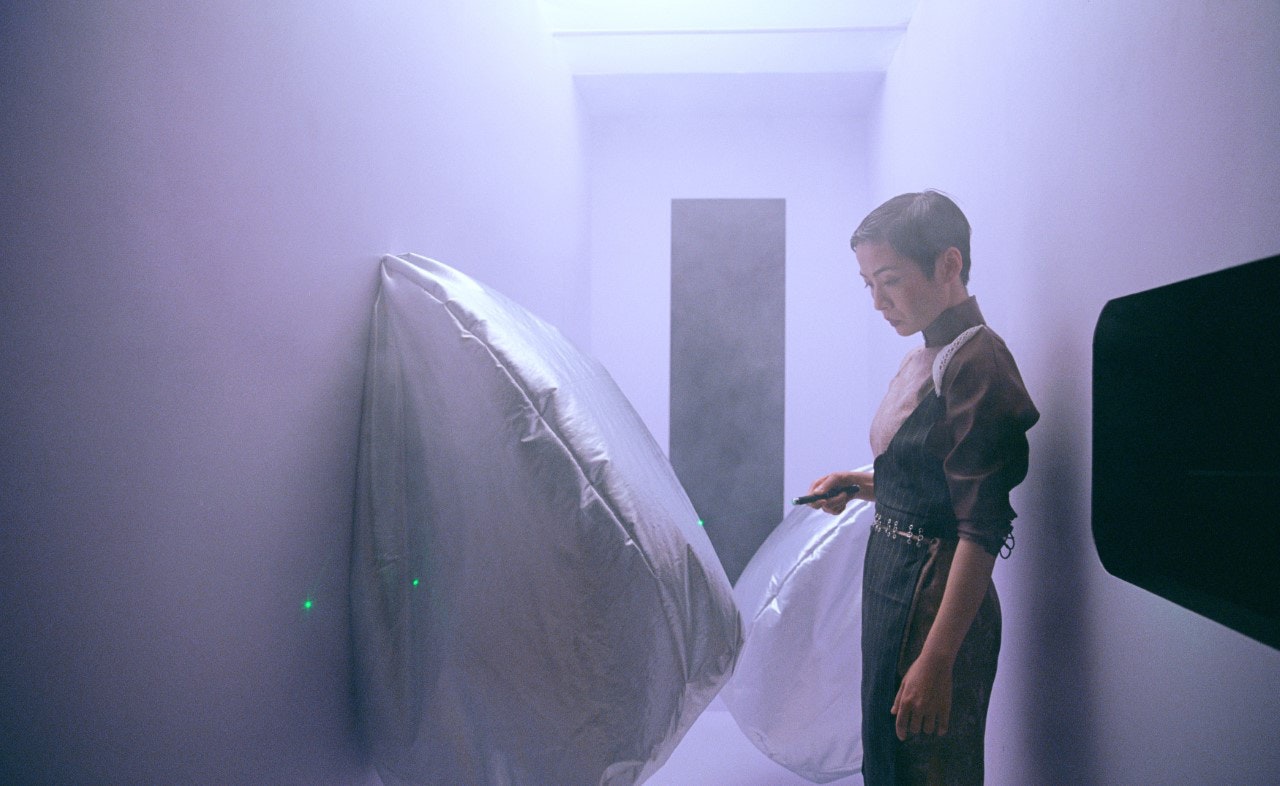 Join us for a showcase of innovative Australian moving image works by artists including Atong Atem, Chun Yin Rainbow Chan, Ruth Höflich, Nikki Lam, Leyla Stevens and Sancintya Mohini Simpson.
This program explores a strand of contemporary moving image practice preoccupied with storytelling, speculative futures, and the radical reinterpretation of opaque histories. From a witchcraft trial in 18th century Germany (Plant (879 pages, 33 days)) to folk tales of restless spirits on the island of Bali (Our sea is always hungry), these works reckon with forgotten pasts. The artists in this program look beyond the gaps and distortions of official archives, forging new narratives from stories passed down intergenerationally, held in the body, and summoned in digital trawls. While many of these films take the form of a lament - for instance, mourning the ongoing legacies of colonialism and indentured labour in our region - their memory work unfolds across vivid, playful formal experiments. From Nikki Lam's 16mm ode to the swooning aesthetics of Wong Kar Wai to the ecstatic colour and costuming of Atong Atem's video self-portraits, Cycle 1 expands the language of Australian artists' moving image to recover suppressed histories and imagine horizons which may yet be.
The screening will open with reflections by filmmaker and UTS academic Associate Professor Alex Munt on new directions in story-based video art. It will continue with an in-conversation between artists Nikki Lam, Chun Yin Rainbow Chan and Leyla Stevens who will discuss the themes of the program and their practices.
Cycle 1 is the first iteration of an ongoing strand of Projections dedicated to celebrating contemporary artists' moving image practice from Australia and the Great Ocean region.
Projections #6
New Australian video art | Cycle 1
Domain Theatre
Art Gallery of NSW
Free, bookings recommended
the unshakeable destiny_2101

Dir Nikki Lam 2021 (Australia)  
6 mins 16mm-to-digital Colour Unclassified 12+  
Cantonese with English subtitles  

'Now, Hong Kong people are to run Hong Kong. That is a promise. And that is the unshakable destiny.' - Chris Patten, Last Governor of Hong Kong at the Handover Ceremony in 1997. 

An ode to the films of Wong Kar Wai and Asian futurism, Lam's 16mm work evokes the misalignment between empirical histories and cinematic imaginaries; sovereign bodies and the colonial gaze. Conceived as the first instalment of an expansive trilogy, the unshakeable destiny_2101 centres Lam's shifting self-perception as Hong Kong continues its political and cultural transformation. Exploring the experiences and memories of a migrant-settler grieving from afar, the artist confronts her own image over and over again.

This project was commissioned by TarraWarra Museum of Art for Victoria Together and is supported by the Victorian Government through Creative Victoria and The substation. All political views suggested or depicted in this project belong to the artist-director only. The project does not represent the views of its casts, collaborators or presenters.

Director/Writer/Editor/Producer: Nikki Lam 

Cast: Ching Ching Ho 

Cinematography: Bonita Carzino 

Production Design: Scott Heinrich 

Costume Design: Allison Chan 

Sound Design: Ben Harb 

Colourist: Abe Wynen 

Camera Assistant: Drew Collins 

Lighting/Gaffer: Francis Healy Wood 

Art Department: Andrew Huynh, Jaime Powell, Cheralyn Lim, Kelly Chan 

Nikki Lam is an artist, curator and producer based in Narrm. Working primarily with moving images, performance and installation, her work explores hybridity often through studies of memory, time and representations. Born in Hong Kong, Nikki's work deals with the complexity of migratory expressions within and beyond the concept of diaspora. With an expanded practice in writing, exhibition and festival making, Nikki is currently Co-Director of Hyphenated Projects/Hyphenated Biennial 2020-2021 and curator-at-large at The Substation. She has been the Artistic Director of Channels Festival alongside many hybrid roles in the arts. Nikki is currently undertaking a PhD (Art) at RMIT University.

Sunday 30 May 2021 2.15pm – 2.21pm

魚文,鳥文 Fish song, Bird song

Dir Chun Yin Rainbow Chan 2020 (Australia)
2 mins Digital Colour Unclassified 12+
Weitou dialect with no subtitles

A traditional song cycle meets glowwave graphics and glitch pop. 哭嫁 or 'bridal laments' refer to a female custom that was performed by the artist's 圍頭 (Weitou) ancestors, the first settlers of Hong Kong. In Chan's words: 'As marriages were arranged, becoming a bride signified a kind of death for a woman. Not only would her ties to her natal home be severed, but she would remain an outsider to the groom's family. Before their wedding day, Weitou women would perform a lament cycle, singing and weeping in front of family and friends over the course of three days.' 魚文,鳥文 Fish song, Bird song is a personal exploration of distance, memory, and matrilineal knowledge which is on the brink of disappearance.  

Warning: This video contains strobing lights.

Chun Yin Rainbow Chan is an interdisciplinary artist working across music, image, video and sculpture with an interest in the intimate connections between representation, technology and myths in the globalised world. Born in Hong Kong and raised in Sydney, Chan lives and works on Gadigal land. Coming from a background in pop music performance, her art practice often engages with the aesthetics of mass media through music videos, movie posters, fashion shoots and other mediums. Her work also troubles aspects of consumer culture through mistranslations  and historical reimaginings which are inspired by bootlegs and knock-off culture.  

Sunday 30 May 2021 2.21pm – 2.24pm

Zero

Dir Atong Atem 2019 (Australia)
6 mins Digital Colour
Unclassified 12+

Atem voyages back to familiar childhood neighbourhoods in Kenya, South Sudan and Australia, all while seated behind a screen, slowly peeling a pomegranate. Zooming in and out of online maps, the artist measures the distance between past and present homelands in dreamlike reminiscences: 'you lay here once and thought about what it might make for your body to feel part of a constellation.'  

Atong Atem is an Ethiopian born, South Sudanese artist and writer living in Narrm. Atem works primarily with photography and video to explore migrant narratives and postcolonial practices in the African diaspora, the relationship between public and private spaces and the exploration of home and identity through portraiture. 

Sunday 30 May 2021 2.24pm – 2.30pm

Plant (879 pages, 33 days)

Dir Ruth Höflich 2020 (Australia)
15 mins Digital Colour
Unclassified 12+
German/ English with English subtitles

In the 1980s, the transcript of an 18th century witch trial was discovered in the artist's family-owned property in southwest Germany. Plant (879 pages, 33 days) unfolds as a conversation between mother and daughter that switches between the historical 'facts' of the trial and ancestral connections to the site. A collection of photographs handled and dissected throughout the film stand in for the absent image of the witch's persecution. Per Höflich, trauma is transmitted through generations, 'both literally as a file, and as a lurking presence that demands to be seen.' 

Ruth Höflich is a visual artist currently based in Melbourne working primarily in photography, film and video. Her moving image works have been shown at International Film Festival Rotterdam, Recess, Melbourne and Hidden Bar, Art Basel with forthcoming screenings at Images Festival, Toronto, New Holland Island Festival, St. Petersburg and Liquid Architecture, Melbourne amongst others. She has exhibited internationally in venues such as Kunstverein Munich, Lothringer13, Munich, Lubov, New York and Ten Letters, Glasgow with a forthcoming solo presentation at Linden, Melbourne. In 2019 she was the recipient of the Georges Mora Fellowship at The State Library of Victoria and was previously awarded the biannual Emerging Artist Prize from the City of Munich. She holds an MFA from Bard College, New York. 

Sunday 30 May 2021 2.30pm – 2.45pm

Our sea is always hungry

Dir Leyla Stevens 2018 (Australia)
13 mins Digital Colour
Unclassified 12+
Balinese/ Indonesian with English subtitles

Our sea is always hungry  is a recent single-channel video work that continues Leyla Stevens' exploration of the space between documentary and fiction. Focusing on traces of Indonesia's 1965-66 anti-communist killings, the film explores how 1965 today is both remembered and forgotten in Bali.  Connecting several historical trajectories around political violence, tourism, the Wallace Line, Gunung Agung, and spirits who inhabit the natural world, the film considers alternative archives that are embedded within the landscape. 

Leyla Stevens is an Australian-Balinese artist who works predominately within moving image and photography. Her practice is informed by ongoing concerns around gesture, ritual, spatial encounters and transculturation. Working within modes of representation that shift between documentary and speculative fictions, her interest lies in the recuperation of counter histories within dominant narratives.  Stevens is the recipient of the 66th Blake Prize Established Artist Prize and has been selected as a finalist for the 2019 NSW Visual Arts Fellowship (Emerging) at Artspace, Sydney and 2018 John Fries Award at UNSW Galleries, Sydney.  She is currently presenting new work in The National 2021: New Australian Art at the Art Gallery of New South Wales.  

Sunday 30 May 2021 2.45pm – 2.58pm

beneath the skin is a layer of grief (that doesn't belong to you)

Dir Atong Atem 2018 (Australia)
5 mins Digital Colour
Unclassified 12+

A porthole into Atong Atem's stream of consciousness. The work plays with the frisson between the artist's intimate disclosure of personal memories and her striking formal manipulations: sped up gesture, whistling wind, sci-fi camouflage. In her words: 'I'm interested in truth as a concept, whether in the details of my family history or masked makeup in my self portraits – there's always the question of truth and honesty.' 

Sunday 30 May 2021 2.58pm – 3.04pm

Remnants of my ancestors

Dir Sancintya Mohini Simpson 2019
6 mins Digital Colour
Unclassified 12+

Remnants of my ancestors  draws from Sancintya Mohini Simpson's maternal history of indentured labour to explore how culture and tradition, along with memories and trauma, are passed down to the next generation. Incantatory poetry narrates an ongoing quest to uncover the history of her family, taken from South India to Natal (now KwaZulu-Natal, South Africa) as indentured labourers at the turn of the 20th century.  

Sancintya Mohini Simpson is an artist and researcher based in Brisbane. Her work navigates the complexities of migration, memory and trauma through addressing gaps and silences within the colonial archive. Her practice moves between painting, video, poetry and performance to develop narratives and rituals. As a descendent of indentured labourers sent from India to South Africa to work on colonial sugar plantations, she grounds her work in collaboration, connecting wider narratives surrounding descendants of indenture and their diaspora communities.  

Recent solo exhibitions include New Old Archives, Milani Gallery, Brisbane (2020);  Kūlī nām dharāyā/ they've given you the name 'coolie', Institute of Modern Art Belltower, Brisbane (2020); Echoes Over Oceans, Firstdraft, Sydney (2020); Remnants of my ancestors, Hobiennale, Hobart (2019); And words are whispered, 1Shanthiroad Studio/Gallery, Bangalore (2019); and Bloodlines, Metro Arts, Brisbane and Next Wave Festival, Blak Dot Gallery, Melbourne (2018).  

Sunday 30 May 2021 3.04pm – 3.10pm