Professional learning for teachers
Transformation and creativity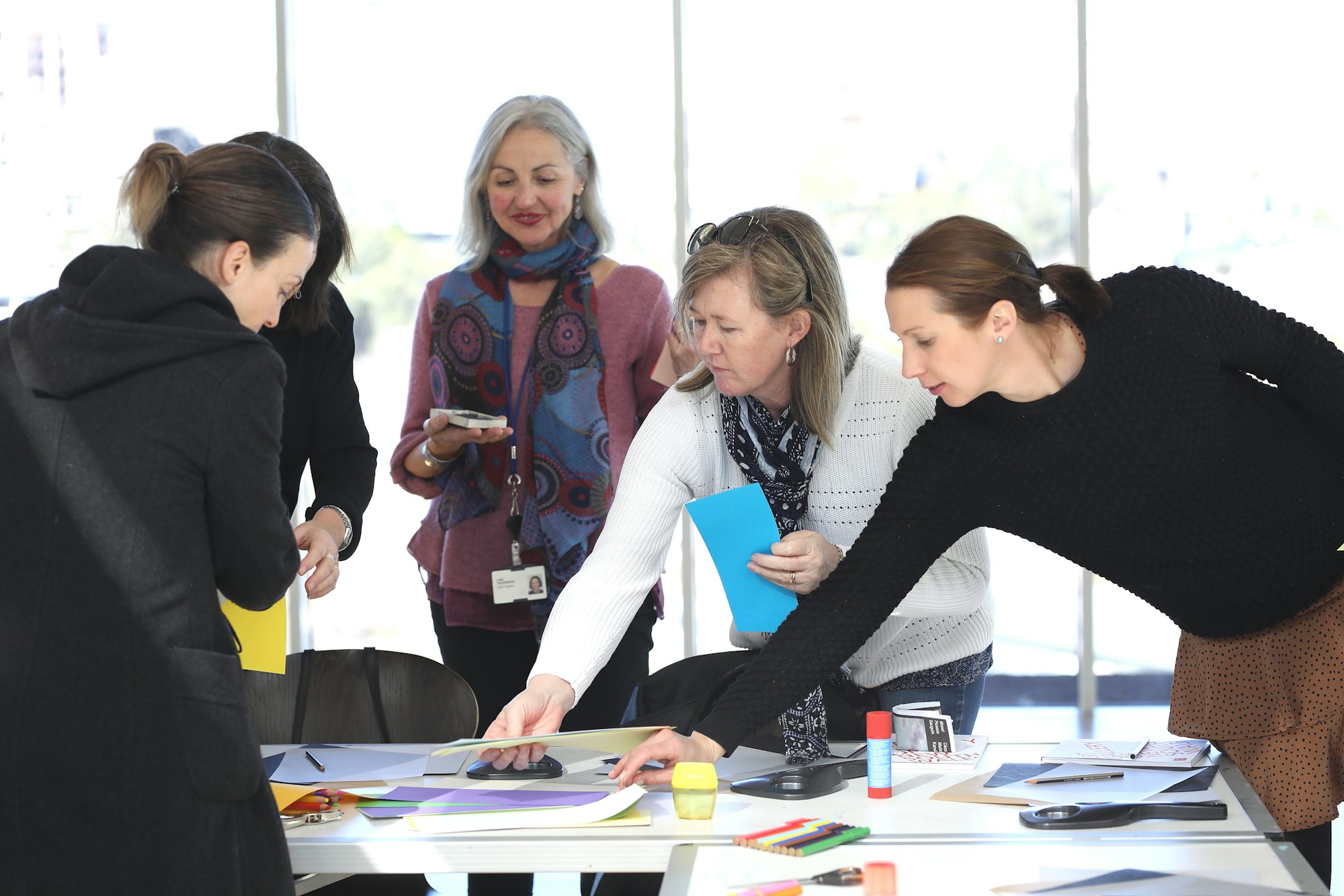 Welcome to our transformed art museum for the first professional learning event of 2023.
With sessions specifically designed for primary and secondary Visual Arts teachers, this two-day event showcases the expanded learning opportunities at the Art Gallery of New South Wales.  
Enjoy the incredible art on display and experience our stunning new building, known as the North Building, with its dedicated learning studio and media lab; the new children's art library and National Art Archive in our recently refurbished historic building, known as the South Building; and an art garden that links the two buildings; alongside our exhibitions and collection displays.  
Our creative learning experiences are conversations with art and ideas that come from here and acknowledge time, place and cultures. This event is designed to inspire teaching and learning strategies for the classroom. Connect with artists, curators, Gallery educators, other specialists and colleagues. 
Among the featured sessions will be artmaking workshops, overviews of the exhibitions (including ARTEXPRESS 2023) and introductions to our exciting new artist commissions.
Professional learning for teachers
Transformation and creativity
Friday 17 and Saturday 18 February 2023
9.30am – 3pm each day
Art Gallery of New South Wales
$100 per day (each day sold separately)
For further information, 02 9225 1740 or education@ag.nsw.gov.au
Day 1

Program schedule

9.30am Morning tea

10am Acknowledgement of Country
Wesley Shaw, senior programs producer, Aboriginal and Torres Strait Island Art, Art Gallery of NSW

Welcome and introduction
Leeanne Carr, creative learning manager, Art Gallery of NSW

10.15am Defining principles of learning, participation and practice
Paschal Daantos Berry, head of learning and participation, Art Gallery of NSW

10.45am Building a new museum: architecture and the Sydney Modern Project
Sally Webster, head of Sydney Modern Project, Art Gallery of NSW

11.30am In focus: Richard Lewer's art commission for the Sydney Modern Project
In conversation with Anne Ryan, curator of Australian art, Art Gallery of NSW

12pm Exhibition viewing: The End of Imagination
A viewing of the inaugural exhibition in the Tank by artist Adrián Villar Rojas

12.30pm Lunch

1.30pm Art lives here: an overview of the Art Gallery's new art commissions with supporting strategies for student learning
Leeanne Carr, creative learning manager, Art Gallery of NSW
Alexandra Gregg, senior programs producer, Art Gallery of NSW

2pm Workshop: Artists at work – Here Comes Everybody
An art-making session focusing on artist Francis Upritchard's artwork commission for the Sydney Modern Project

3pm Conclusion

Friday 17 February 2023 9.30am–3pm

Day 2

Program schedule

9.30am Morning tea and ARTEXPRESS 2023 viewing  

10am A look inside ARTEXPRESS 2023 
Louise Halpin, curator of ARTEXPRESS, Art Gallery of NSW 

10.30am ARTEXPRESS Virtual – explore the annual ARTEXPRESS Virtual exhibition 
Ron Pratt, Michael Rampe and Kate Dowland, ARTEXPRESS, The Art Unit, Department of Education

11am Building a body of work: ARTEXPRESS student and teacher presentation 
Louise Halpin, curator of ARTEXPRESS, Art Gallery of NSW

11.30am Art in conversation: an overview of the Art Gallery's collection rehangs
Alexandra Gregg, senior programs producer, Art Gallery of NSW 

12pm Lunch

1pm Guided tour of Yiribana Gallery  
Educator team, Art Gallery of NSW

2pm Workshop: New heroes are born
An art-making session designed by artist Grace Lillian Lee             

3pm Conclusion

Saturday 18 February 2023 9.30am–3pm