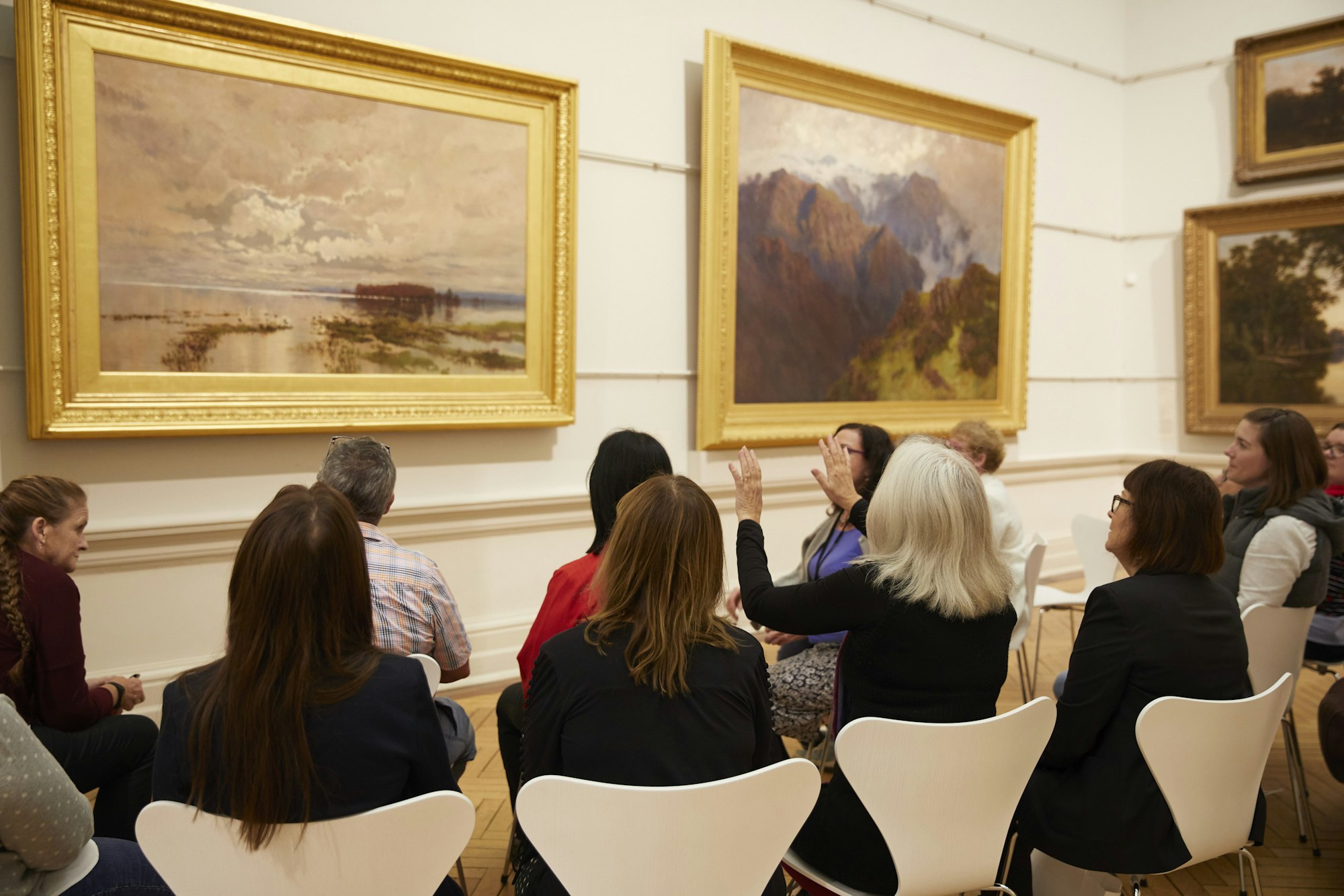 Take some time out and come on a mindful journey through the collection focusing on a curated selection of artworks. We invite you to engage in a guided experience of art and conversation using slow-looking techniques to observe, explore, and discuss your insights on art and life.
It's an opportunity to engage with art, and your own feelings and thoughts in a supported environment; share experiences with like-minded people; reflect on your own identity your caring role; and enjoy 'in-the-moment' pleasure. You'll also discover how mindful activities can support self-care and learn skills and strategies that can be transferred to the care environment.
The experience is facilitated by artist and researcher Dr Gail Kenning and Danielle Gullotta, senior access programs producer at the Art Gallery of New South Wales. The program is a partnership between the Art Gallery, Palliative Care NSW and the University of New South Wales.
This program has been developed specifically for those who are supporting a person receiving palliative care, whether in a professional, volunteer or informal capacity. We will ask you how you identify in your caring role, you do not have to answer, but it will help us to best facilitate a shared empathic experience.
Pause program for carers
Saturdays 13, 20, 27 August 2022
9.30–11am
Ticketing and information desk
Art Gallery of NSW
Free, bookings required
Making connections

Image:

Pause program exploring What matters most in the Australian Galleries of the Art Gallery of New South Wales, 2019

Saturday 13 August 2022 9.30–11am

What matters most

Image:

Pause program exploring What matters most in the Australian Galleries of the Art Gallery of New South Wales, 2019

Saturday 20 August 2022 9.30–11am

Compassionate care

Image:

Pause program exploring What matters most in the Australian Galleries of the Art Gallery of New South Wales, 2019

Saturday 27 August 2022 9.30–11am