Flowers in hell: a Korean cinema retrospective
지옥에 핀 꽃: 한국 영화 회고전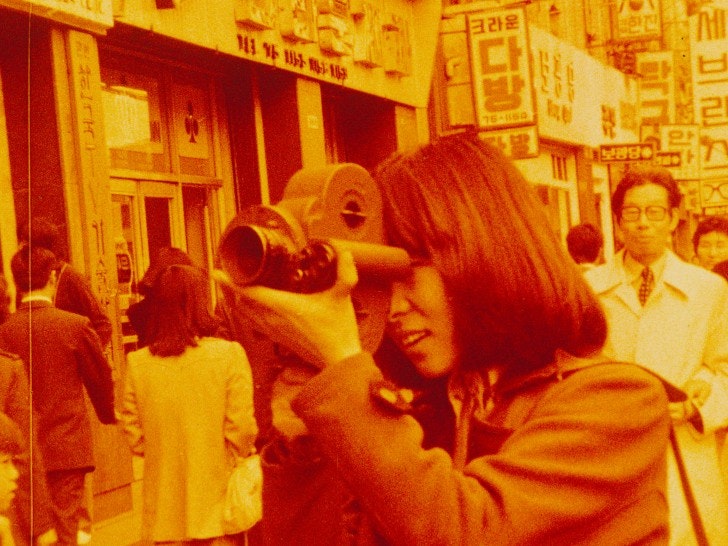 Meet squirming octopi, avenging heroines and early K-pop stars in this retrospective of South Korean cinema. From a rare 1940s wonder to golden age noir and recent landmarks on 35mm, Flowers in hell brings together over 20 titles from one of the most vital film industries in the world.
Since the late 1990s, the K-wave or hallyu (한류) – an unstoppable, global takeover of Korean pop culture – has turned directors such as Lee Chang-dong (Burning 2018), Bong Joon-ho (Parasite 2019) and Park Chan-wook (Decision to leave 2022) into household names. These filmmakers merge the pleasures of big-budget storytelling with a gleefully inventive approach to genre and biting social critique.
South Korea has a deep history of stylish, subversive cinema. The film industry has long metabolised turbulent times – colonisation, civil war and successive military dictatorships – into gripping movies notable for their morbid humour, hyper-violence and visceral thrills. To adopt a title in this series, filmmakers have found 'flowers' in hellish circumstances, eking out moments of beauty and creative expression from the rubble of postwar Seoul and in spite of strict censorship regimes.
Films in this series lampoon the gap between rich and poor, from a loopy satire of the ascent of corporate capitalism in the late 1980s (The age of success 1988) to humane portraits of those left behind, such as two billboard painters swinging high above the rooftops of wealthy Gangnam (Chilsu and Mansu 1988). Don't miss Kim Ki-young's suspenseful 'upstairs downstairs' 1960s psychodrama, The housemaid, which inspired Bong Joon-ho's Oscar-winning Parasite.
A special live performance of Korean drumming will accompany kaleidoscopic shorts by the country's first feminist film collective, Kaidu Club. Playful explorations of gender echo across the series, such as Jeong Jae-eun's cult coming-of-age tale starring five female friends in Y2K Incheon (Take care of my cat 2001) and Bong's brilliant study of the monstrous maternal (Mother 2009).
We traverse a national cinema that looks inwards at local traditions and folklore – for instance, the mythical, matriarchal community of Io Island (1977) – but also reaches out, such as Hong Sang-soo's comedic collaborations with legendary French actress Isabelle Huppert (In another country 2012).
Join us for the most comprehensive survey of South Korean cinema ever staged in Australia.
'지옥에 핀 꽃: 한국영화 회고전'에서 꿈틀거리는 산낙지, 복수에 찬 여주인공들, 그리고 초기 케이팝 스타들을 만나보세요. 1940년대 희귀하고 경이로운 영화에서부터 황금기의 느와르 작품들과 최근의 35mm 랜드마크까지, 이 회고전은 세계에서 주목받고 있는 한국영화의 걸작 스무 편 이상을 선보입니다.
1990년대 후반부터 '한류' 열풍이 전세계로 퍼지면서 이창동(버닝, 2018), 봉준호(기생충, 2019), 박찬욱(헤어질 결심, 2022) 등 다수의 한국 감독들이 세계적으로 인정받게 되었습니다. 이들 감독들은 고예산 영화 스토리텔링의 즐거움과 장르극 특유의 유쾌하고 창의적인 접근, 신랄한 사회 비판을 결합시키며 작품을 만들어왔습니다.
한국은 세련되고 파괴적인 영화에 대한 깊은 역사를 가지고 있습니다. 한국의 영화 산업은 식민지 시대, 남북전쟁 및 군사독재와 같은 한국 역사 속 격동의 시기를 반영하여 블랙 코미디, 느와르, 스릴러 및 장르극 등의 작품을 탄생시켰습니다. 이 회고전의 제목처럼, 감독들은 엄격한 검열에도 불구하고 전후 상황 속에서 아름다움과 창의적인 순간을 포착하며 지옥 같은 환경 속에서도 '꽃'을 찾아냈습니다.
이번 시리즈를 통해 소개되는 영화들은 1980년대 후반의 기업 자본주의 급부상에 대한 터무니없는 풍자(성공시대, 1988)부터 강남 부잣집 지붕 위로 높이 매달려 있는 두 명의 광고판 화가와 같이 뒤쳐진 사람들에 대한 초상(칠수와 만수, 1988)까지 빈부격차를 조명합니다. '위층과 아래층'을 오가며 펼쳐지는 긴장감 넘치는 1960년대 사이코 드라마, 김기영 감독의 '하녀'를 놓치지 마세요. 이 영화는 오스카상을 수상한 봉준호 감독의 '기생충'에 영감을 준 작품입니다.
시리즈 중반에는 한국 최초의 페미니스트 영화 단체인 '카이두 클럽' 의 만화경 같은 단편 영화 상영회와 맞물려 한국식 드럼연주를 감상할 수 있는 특별 공연이 마련되어 있습니다. y2k 인천을 배경으로 여자친구 다섯 명의 이야기를 엮은 정재은 감독의 성장영화(고양이를 부탁해, 2001), 괴물 같은 모성에 대한 봉 감독의 탁월한 묘사(마더, 2009) 등 시리즈 전반에 걸쳐 젠더에 대해 탐구합니다.
이번 회고전에서는 '이어도(1977)'에 등장하는 신화 및 모계사회와 같이 한국의 토속 전통과 민속을 들여다볼 수 있는 한국적 영화 뿐 아니라 홍상수 감독과 전설적인 프랑스 여배우 이자벨 위페르의 합작 코미디도 감상할 수 있습니다.
호주에서 개최되는 가장 폭넓은 한국영화 회고전에 함께 참여해주세요!
Flowers in hell: a Korean cinema retrospective
지옥에 핀 꽃: 한국 영화 회고전
Wednesdays, Sundays 19 July – 22 October 2023
2pm, 7.15pm
Art Gallery of New South Wales
South Building
Lower level 3, Domain Theatre
Free, bookings recommended
Claire's camera

클레어의 카메라

Director Hong Sang-soo, 2017, South Korea
69 min, digital, colour, unclassified 15+
Isabelle Huppert, Kim Min-hee
English, Korean with English subtitles  

A sunny divertissement shot on the fly during the Cannes Film Festival, Claire's camera explores the power of images to transform us. 'The only way to change things,' says Claire (Isabelle Huppert), 'is to look at them again very slowly.' The Parisian tourist wanders the French Riviera, striking up conversations on a whim and taking snaps with a Polaroid camera. Across the film, she separately encounters three strangers – a Korean director, a film sales agent and her jilted boss – who are embroiled in a simmering love triangle. As her trench coat suggests, Claire serves as an existential detective of sorts, helping the trio to comprehend their predicament. 'Hong condenses a grand melodrama of work, love, and art into a brisk roundelay of chance meetings and intimate confrontations.' – Richard Brody, The New Yorker

Sunday 1 October 2023 2–3.09pm

Memories of murder

살인의 추억

Director Bong Joon-ho, 2003, South Korea
131 min, 35mm, colour, MA15+ 
Song Kang-ho, Kim Sang-kyung 
Korean with English subtitles 

Based on the true story of South Korea's first serial killer, Memories of murder stars Bong Joon-ho's long-time leading man Song Kang-ho as a small-town cop tasked with investigating a string of murders. Set in the years 1986 to 1991, the case unfolds in the shadow of South Korea's repressive military dictatorship. Bong crafts a haunting study of a society riven by fear, corruption and deep historical scars. In the director's words, 'There's an old tradition of crime movies in Korean cinema which are rather different from plot-oriented Hollywood thrillers, and I wanted to make something of that sort. The old-style Korean movies are essentially humane and emotional – that's what I like about them.' Memories of murder renewed interest in the cold case and the culprit was finally identified and charged in 2019. 

Mother

마더

Director Bong Joon-ho, 2009, South Korea
128 min, 35mm, colour, MA15+ 
Kim Hye-ja, Won Bin 
Korean with English subtitles  

Renowned in South Korea as the 'mother of the nation', iconic TV actress Kim Hye-ja plays against type in Bong Joon-ho's brilliant study of the monstrous maternal. She stars as the film's shrewd, obsessive title character: a single parent, herbalist, and black-market acupuncturist. When her son Do-joon (Won Bin) is arrested and accused of murder, the doting matriarch swings into action to prove his innocence. With Bong's trademark knack for unsettling tonal shifts, Mother lurches between suspense thriller, surreal melodrama, and pitch-black portrait of deranged family devotion à la Hitchcock's Psycho (1960). Bong wrote the film's wondrous, strange episodes specifically for Kim, including an unforgettable finale where the 'mother of the nation' rides off into the sunset with a group of elderly women on a party bus. 

Parasite

기생충

Director Bong Joon-ho, 2019, South Korea
128 min, digital, colour, MA15+
Song Kang-ho, Lee Syn-kyun, Park So-dam 
Korean with English subtitles  

Parasite was the first non-English-language film to win the Academy Award for Best Picture. Described by its creator as 'a comedy without clowns, a tragedy without villains', the film is a satire of entrenched inequality and the injustice of a system of competition that is designed to be fiercest at the bottom. It's as much a tale of two houses as one of two families. The wealthy Parks reside in a modernist mansion overlooking cloud trees and sculpted lawns. The impoverished Kims, by contrast, dwell in a cramped Seoul semi-basement folding pizza boxes for petty cash. This family of con artists are far more united than the Parks, who rarely share the same shot much less the same room, and distain the smell of 'people who ride the subway'. As the two families' fortunes entwine and the film races toward a suspenseful conclusion, the slapstick becomes more ferocious, the stakes more naked, the laughs more haunting.
Supported by the Korean Cultural Centre Australia and Korean Film Archive (KOFA). Special thanks to Shin Jaeyeong; Kim Jiha, ACC Cinematheque; David Park; and Inji Jung, Francis Lee and So Young Greenberg at the Korean Film Festival in Australia.