Film series
Louise Bourgeois goes to the movies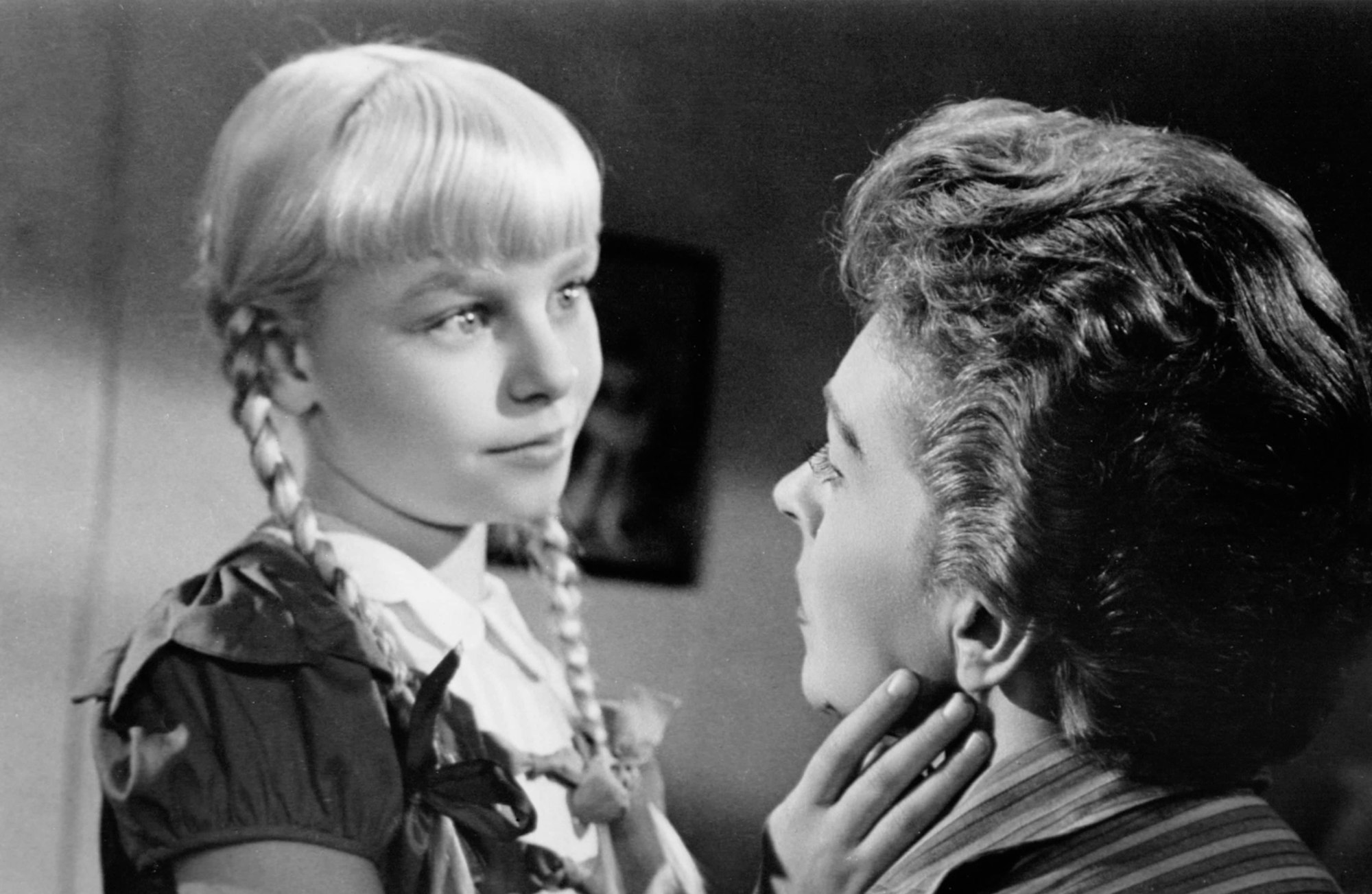 Delve into a summer of classic psychodramas courtesy of one of the most iconic artists of the past century, Louise Bourgeois (France/USA 1911–2010). Featuring a selection of Bourgeois's favourite films, this series spotlights her little-known interest in cinema, drawing together Hollywood melodrama, black comedies and midnight movies by the likes of John Waters and David Lynch.
After a long day working in her Chelsea brownstone or her industrial Brooklyn studio on 347 West 20th Street, Bourgeois often went to the pictures, heading midtown to Film Forum or around the block to the Quad. The 1970s and 1980s were a golden age of repertory cinema in New York City, and Bourgeois regularly attended Anthology Film Archives, The Paris Theatre and the fabled Bleecker St Cinema, with its double bills of arthouse and foreign-language films.
This series is both a snapshot of a historical moment of New York film culture and an intimate chronicle of the movies which piqued the interest of a famously erudite, opinionated artist.
It begins, appropriately, with The Wizard of Oz (1939) – a parable of cinemagoing – and ends with Pink flamingos (1972). In between, the series spans hothouse drama (Cat on a hot tin roof 1958, Splendor in the grass 1961), off-kilter rom-coms (Harold and Maude 1971) and clinical thrillers by Robert Altman (That cold day in the park 1969) and Claude Chabrol (Story of women 1988).
Bourgeois had an eye for the cult and the camp, for films exploring neuroses and hysteria with flamboyant style and gallows humour. She was, after all, an artist who once embroidered a handkerchief with, 'I have been to hell and back. And let me tell you, it was wonderful.'
She gravitated to films of ferocious emotion: character studies and family dramas probing the relationship between convention and prohibition, social norms and unruly exceptions. Hers is a cinema of ambivalent mothers, vengeful housewives and desiring women reckoning with feelings of rage, abandonment and erotic frustration.
The series will be accompanied by a selection of resonant shorts by artists including Edward Owens, Soda Jerk, Maria Lassnig, Jackie Wolf and more. One featured filmmaker, Jane Campion, describes Bourgeois as an art idol: 'Nothing compares with her uneasy mix of beauty, truth-sharing, dark hidden memories, pain, shame and comedy. She's gone to the depths. She will lead you there and keep you there.'
This summer, let Bourgeois lead you to the cinema.
Screens in association with the exhibition Louise Bourgeois: Has the Day Invaded the Night or Has the Night Invaded the Day?, which is on display at the Art Gallery of New South Wales from 25 November 2023 to 28 April 2024.
Film series
Louise Bourgeois goes to the movies
29 November 2023 – 10 March 2024
Various dates and times
Art Gallery of New South Wales
South Building
Lower level 3, Domain Theatre
Free, bookings recommended
The bad seed

Director Mervyn LeRoy, 1956, USA
126 min, 35mm, B&W, rated M
Patty McCormack, Nancy Kelly

'My childhood has never lost its magic, it has never lost its mystery, and it has never lost its drama,' Bourgeois once said. It's little wonder that The bad seed was beloved by an artist preoccupied with her own self-conception as a mischievous fillette (little girl). This classic tale centres on Rhoda Penmark (McCormack): blue eyes, polka-dot pinafore, a vision of docility. When tragedy strikes on a school trip, Rhoda's mother (Kelly) begins to think that her little pollyanna may be to blame. Mervyn LeRoy's cult psychodrama explores the sweet/sinister allure of the 'cute'. Rhoda's accentuated innocence (all pigtails and curtseys) invites tenderness but also suspicion as more mysterious deaths occur in her orbit. Featuring loopy pop-psychology and camp dialogue, The bad seed underlines the fact that the word 'cute' derives from 'acute': sharp-witted, shrewd and cunning. After MGM added an 'adults only' tag to its advertising, the film became one of the studio's biggest hits of the year.

Preceded by:

A girl's own story
Director Jane Campion, 1983, Australia
27 min, 16mm, B&W, rated M
Gabrielle Shornegg, Geraldine Haywood, Marina Knight

'I can recall feeling that the secrets of girlhood formed a true and rich territory – not known to men, not discovered in cinema. Rather than compete with the boys at film school for the cranes and the rigs, I thought, Let them have them, I'll go underground into the world of memories and secrets and explore that,' Jane Campion wrote in an essay on the influence of her 'art idol', Louise Bourgeois. A girl's own story was the director's final student film, a hallucinatory study of burgeoning sexuality in 1960s suburbia.

Sunday 10 December 2023 2–4.33pm

Murmur of the heart

Director Louis Malle, 1971, France
118 min, 35mm-to-digital, colour, rated R18+
Benoît Ferreux, Leá Massari
French with English subtitles

Louis Malle's acclaimed film offers a striking portrait of a teenager's coming of age in 1950s France. Precocious 15-year-old Laurent (Ferreux) reads Camus, listens to Charlie Parker, and lives in an upper-middle-class villa with his uptight father, tyrannical older brothers, and free-spirited mother Clara (Massari), whom he adores. With daring candour and tender humour, Malle depicts Laurent's erotic imagination, culminating in a confronting scene of Oedipal transgression that led to the film's censorship. Bourgeois grew up in similarly comfortable circumstances, and obsessively mined her own family secrets and infidelities. At the movies, the artist seems to have enjoyed scabrous, surreal dissections of the bourgeois household, with Bonjour tristesse (1958) and Luis Buñuel's Belle de jour (1967) also among her favourites.

Cat on a hot tin roof

Director Richard Brooks, 1958, USA
98 min, 35mm-to-digital, colour, rated PG
Elizabeth Taylor, Paul Newman

Adapted from the Tennessee Williams' play of the same name, Cat on a hot tin roof unfolds over the course of one sweltering evening in the South. The 65th birthday party of family patriarch Big Daddy sets the scene for an all-night exorcism of long-held grievances and family traumas. At the centre of the drama are Elizabeth Taylor as the sexually frustrated Maggie 'the Cat' and Paul Newman as Brick, her closeted, ex-football-star husband. The pair stalk each other with extraordinary screen presence, as party guests howl against mendacity while skirting the two primary topics of repression: Brick's homosexuality and Big Daddy's imminent death. Although the Hays Production Code demanded script changes – including all explicit references to queerness – Cat ranked among the year's top box-office hits and earned Taylor her second Best Actress Oscar nomination.

Preceded by:

Remembrance: a portrait study
Director Edward Owens, 1967, USA
6 min, 16mm-to-digital, colour, unclassified 12+
Mildred Owens, Irene Collins, Nettie Thomas

'Runnin' wild, lost control, runnin' wild, mighty bold, feeling gay, reckless too.' A portrait of the filmmaker's mother and her friends, set to a score of 1950s and 1960s pop songs.

Splendor in the grass

Director Elia Kazan, 1961, USA
124 min, 35mm, colour, rated M
Natalie Wood, Warren Beatty

'That's what happens to girls who go wild and boy crazy!' In small-town Kansas at the onset of the Great Depression, two teenagers – Wilma Dean ('Deanie') Loomis (Wood) and Bud Stamper (Beatty) – find their passion for each other at odds with mid-20th-century puritanism. Director Elia Kazan and playwright William Inge's shared interest in psychoanalysis informed their portrayal of repression as a disfiguring force. In researching this film, Kazan visited the first psychiatric facility set up for young people in the United States, which he took as evidence that 'mid-America was cracking up, that its values were not working'. Starring an ever-radiant Natalie Wood (who was then in daily psychoanalysis), this screen melodrama was admired by an artist who used her own practice to work through repressed fears and fantasies. Bourgeois's cinemagoing in New York coincided with the golden age of Hollywood melodrama. She was also a fan of A place in the sun (1951) and Who's afraid of Virginia Woolf (1966).

That cold day in the park

Director Robert Altman, 1969, USA
113 min, 35mm, colour, rated M
Sandy Dennis, Michael Burns

Robert Altman's rarely screened early psycho-thriller stars the formidable Sandy Dennis as a lonely socialite who takes a young hippie hostage. Billed as 'the post-Graduate you've been waiting for!', Altman's film is far more cryptic and unnerving than Mike Nichols' Summer of Love classic. Miss Frances Austen is the anti-Mrs Robinson: a seductress with white tights, plaid coat and jangled nerves, who spies a stranger on a park bench, invites him home, pours a bubble bath, and locks the door. What follows is a bizarre slow-dance of hospitality and coercion, as the older woman implores her houseguest to stay, and he obliges, without saying a word. Desire curdles into fevered possession in the four walls of the apartment, which legendary New Hollywood cinematographer László Kovács shoots as a maze of mirrors. The film anticipated Altman's subsequent studies of female psychological breakdown, Images (1974) and 3 women (1977). Entrapment was a major theme of Louise Bourgeois's own work; in her iconic series of femme maison ('house wife') imagery, women's heads and torsos are confined within domestic architecture.

Restored 35mm print courtesy of the UCLA Film & Television Archive. Restoration funded by The Film Foundation and the Hollywood Foreign Press Association.

Harold and Maude

Director Hal Ashby, 1971, USA
91 min, 35mm-to-digital, colour, rated M
Ruth Gordon, Bud Cort

The meet-cute takes place at a funeral. She's a free-spirited septuagenarian with a lust for life; he's a deadpan twenty-something with a death wish. Set to the strum of Cat Stevens, the pair form an unlikely connection over grand-theft auto and banjo lessons as Maude teaches her young lover to 'greet each dawn with a breath of fire!' The film's portrayal of intergenerational romance and gallows humour initially found few fans (Variety famously called it 'as much fun as a burning orphanage'). As the 1970s progressed, however, Hal Ashby's askew comedy was revived on the repertory cinema circuit and turned into a defining cult classic of the New Hollywood era. 'Harold and Maude became this thing where audiences just saw it over and over and over again,' wrote screenwriter Larry Karaszewski.

Content warning: contains reference to self-harm.

Preceded by:

Palmistry
Director Maria Lassnig, 1973, USA/Austria
11 min, 16mm-to-digital, colour, unclassified 12+

Best known for her influential experiments in self-representation, Maria Lassnig's 16mm films were created in her New York studio, using two telephone books, a glass plate and a lightbulb as a makeshift animation stand.

Sugarbaby

Director Percy Adlon, 1985, West Germany
86 min, 35mm, colour, rated M
Marianne Sägebrecht, Eisi Gulp
German with English subtitles

An overlooked 1980s rom-com shot through a candy-coloured prism of aqua, lime and magenta. Cult actress Marianne Sägebrecht ('Mother of the Munich underground') plays a mortuary worker who develops an obsessive crush on a handsome train driver many years her junior. Evoking the rich fantasy life of a desiring older woman, Sugarbaby delivers a humorous portrayal of fatal attraction with deadpan sincerity ('I have observed you, I have hunted you, and I finally gotcha!') What's most striking about the movie is its flamboyant mise en scène and fluid cinematography, which swings to and fro as the pair dance at a disco. 'Adlon paints working-class Munich like Pabst on speed, in acid-drop colour and expressionistic camera angles – a kaleidoscopic visual gloss on the characters' repressed and unspoken emotions.' – Time Out

Sunday 4 February 2024 2–3.26pm

Story of women

Director Claude Chabrol, 1988, France
108 min, 35mm, colour, rated R18+
Isabelle Huppert, François Cluzet, Marie Trintignant
French with English subtitles

Often labelled the 'French Hitchcock', prolific nouvelle vague director Claude Chabrol made icy thrillers probing the hypocrisies of bourgeois patriarchy and the human capacity for cruelty. Story of women is based on the true tale of Marie-Louise Giraud, one of the last women to be guillotined in France. Isabelle Huppert gives a mercurial performance as a poor mother of two who performs clandestine abortions during the Nazi Occupation. When her husband returns from the war, Marie passes him off to the maid, takes a lover for herself, and dreams of becoming a chanteuse. Huppert is devastating as the housewife turned outlaw of the state: at once loving and callous, naive and cunning, pitiable and repellent. Chabrol's deeply moving, ambivalent portrait of the 'monstrous feminine' resonated with Bourgeois, whose own works combined violence and vulnerability, giving form to a self-declared 'volcanic unconscious'.

Wednesday 7 February 2024 2–3.48pm

Wednesday 7 February 2024 7.15–9.03pm

Sunday 11 February 2024 2–3.48pm

Garden of the Finzi-Continis

Director Vittorio De Sica, 1970, Italy
95 min, 35mm, colour, rated M
Dominique Sanda, Lino Capolicchio
Italian with English subtitles

Ferrara, northern Italy, 1938. Mussolini announces racial laws barring Jews from all areas of civic life. Behind locked gates, the children of an aristocratic Jewish–Italian family host languid afternoons by a private tennis court surrounded by exotic palms and ancient plane trees. On the streets, citizens parade antisemitic banners and fascist flags. As war encroaches, the Finzi-Contini's garden arcadia becomes a space of retreat and denial, with the family initially wed to the false hope that wealth and privilege will spare them from catastrophe. De Sica (Bicycle thieves, 1948) offers an elegy for a lost time and place, when people still inhabiting their world could sense its impending loss. 'A forgotten masterpiece about the horror of fascism.' – The Guardian

Wednesday 14 February 2024 2–3.35pm

Wednesday 14 February 2024 7.15–8.50pm

Fellini Satyricon

Director Federico Fellini, 1969, Italy
129 min, 35mm-to-digital, colour, rated M
Martin Potter, Hiram Keller
Italian with English subtitles

Rome. Before Christ. After Fellini. At the beginning of the 1960s, renowned Italian director Federico Fellini suffered from debilitating depression. In 1965, under the supervision of his on-set psychoanalyst, Fellini tried LSD, an experience which spawned an outpouring of films marked by brilliant colours, disorienting flashbacks and a scrambled perception of time and space. Perhaps the most delirious of these efforts was Satyricon, a two-hour riot through the Roman underground, described by its director as a 'science fiction of the past'. Based on Petronius' fragmentary satire Satyricon, the film follows the exploits of two young men – the handsome scholar Encolpius (Potter) and his vulgar friend Ascyltus (Keller) – as they journey through a landscape of bacchanalian excess. The demimonde of imperial Rome cavort in lavish costumes against a backdrop of crumbling frescoes, which were partly filmed in the caverns beneath the Colosseum. The enduring appeal of the film's rococo style is attested to by the fact that fashion house Dolce & Gabbana recently funded Satyricon's restoration.

Sunday 18 February 2024 2–4.09pm

Fox and his friends

Director Rainer Werner Fassbinder, 1975, West Germany
125 min, 35mm-to-digital, colour, rated MA15+
Rainer Werner Fassbinder, Peter Chatel, Karlheinz Bohm
German with English subtitles

This week: a double bill by German wunderkind Rainer Werner Fassbinder. In his 20th film in the space of six years, the prodigious director plays Franz Biberkopf aka Fox the Talking Head, a gay carnival star in a bejewelled denim jacket. When he wins the lottery, the working-class hustler becomes a prime mark for predatory suitors, including new lover Eugen (Chatel), the son of a bankrupt industrialist. Though Fassbinder frequently explored male relationships, Fox was his first film to explicitly represent queer romance. He presents a pessimistic portrayal of gay life in 1970s West Germany, depicting relations between the working class and a cold haute societé as masochistic and transactional. Partly inspired by Fassbinder's own relationship with then-lover Armin Meier, Fox is a great example of the director's vision of 'love as the most insidious instrument of repression'.

Wednesday 21 February 2024 2–4.05pm

Wednesday 21 February 2024 7.15–9.20pm

In a year with 13 moons

Director Rainer Werner Fassbinder, 1978, West Germany
124 min, 35mm-to-digital, colour, rated R18+
Volker Spengler, Ingrid Caven, Gottfried John
German with English subtitles

In the aftermath of his lover Armin Meier's suicide, Fassbinder produced this deeply personal and compassionate portrait of the final days of a trans woman. Abandoned by her lover, Elvira (Spengler) revisits people and places of past significance, from her childhood orphanage to the slaughterhouse where she had been an apprentice. Set to the strains of Mahler's 'Fifth symphony', Fassbinder's film plays as a Trauermarsch (funeral song), an autobiography of a lifetime of suffering, leavened by raucous laughter and lurid cinematic style. Elvira exists in a world of artificial theatrical tableaux, cleaved by oblique angles and mirrors that fragment and distort her image. Fassbinder offers a harrowing, humane reckoning with what he once described as 'the exploitability of feelings'. 'A movie of pure emotion' – director Richard Linklater.

Content warning: contains scenes of animal slaughter and reference to self-harm.

Sunday 25 February 2024 2–4.04pm

Eraserhead

Director David Lynch, 1977, USA
89 min, 35mm-to-DCP, B&W, rated M
Jack Nance, Charlotte Stewart

Fun fact: asked which piece of art they would choose to live with when given the choice of any artwork on Earth, Louise Bourgeois and David Lynch both nominated Hieronymus Bosch's The garden of earthly delights 1490–1510. The selection of Bosch's triptych of sin, perversion and wicked play suggests a shared sensibility between artist and filmmaker, and it's perhaps not surprising that Bourgeois admired Eraserhead. Set in a monochrome industrial wasteland, Lynch's debut feature follows a young couple (Nance and Stewart) as they confront the arrival of a mutant child. Swaddled in gauze, this wet, fleshy, limbless thing could plausibly sit alongside some of Bourgeois's own sculptures of forms expelled from the womb, or the alien specimens of Le regard 1963 or Le Trani Episode 1971, two works currently on display at the Art Gallery.

Preceded by:

Amelia Rose Towers
Director Jackie Wolf, 1992, Australia
11 min, 35mm-to-digital, B&W, rated PG
Kelly McNair, Tina Rogers

If as a child, you were picked last for a team; and sought as your refuge a wish or a dream. If you ever felt lonely, peculiar or blue; then Amelia Rose Towers is a lot like you! True!

Wednesday 28 February 2024 2–3.40pm

Sunday 3 March 2024 2–3.40pm

Pink flamingos

Director John Waters 1972, USA
93 min, 35mm, colour, rated R18+
Divine, Cookie Mueller

'One of the most vile, stupid and repulsive films ever made!' So declared a Variety review of Pink flamingos, an appraisal which director John Waters gleefully embraced as a publicity tagline. His notorious trash comedy pits tabloid queen Babs Johnson (Divine) against two rivals in a gross-out battle for the title of Filthiest Person Alive. Initially banned in Australia, Pink flamingos played in grindhouse theatres in New York for 95 weeks straight. The film's fixation on abject corporeality, bodily functions and leaky orifices found a fan in Bourgeois, who cast bulges, breasts, slits and phallic appendages in plaster and latex. Like Waters, Bourgeois didn't shy away from taboo and transgression, openly admitting that 'my work disturbs people and nobody wants to be disturbed'. See, for instance, Bourgeois's installation Destruction of the Father 1974, a fantasy of cannibalistic patricide comprising mutton hunks and chicken legs, glowing under red light in the Art Gallery's Tank.

Wednesday 6 March 2024 2–3.33pm

Wednesday 6 March 2024 7.15–8.48pm

Sunday 10 March 2024 2–3.33pm
Special thanks to The Easton Foundation, New York