Community celebrations
By Leo Tanoi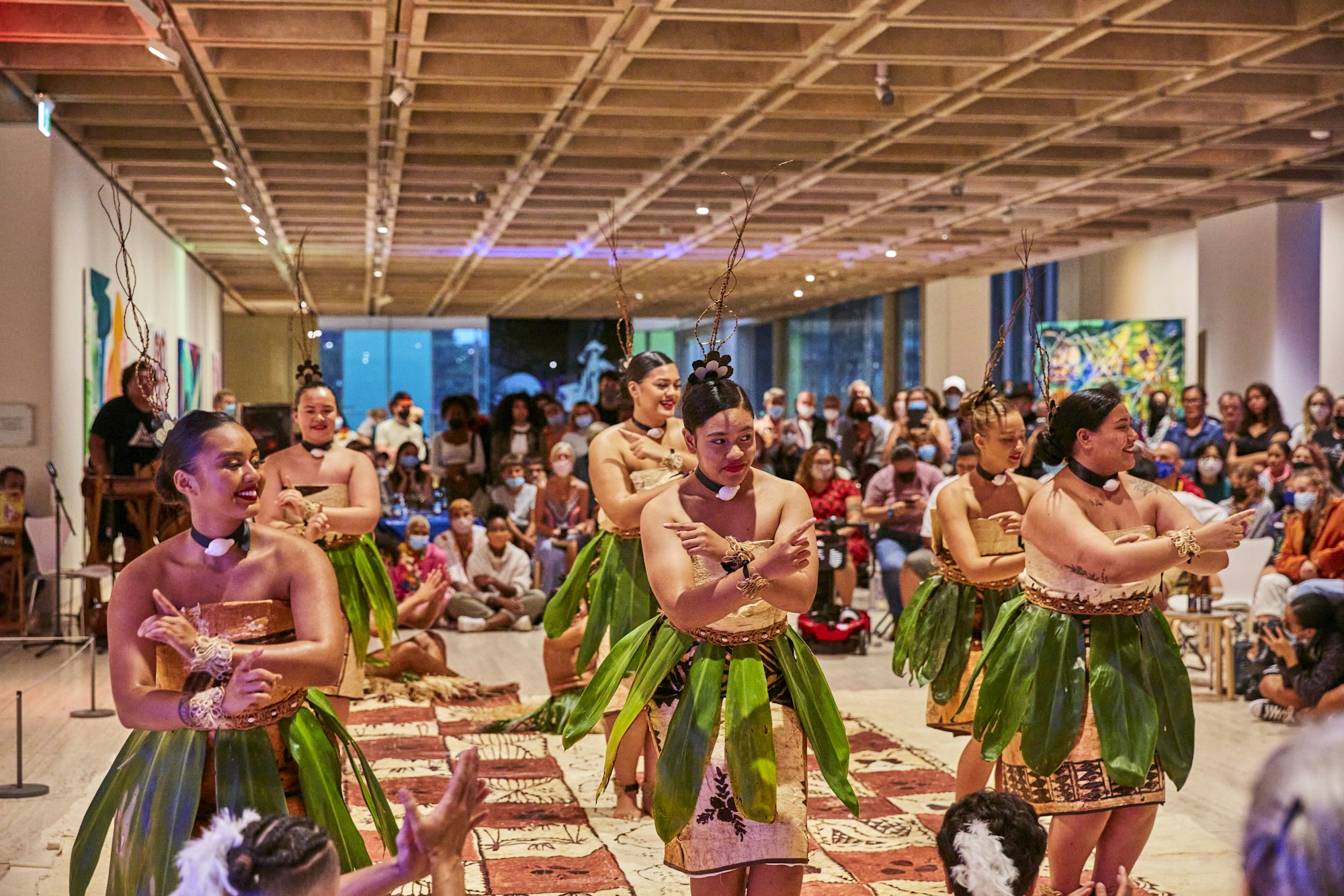 On different days in December 2022, the Art Gallery of New South Wales has given space over to different creative teams to program a series of events and experiences.
On 11 December, join us for a celebration of Sydney's Pasifika community, co-produced with Leo Tanoi, a Sydney-based Pasifika curator, arts programmer, DJ, radio broadcaster, performer, cultural worker and community leader.
Drop by Meers Hall on lower level 2 of our new North Building, where pop-up digital artworks by Greg Semu, Allen Vili and Katrina Iosia will be on rotational display between 11am and 4pm, and catch a series of performances, music and talanoa conversations.
Head over to the Kaldor Hall on the ground level of our original South Building from 4pm until 9pm for more music!
The event is part of celebrations to mark the opening of the Art Gallery's new building, known as the North Building, in December 2022.
Community celebrations
By Leo Tanoi
Sunday 11 December 2022
11am – 9pm
Art Gallery of New South Wales
North Building
Lower level 2, Meers Hall
South Building
Ground level, Kaldor Hall
Free, no bookings required
Performance

By Toby Cedar

A dance performance from Torres Strait Islander artist Toby Cedar.

Sunday 11 December 2022 11–11.30am

Music

With DJ Leo Tanoi

Sunday 11 December 2022 11.30am–12pm

Sunday 11 December 2022 1.45–2.15pm

In conversation

With Allen Vili and Katrina Iosia

Take a deep dive with Pasifika artists Allen Vili (also known as OneAsian) and Katrina Iosia into art, technology and NFTs (non-fungible tokens).

Sunday 11 December 2022 12–1pm

Performances

By Matavai Pacific Cultural Arts

Traditional Fijian, Tongan and Samoan performances from Matavai Pacific Cultural Arts.

Sunday 11 December 2022 1.15–1.30pm

Sunday 11 December 2022 2.15–2.30pm

Sunday 11 December 2022 3.15–3.30pm

Performance

By Joji Malani

Fijian guitarist Joji Malani (aka Pei) will perform.

Sunday 11 December 2022 1.30–1.45pm

In conversation and DJ set

With Greg Semu

Born in New Zealand of Samaon heritage and now based in Sydney, artist Greg Semu will talk about his internationally acclaimed photographic work, then be our guest DJ.

Sunday 11 December 2022 2.30–3.15pm

In conversation and performance

With Sela Vai

Hear from Tongan–Australian choreographer and movement director Sela Vai, followed by a short performance.

Sunday 11 December 2022 3.30–3.45pm

DJ sets

Music from Emerald Brunt, P.SMID, Maysa, DJ Noya and Dj Stan, Lani Alo, DJ Black President and Robase.

Sunday 11 December 2022 4–9pm