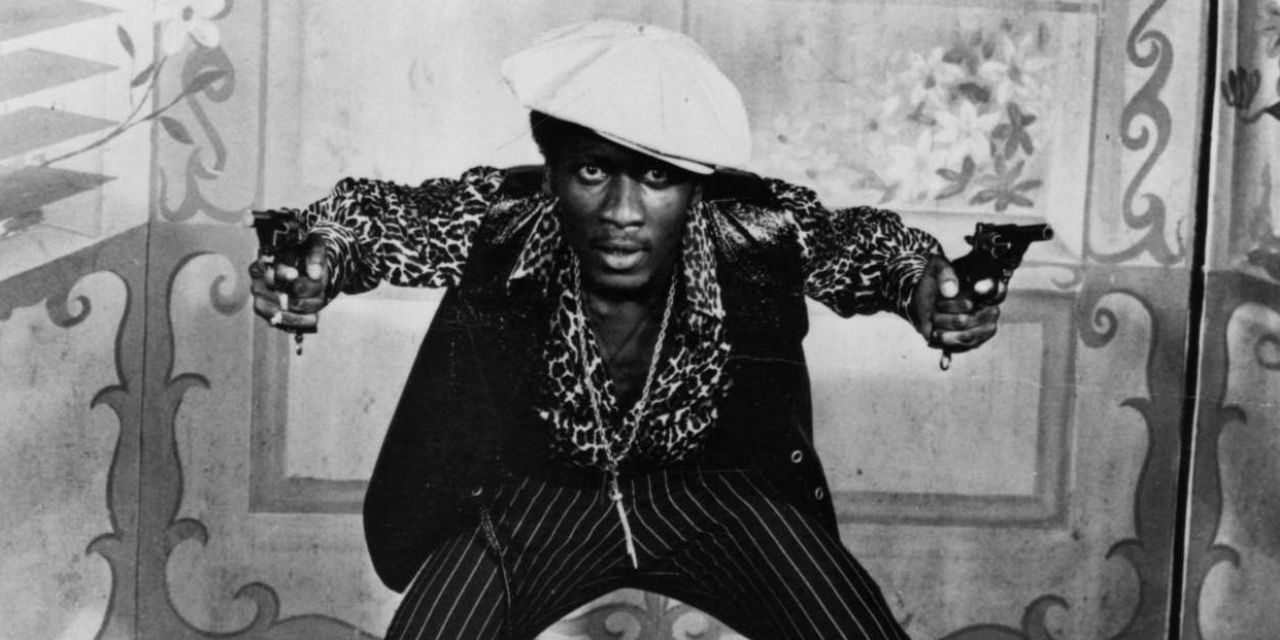 Badlands tours cinema's outlaw zones. We meet Marilyn Monroe in the Nevada Desert, Bruce Lee on a Hong Kong island fortress and Forest Whitaker restaging the codes of 16th-century Japan on the rooftops of New Jersey. These films celebrate unruly characters, boundary riders and rule breakers. From the bandit capital of Sardinia to Brazil's arid backcountry, laws and conventions are renegotiated, power redistributed and competing forces struggle to reimpose order or blast apart in spectacular showdowns.
A spaghetti western remakes a Japanese classic; a Senegalese drama quotes Bonnie and Clyde. Overleaping genres and geographical borders, these films cite and rework each other. There are homages and telling subversions. Drawing together revisionist westerns, samurai films and wuxia (martial arts) cinema, via Blaxploitation and New Hollywood, Badlands assembles a wayward canon.
The series screens in association with the exhibition Outlaw.
Badlands
Art Gallery of New South Wales
South Building
Lower level 3, Domain Theatre
Early-bird tickets for January sessions available Tuesday 13 December, 10am
Black God, White Devil

Dir Glauber Rocha 1964 (Brazil)
120 min 16mm B&W
Unclassified 18+
Geraldo Del Rey, Yoná Magalhães
Portuguese with English subtitles

'Black God, White Devil is the most beautiful thing I have seen in more than a decade, filled with a savage poetry,' declared filmmaker Luis Buñuel. In this landmark of Latin American cinema, a cowherd kills his boss and flees with his wife across the drought-stricken sertão, north-east Brazil's notorious backcountry. The pair fall under the spell of a messianic priest, and later an outlaw named Corisco, styled after Lampião, the infamous cangaceiro (rural bandit) turned people's hero. Building to a fever pitch of hunger-crazed hallucinations, revolutionary sermons and gunfire, Glauber Rocha's film conjures the spirit of resistance which gave the sertão its reputation as Brazil's home of banditry.

Content warning: contains scenes of violence.

Introduced by Fábio Marques Ferreira, assistant coordinator of the Brett Whiteley Studio. Fábio holds a Bachelor of Social Sciences and Anthropology from the Federal University of São Carlos in Brazil and is currently undertaking a Master of Curating and Cultural Leadership at UNSW Sydney.

Sunday 5 February 2023 2–4.15pm

Bonnie and Clyde

Dir Arthur Penn 1967 (US)
112 min 35mm Colour Rated M
Faye Dunaway, Warren Beatty

Bonnie and Clyde channels the anti-authority zeitgeist of the mid 1960s into a romantic vision of bank robbers hotfooting it across the Depression-era dustbowl. Based on a real-life Midwest crime spree which captivated America in the 1930s, Arthur Penn's biopic became a pop culture phenomenon. Rightly predicting its revolutionary impact (the film is now credited with kickstarting the New Hollywood cinema movement), critic Pauline Kael observed: 'Maybe it's because Bonnie and Clyde, by making us care about the robber lovers, has put the sting back into death.' For other films in this series with Bonnie and Clyde in their DNA, see Touki bouki, Badlands and Thomasine and Bushrod.

Touki bouki

Dir Djibril Diop Mambéty 1973 (Senegal)
95 mins 35mm-to-digital Colour
Unclassified 15+
Magaye Niang, Mareme Niang
Wolof, French with English subtitles

'Par-ee … Par-ee … Par-ee.' Heeding Josephine Baker's siren call, Mory (Magaye Niang) and Anta (Mareme Niang) dream of a new life in the French capital. Cruising Dakar on a motorcycle adorned with zebu horns, the young lovers hustle to fund their escape. Mambéty's delirious joyride captures a post-independence Senegal grappling with neo-colonialism and corruption. Touki bouki heralded the emergence of an African nouvelle vague which embraced non-linear narrative, exuberant fantasy sequences and the nonchalant cool of young rebels. As Mambéty explains, 'griot … is the word for what I do and the role that the filmmaker has in society … the griot is a messenger of one's time, a visionary and the creator of the future.'

Followed by:

Return of an adventurer (dir Moustapha Alassane, 1966, Niger, 34 min)

One of pioneering Nigerien director Moustapha Alassane's most celebrated films, this homage to the American western follows a band of wannabe outlaws who ransack a village. The first African cowboy film was a major influence on Touki bouki.

Sunday 12 February 2023 2–3.35pm

Dragon Inn

Dir King Hu 1967 (Taiwan)
111 min 35mm-to-digital Colour
Unclassified 15+
Chun Shih, Feng Hsu
Mandarin with English subtitles

If you've never seen a wuxia film, start here. As Hollywood westerns were in decline, Chinese martial arts cinema was being revolutionised by Beijing-born director King Hu. With its widescreen vistas and virtuosic choreography, Dragon Inn brought formal sophistication to the pulpy wuxia genre. The year is 1457. A heroic trio of renegade warriors fight evil assassins at a remote desert inn. Declaring himself ignorant of martial arts ('kung fu, Shaolin tales – I don't understand anything about that'), Hu conceived action sequences as dance, drawing his sense of rhythm from the Beijing opera productions which he frequented as a child. Dragon Inn's blockbuster success breathed new life into martial arts cinema, and has continued to influence recent wuxia hits from Zhang Yimou's Hero (2002) to Ang Lee's Crouching Tiger, Hidden Dragon (2000).

They call her… Cleopatra Wong

Dir Bobby A Suarez 1978 (Singapore/Philippines)
111 min 35mm-to-digital Colour
Unclassified 18+
Marrie Lee, George Estregan

Renowned as an inspiration for Quentin Tarantino's Kill Bill (2003), the Cleopatra Wong trilogy circulated on rare VHS tapes, before being recently restored by the Asian Film Archive. Top Interpol agent Cleopatra Wong receives a new mission to crack a counterfeit currency ring. Dressed in a jumpsuit with go-go boots, she whizzes from the skylines of Singapore to the wharves of Hong Kong, and ends up at a monastery in the hills of Manila. Influenced by Blaxploitation classic Cleopatra Jones (1973) and the Shaw Brothers' martial arts starlets, Cleopatra Wong was the invention of an ambitious Filipinx B-movie powerhouse, Bobby A Suarez. It stars Doris Young, a young Singaporean actress who was approached by producers to change her name to Marrie Lee (after Bruce Lee) to land the lead role. She agreed, began training, and a cult martial arts heroine was born.

Sunday 19 February 2023 2–3.51pm

Wanda

Dir Barbara Loden 1970 (US)
102 min 16mm-to-digital Colour
Unclassified 18+
Barbara Loden, Michael Higgins

Hailed by French author Marguerite Duras as a 'miracle', Wanda is a vanguard work of American independent cinema by a groundbreaking feminist director. Barbara Loden wrote, directed and stars in this bleak portrayal of an anti-heroine on the run, a young mother who leaves her family and shacks up with perhaps the least glamorous outlaw in cinema history, Michael Higgins' cantankerous bank robber 'Mr Dennis'. Shot in an intimate vérité style on 16mm, the film is suffused with the dazed fog of its lead as she drifts across Pennsylvania's coal country. While most classic outlaw road movies celebrate the agency of their protagonists and the thrills of the frontier, Loden offers no such escape fantasies. Here, the wide-open road leads to sad, left-behind towns, spaces on the outskirts riven with poverty, misogyny and predation. Described by its director as semi-autobiographical, the film was inspired by Loden's own upbringing in poor Appalachia and a news report of a woman who thanked the judge for sending her to prison for 20 years. 'I tried to be independent and to create my own way,' Loden said. 'Otherwise I would have become like Wanda, all my life just floating around.'

Content warning: contains a scene of sexual assault.

Badlands

Dir Terrence Malick 1973 (US)
95 min 35mm Colour Rated M
Sissy Spacek, Martin Sheen

Terrence Malick's magisterial debut catapulted Martin Sheen, a two-bit TV actor, and Sissy Spacek, a then-unknown folk singer, to global fame as Midwest America's most iconic outlaw couple. After killing a family member who objects to their union, Holly (Spacek) and Kit (Sheen) take to the prairies, drifting across the plains of Montana toward Saskatchewan, 'a magical land beyond the law'. Cinematographer Tak Fujimoto's luminous images of blood moons and mirages frame the pair's killing spree with an otherworldly glow, cut adrift from social codes and suspended in time like a fairytale.

Wednesday 1 March 2023 2–3.35pm

Wednesday 1 March 2023 7.15–8.50pm

The harder they come

Dir Perry Henzell 1972 (Jamaica)
98 min 35mm Colour Rated M
Jimmy Cliff, Janet Bartley
English and Jamaican Patois with English subtitles

Featuring an incredible soundtrack by The Melodians, Desmond Dekker and Jimmy Cliff among others, The harder they come popularised reggae outside Jamaica. Rural boy Ivan Martin (Cliff) arrives in the big smoke with dreams of fame and fortune. Swindled out of his 'boss song' by a shady record producer, Ivan turns to the ganja trade, and soon finds himself on the lam. The fugitive becomes a folk hero, gleefully posing for self-portraits and signing autographs on the streets of Kingston. An exuberant portrait of the manufactured image of a celebrity outlaw, Ivan's character was based on Vincent 'Ivanhoe' Martin, aka 'Rhyging', a legendary escaped convict who captured local headlines in the 1940s. Released at a time of sweeping anti-government protests, the film found global acclaim among audiences ready to identify with a hero who would 'rather be a free man in my grave/Than living as a puppet or a slave'.

Wednesday 8 March 2023 2–3.38pm

Wednesday 8 March 2023 7.15–8.53pm

Thomasine and Bushrod

Dir Gordon Parks Jr 1974 (US)
95 min 35mm-to-digital Colour
Unclassified 18+
Max Julien, Vonetta McGee

Blaxploitation's answer to Bonnie and Clyde (1967). This revisionist western follows the exploits of bounty hunter Thomasine (Vonetta McGee) and the bandit Bushrod (Max Julien), a Black outlaw couple who rekindle an old romance on the Texan frontier. Riding across a racist backcountry, the pair rob banks and share their spoils with poor, dispossessed communities. Thomasine and Bushrod flipped the script on the Hollywood western, transforming characters once relegated to the roles of sidekick or victim into righteous Robin Hoods seeking revenge. Parks Jr's joyous reworking of genre codes reflected the spirit of the Blaxploitation genre, a wave of 1970s films made by Black directors, which foregrounded politically conscious, rebellious heroes. It also offered a more historically accurate vision of the Texan frontier, where, in the 1800s, an estimated one in four cowboys were African American. '… a Western of high purpose, high style, and a high cool factor, which radically revises Western conventions in light of the experience and the history of its Black protagonists.' – The New Yorker.

Sunday 12 March 2023 2–3.35pm

The 36th chamber of Shaolin

Dir Lau Kar-leung 1978 (Hong Kong)
115 min 35mm Colour Rated M
Gordon Liu, Lo Lieh
Cantonese with English subtitles

The 36th chamber of Shaolin represents the gold standard of 1970s Hong Kong genre cinema. Produced by the legendary Shaw Brothers studio, the film stars Gordon Liu as a student who rebels against corrupt rulers. Seeking refuge in a Shaolin temple, he proceeds to learn kung fu, mastering each technique in one jaw-dropping training sequence after another. Martial arts instructor-turned-director Lau Kar-leung employs fluid camerawork which zooms and swoops to the action. The rhythm of these combat scenes – and the film's broader arc of overcoming injustice – inspired hip hop group Wu-Tang Clan's groundbreaking debut album Enter the Wu-Tang (36 chambers), which reimagined Staten Island as a Shaolin fortress. In Wu-Tang Clan rapper RZA's words, its original members were 'fascinated with the struggles between the oppressed Chinese villagers and the repressive Manchu authority and how it mirrored our own experiences growing up as Black kids in America's inner cities. We didn't know that that kind of story had existed anywhere else.'

© Licensed by Celestial Pictures Limited. All rights reserved. 版權由天映娛樂有限公司全部擁有 

Wednesday 15 March 2023 2–3.55pm

Wednesday 15 March 2023 7.15–9.10pm

Sunday 19 March 2023 2–3.55pm

Enter the dragon

Dir Robert Clouse 1973 (Hong Kong/US)
102 min 35mm-to-digital Colour Rated M
Bruce Lee, Jim Kelly
English, Cantonese with English subtitles

'Don't think, feel!' Bruce Lee's zippy one-liners and lightning-fast jabs propel this tale of a Shaolin fighter who infiltrates the private island of a monk turned criminal mastermind. Released amid the 1970s kung fu craze, audiences flocked to witness the kinetic thrills of Lee's fight choreography which combined elements of Wing Chun, boxing, fencing and karate, with a liberal use of nunchucks. Dazzling set pieces culminate a famous showdown in a hall of mirrors. Already popular for his anti-establishment ethos and shows of streetwise resistance, Lee transformed into an icon for historically marginalised audiences worldwide. The film marked the first one-two combination of kung fu with Blaxploitation, with African American karate champion Jim Kelly starring as Lee's on-screen ally.

Wednesday 22 March 2023 2–3.42pm

Wednesday 22 March 2023 7.15–8.57pm

Sunday 26 March 2023 2–3.42pm

Ghost Dog: the way of the samurai

Dir Jim Jarmusch 1999 (US)
116 min 35mm Colour Rated MA15+
Forest Whitaker, John Tormey

Meet Ghost Dog: an assassin who lives on a rooftop, communicates by carrier pigeon, and follows the ancient codes of the samurai. Guided by a tattered copy of Hagakure: the book of the samurai, Ghost Dog skulks the sidewalks in service to his 'master', a two-bit mobster named Louie (Torney). When a job goes awry, he must navigate the moral codes of ancient Japan on the streets of downtown New Jersey. Forest Whitaker's deeply tender, drolly comic performance of a character of out-of-sync with the times finds echo in Jim Jarmusch's playful citation of 20th-century film history. Described as a 'gangster samurai hip-hop Eastern western', Ghost Dog merges the philosophical musings of Akira Kurosawa, the deadpan cool of Jean-Pierre Melville's Le Samouraï, and the pulp thrills of Blaxploitation, all set to an excellent 1990s hip-hop soundtrack courtesy of Wu-Tang Clan's RZA.

Wednesday 29 March 2023 2–3.56pm

Wednesday 29 March 2023 7.15–9.11pm

Echo 8

Dir Maria Tran 2022 (Australia)
90 min Digital Colour
Unclassified 15+
Maria Tran, Takashi Hara

Australia's first female-led martial arts film, directed by renowned action star Maria Tran.

Sunday 2 April 2023 2–3.30pm