Archibald, Wynne and Sulman Prizes 2022 artist talk
Jordan Richardson and Benjamin Law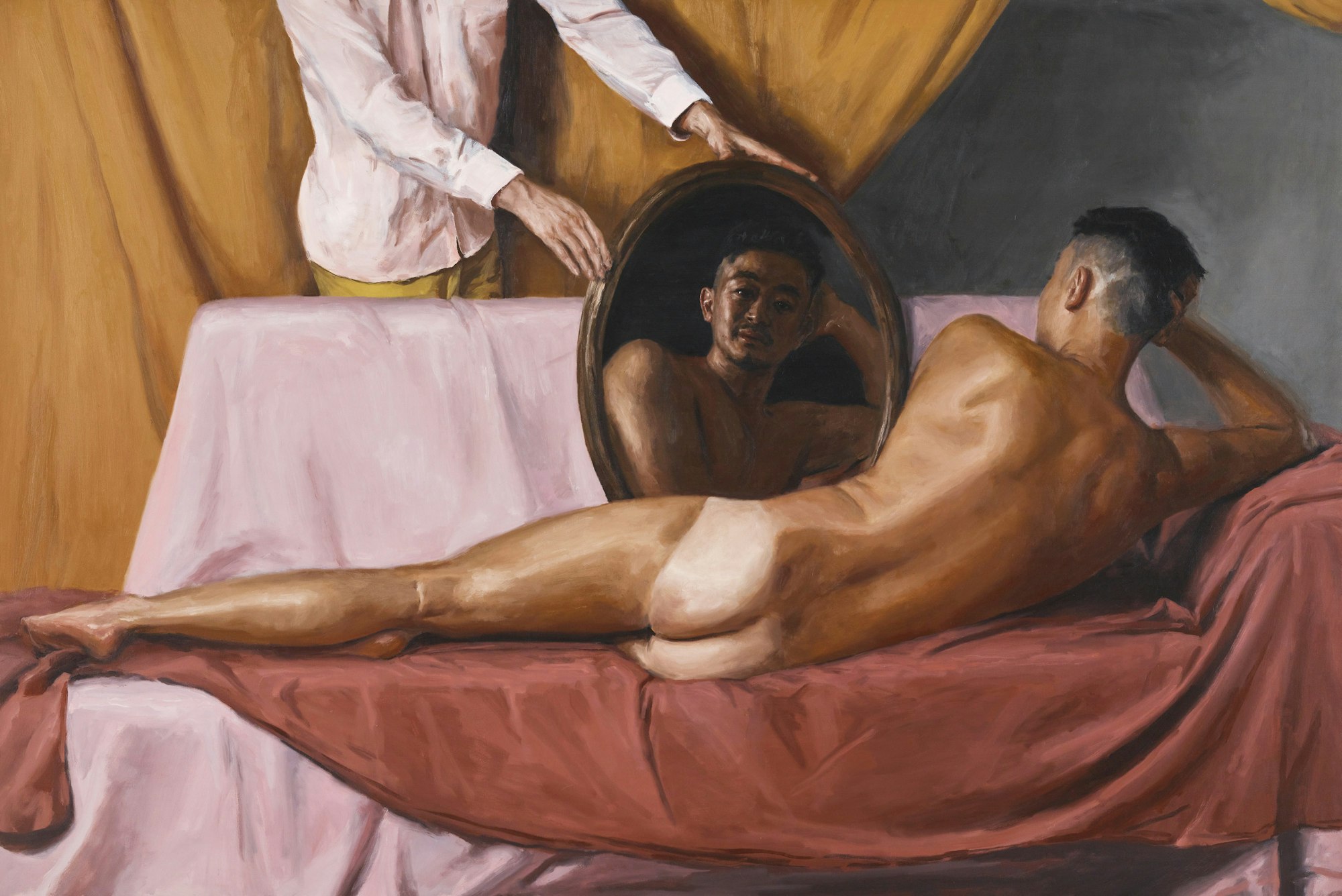 A finalist in this year's Archibald prize, the subject of Jordan Richardson's portrait is writer and broadcaster Benjamin Law, whose many credits include the SBS-TV series The Family Law (based on his memoir) and the play Torch the place, which premiered at Melbourne Theatre Company in 2020. In this cheeky portrait Richardson has re-imagined a classic 17th-century painting 'The Rokeby Venus' by Diego Velázquez with Ben as the subject, toying with the role of voyeur. In conversation with author and broadcaster Yumi Stynes, hear artist and sitter discuss their experience working together on the portrait in this special talk for Art After Hours. 
Jordan Richardson is a mid-career painter whose work wistfully explores a formalist application of paint. The act of painting for Richardson is an investigation into the medium, its history and use as a storytelling device. Richardson's imagery is diverse but is largely informed by historical painting where he engages with ambiguous narratives. He studied at the National Art School where he completed a BFA (Honours). He has been an Archibald Prize finalist four times, a Brett Whiteley Travelling Art Scholarship finalist three times and is represented by Michael Reid Sydney + Berlin. 
Benjamin Law is a writer, broadcast and award winning screen writer. Every week, Benjamin co-hosts ABC Radio National's weekly national pop culture show Stop Everything and interviews public figures for Good Weekend. He is co-executive producer, co-creator and co-writer on the forthcoming Netflix comedy-drama Wellmania. He has a PhD in creative writing and cultural studies from the Queensland University of Technology (QUT) and has written for over 50 publications in Australia and beyond.
Yumi Stynes is an author, broadcaster and fan of art and culture. She is the host of the award-winning ABC podcast Ladies, We Need to Talk, is one of the hosts of KiiS FM's national show The 3pm Pickup and now solves meal dilemmas for reluctant cooks on a brand-new podcast called 5 Minute Food Fix. Her latest book is Welcome To Your Boobs, part of a trilogy that also includes the best-selling Welcome to Your Period and Welcome to Consent. This year Yumi can be seen hanging on the wall of the AGNSW in one of the Archibald portraits, a work by tattoo artist Yoshio Honjo that imagines her as a samurai warrior; fierce, armed and dangerous. 
Archibald, Wynne and Sulman Prizes 2022 artist talk
Jordan Richardson and Benjamin Law
Wednesday 1 June 2022
7pm
Duration 30 minutes
Entrance Court
Art Gallery of NSW
Free, no bookings required