Art Appreciation 2022
Pomp and ceremony: the celebratory role of art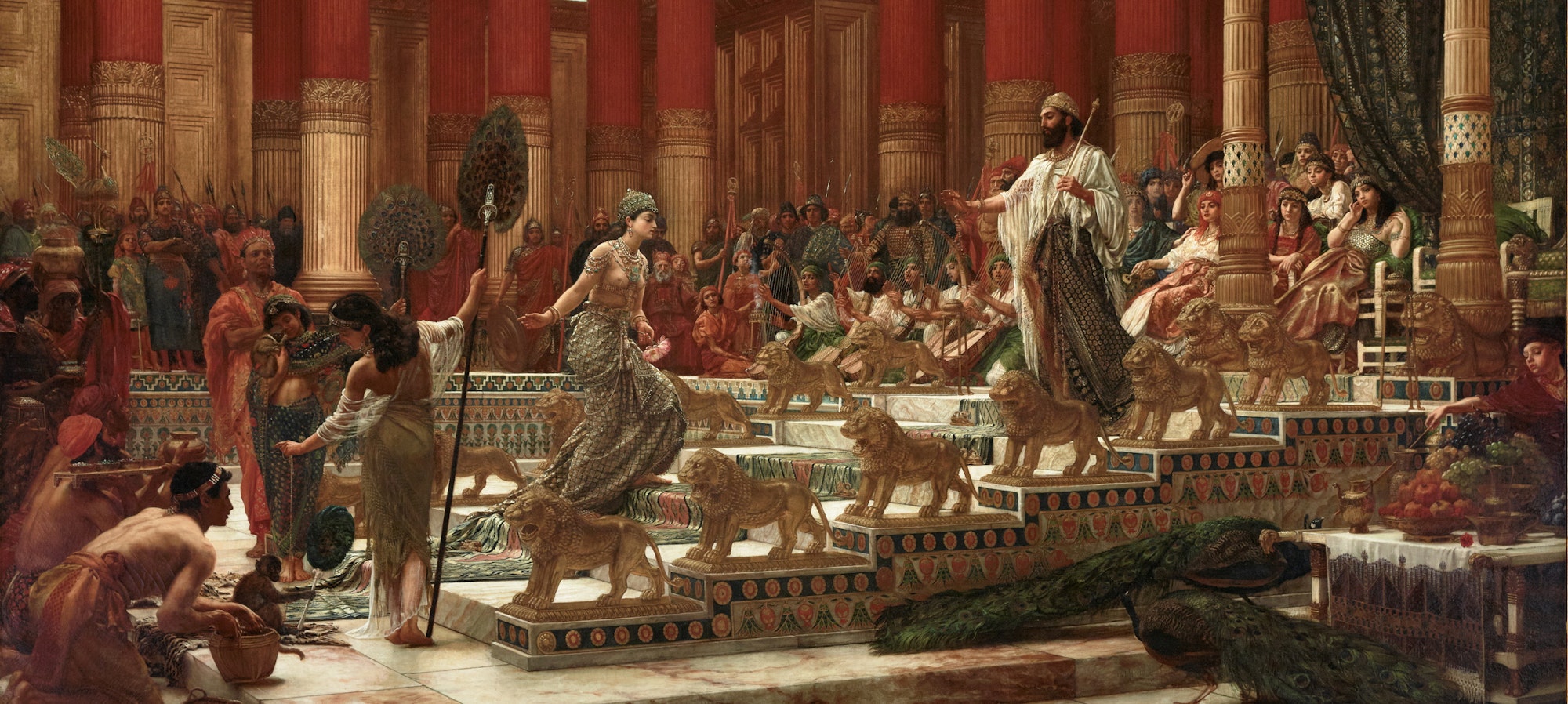 Throughout the ages, artists have been called upon to create works for joyous celebrations and events across many cultures.
From ancient Persia to modern New York and contemporary Sydney, this year's Art Appreciation lecture series will explore the role of art, fashion and design in spiritual, community, cultural and secular celebrations around the world and how these events have inspired generations of artists to make new works or reinterpret older ones.
Join us for a creative exploration of artistic festivals, ceremonies, parties and other celebrations that will reveal the important role that artists have played in shaping their communities and the role of their artworks in defining what we now know about their life and times.
Over 18 weeks, learn from leading art historians, curators and scholars from across Australia who will explore the stories of artists, sculptors and designers whose works now help to define their eras.
The lectures will be delivered online 'on-demand' allowing you to watch each lecture in your own time.
Individual lectures will be released during the semester. Current available lectures for booking are listed below.
Art Appreciation 2022
Pomp and ceremony: the celebratory role of art
Wednesday 16 February – Thursday 1 September 2022
Per lecture
$25 non-member
$20 member
Series subscription
$360 non-member
$270 member
Bookings and enquiries: 02 9225 1878
Art Appreciation online

Weddings in art: from Jan van Eyck to John Brack

There are many different methodologies in art history and in this lecture I explore what could be termed the iconographic approach. While it may be impossible to ignore questions of style, technique and formal structure when analysing an artwork, an iconographical analysis uncovers the meaning and interpretation of an art object. Although this methodology is primarily restricted to figurative art, it does cover millennia in art history and sometimes it is possible to trace meanings inherent in an artwork that are culturally encoded and may not even be immediately apparent to the artist. In the lecture we examine the theme of 'the wedding celebration' and look at the work of a number of artists including Jan van Eyck, Giambattista Tiepolo and John Brack.

Professor Sashin Grishin AM, FAHA, is the author of more than 25 books including the definitive book Australian Art: A History. Sasha has shared his opinions on numerous exhibitions and artworks as the art critic for The Canberra Times for forty years. He has studied at universities in Melbourne, Moscow, London, Oxford and Canberra and is now an Emeritus Professor at the Australian National University, Canberra where he taught Art History from 1977 until 2015 and was appointed as the Sir William Dobell Chair of Art History in 2008. Sasha has also been the guest curator for exhibitions at national, state, university and regional galleries.

Art Appreciation online

Celebrating Enlightenment pets: old Vertue, Trump and Raton in 18th-century English portraiture

This talk celebrates Pug, a dog of many parts and contested history, as she appears in four portraits spanning the first 70 years of eighteenth-century England. While pugs invariably accompany women and children in portraiture of the period, the four examples in this lecture  are the exception; in three she is with men, each of whom had in some way flouted convention; the fourth is a canine portrait. This makes for a highly unusual group of works. In this talk we will use breed history to examine English portraiture of the Enlightenment. Rather than begin discussion with human subjects, the talk is arranged around images of pugs, in chronological order. This methodology offers both a snapshot of the development of the pug breed and new insights on well-known eighteenth-century themes, tropes and pictures.

Emeritus Professor Harriet Edquist AM FAHA is an academic, curator and historian with over 30 years experience in teaching and researching Australian Architecture, Art and Design. Harriet graduated with a BA and MA in Classics from Monash University and a PhD in Architectural History from RMIT University, where she started lecturing in 1988, was the Head of the School of Architecture and Design from 2001-2007, as well as the inaugural Director of the RMIT Design Archives.  Harriet has curated exhibitions combining history, art, architecture and design at the NGV, State Library of Victoria, Bendigo Art Gallery, the Jewish Museum of Australia, RMIT Gallery and Heide Museum of Art.  She has also published extensively on with a particular focus on the 20th century. She has pioneered studies on émigré architects in Melbourne and the Australian Arts and Crafts movement.

Art Appreciation online

Modernism and the Ballet Russes

Jean Cocteau, Natalia Goncharova, Henri Matisse, Derain, Delaunay, Braques, Picasso, de Chirico, Rouault: the list reads as a who's who of European modernism. Between them, they would go on to design some of the most memorable costumes and sets of the early 20th century: those of the celebrated Ballets Russes. There is no doubt that the Ballets Russes generated some truly exciting collaborative ventures across the arts. Choreographers, composers as well as noted visual artists and designers came together to produce ballets of a kind previously unknown. When the company was born in 1909, its original designers Alexandre Benois, Léon Bakst and Nicholas Roerich combined hues with an intensity hitherto unknown on Western stages. Its final premiere, George Balanchine's ballet 'The Prodigal Son' in 1929 was designed by Rouault and the sets had the glow of stained-glass windows. In between, great colourists and designers, who were already household names, passed through like a shower of meteorites.  The company also established a new audience for ballet and its influence extended beyond a theatre audience to the popular world of fashion, interior design and contemporary art.

Lorraine Kypiotis holds a Master of Arts degree from the University of Sydney in Renaissance Studies. She is a Senior lecturer in the Department of Art History and Theory at the National Art School and also the Head of Undergraduate Studies and manages a number of metropolitan, regional and interstate programs.  Lorraine is passionate about art, life and travel and has led a number of tours in the Art Gallery Society's World Art Tour program to Italy.

Art Appreciation online

Celebrated encounter: imagining the Queen of Sheba's visit to King Solomon

This lecture will explore the iconography of a legendary 'visit of state' – that of the mysterious Queen of Sheba to the wise King Solomon – and will examine the different ways that artists have depicted this celebrated Biblical encounter. The focus of the discussion will be the great masterpiece of Sir Edward Poynter, The Visit of the Queen of Sheba to King Solomon (1890) in the Art Gallery of NSW.

Dr Alison Inglis is an Honorary Fellow in the Art History and Curatorship program at the University of Melbourne.  She co-ordinated the MA Art Curatorship program there from 1995, and taught subjects on nineteenth-century art history and museum studies. She researches and publishes in the area of nineteenth-century British art and museum collections and exhibitions. Her experience in the field of curatorial studies is reflected in her past and current membership of several museum boards and her appointment as an Emeritus Trustee in 2010 of the National Gallery of Victoria. In 2020, Alison was made a Member of the Order of Australia for significant service to education and to the museums and galleries sector. 

Art Appreciation online

Celebrating the incarnation of Renaissance art

This lecture explores the ingenious ways in which artists celebrated the doctrine of the Incarnation. This belief-that God was made flesh (incarnated) in the womb of his mother and was thus both fully divine and fully human - was a central tenet of Christian religion which was given different emphases over the centuries. The Virgin's role as Theotokos, or God-bearer, formally proclaimed at the council of Ephesus in 431 AD, was given visual form in representations of the enthroned Virgin and Child. Mary becomes the living throne of the incarnate Child, whose divinity is evident in the way he is shown as a mini adult, holding the prophecies of his mission and blessing his followers. Disruptions to this stable template are traced in this lecture as we follow the ways Renaissance artists constantly invented new ways to prove the reality of Christ's fully human nature. 

Dr Louise Marshall taught medieval and Renaissance art as a Senior Lecturer in the Department of Art History at the University of Sydney, where the chief focus of her research was Renaissance plague imagery. Publications included essays on early representations of purgatory and plague paintings by Giovanni di Paolo and Tintoretto. Her research has been supported by the Gladys Krieble Delmas Foundation, the Renaissance Society of America, and the Australian Research Council Centre for the History of Emotions. 

Art Appreciation online

Taking it to the streets: parades and pageantry in contemporary art

The artist-designed pageant could well be the epitome of pomp and ceremony within art history. In the courtly context of Renaissance Europe, Leonardo da Vinci's design for pageant and masquerades combined costume, music and performance in sumptuous fantasias. Paintings infused with the spirit of pageant, such as Rubens' account of the union of Catherine de Medici and Henri IV, conceived of courtly diplomacy and historical events in terms of elaborate costumed allegory. However, the pageant mutates into a secular, civic and politic language in the modern era. This lecture investigates the long, and often strange, history of the pageant in art and explores the dialogue of contemporary, socially-engaged artist with an aristocratic tradition.

Dr Chris McAuliffe is an art historian, art critic and curator and is the Sir William Dobell Chair at the Australian National University Centre for Art History and Art Theory. He took a BA (Hons) and MA from the University of Melbourne and a PhD from Harvard University. Dr McAuliffe taught art history and theory at the University of Melbourne (1988-2000) and from 2000-13 Dr McAuliffe was director of the Ian Potter Museum of Art at that University. In 2008, with the support of philanthropist Basil Sellers, he established the Basil Sellers Art Prize, one of the richest art prizes in Australia encouraging a dynamic and critical reflection on the role of sport.  

Art Appreciation online

NAS centenary: 100 years of artists balls and the National Art School

This year it is 100 years since National Art School students joined throngs of celebrating artists and models at the first ball of the decade held in the Sydney Town Hall on the 21st August 1922. It is also 100 years since the art department of Sydney Technical College moved from the Ultimo campus to the site of the former Darlinghurst Gaol, then called East Sydney Technical College. As well as unveiling some unseemly photos of artists celebrating at dance parties and balls over the last century, Deborah Beck will discuss the evolution of artists' balls, and the bonds that grew between artists, students and musicians as they planned extravagant events and made sets and costumes for the artists' balls held in venues throughout Sydney.  

Deborah Beck studied at the National Art School (NAS) in the 1970s and received a Master of Arts (History) at the University of Sydney in 2010 and has lectured in Drawing and Painting in art schools throughout Sydney. She has co-curated five major exhibitions in the NAS Gallery, is currently the historian, collections manager and archivist at the NAS and this year is writing a new book and curating an exhibition called Captivate to celebrate two centuries of Darlinghurst Gaol and the National Art School. Her most recent book, Rayner Hoff: the life of a sculptor was published by NewSouth in March 2017. 

Art Appreciation online

21st-century ceremony: contemporary Australian jewellers and object makers

Jewellery has been essential for pomp and ceremony for over 100,000 years. This lecture looks at the works of contemporary Australian jewellers and object-makers, who often use non-precious materials, and examines some of the ways they have contributed to ceremonial occasions both private and public. It considers work from the last two decades by Australian makers Maree Clarke, Barbara Heath, Blanche Tilden, Peta Kruger, Emma Fielden and Jess Dare.

Julie Ewington is an authority on contemporary Australian art, especially art by women, and contemporary art from Southeast Asia. In 2014 Julie received the Australia Council's Visual Arts Award to honour her achievements as a curator, writer and advocate for the visual arts. Julie was head of Australian Art at Queensland Art Gallery – Gallery of Modern Art, Brisbane (2001-2014), leading the 2005 retrospective The Art of Fiona Hall; the national surveys Contemporary Australia: Optimism (2008) and Contemporary Australia: Women in 2012.