Permanent collections on display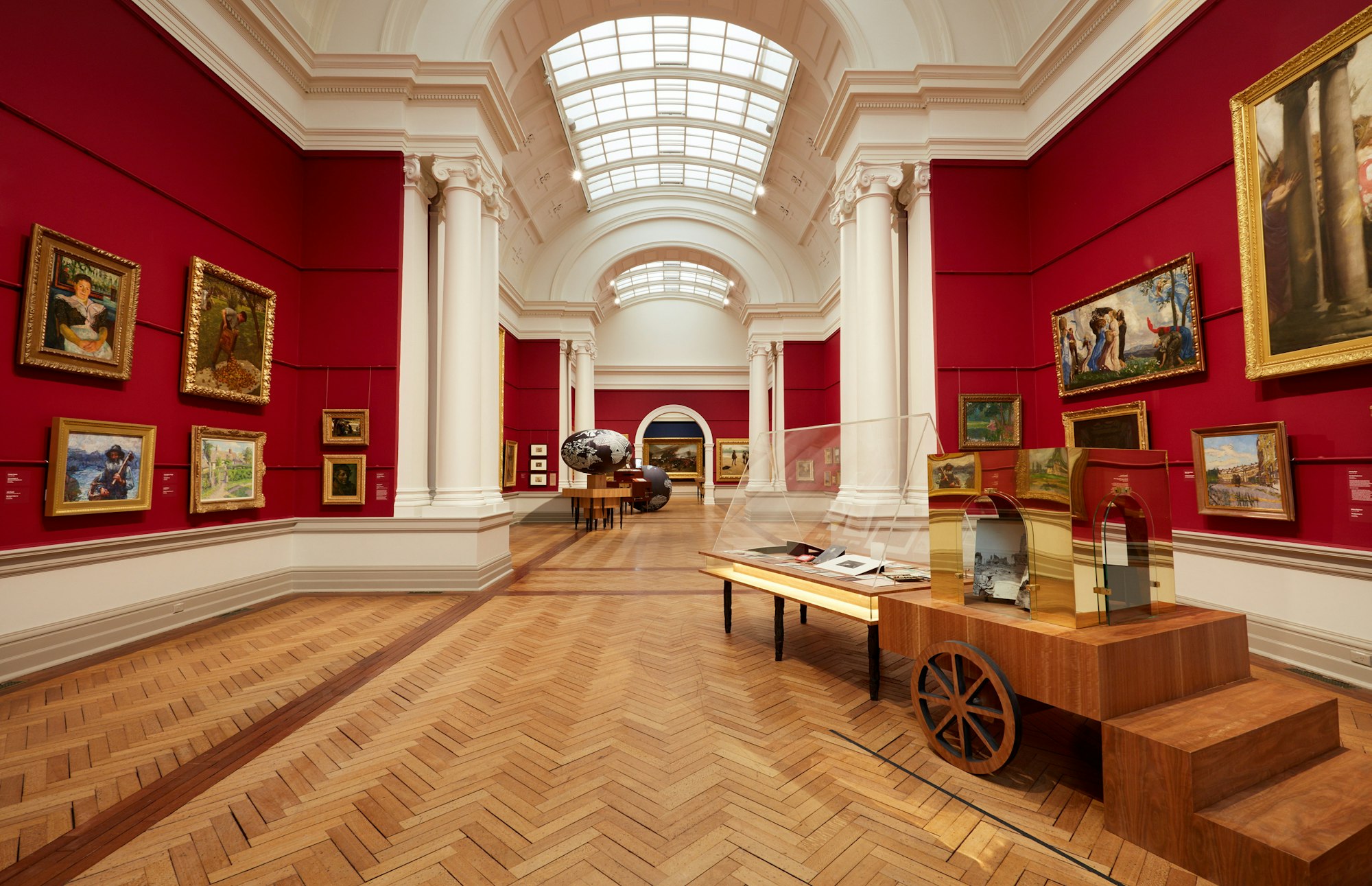 The Art Gallery of New South Wales has begun a complete transformation of the galleries that display works from our extensive art collection
In beautifully refurbished spaces, visitors will journey through time, ideas, human stories and contested histories.
The first of these new displays is now open, revealing a stunning reimagining of our beloved Grand Courts on the ground level.
Visitors are welcomed into the Australian courts by a conversation between Indigenous and non-Indigenous art, in which contemporary works by Aboriginal artists, including Karla Dickens and Christian Thompson, are presented with selections of late 19th- and early 20th-century works, emphasising moments of connection and reflection.
Rarely seen colonial works, including Conrad Marten's watercolours of Sydney Harbour, and fascinating images of the early mining and pastoral exploits feature alongside new displays of iconic Australian painting. Cherished works by artists such as Charles Conder, Tom Roberts and Arthur Streeton are considered in a fresh light in relation to international art movements of the time.
Decorative arts, photography and works on paper are seen alongside painting and sculpture. And, for the first time, examples of early silent cinema are on view, including Australia's earliest surviving film, Patineur grotesque 1896.
Indigenous Australian perspectives also feature in the international courts where visitors encounter an installation by Brook Andrew, in which sculptures also function as museum display cases containing a range of objects, including a selection from the Art Gallery's collection and our National Art Archive.
Other highlights include Jusepe de Ribera's Aesop c1625–31, a new acquisition; a display of Goya's Disasters of war etchings alongside Edouard Detaille's Vive l'Empereur! 1891; Edward John Poynter's extraordinary The visit of the Queen of Sheba to King Solomon 1881–90 in dialogue with the Gallery's first African acquisition (in 1955), Belachew Yimer's The legend of the Queen of the South 1941; and a dazzling display of 18th-century porcelain. 
While the focus of the Grand Courts remains on the historical collections, a small group of contemporary artworks encourage moments of pause and offer new perspectives. Key among them is a new acquisition by Cameroonian artist Pascale Marthine Tayou and an atmospheric installation of Caroline Rothwell's Attendants (after Schongauer) 2012 alongside prints from the Renaissance to the Romantic period.
Throughout there is a recognition of the key role of women in art, as both creators and subjects, including a recently acquired 1900 painting by Violet Teague and works by woman artists such as Adelaide Ironside and Emily Carr, which are on display for the first time in many years.