The Art Gallery of New South Wales is committed to providing access to our services, programs, collections and exhibitions for all visitors.
The Changing Places facilities at the Art Gallery are provided to meet the needs of people with disabilities and their care partners who require an adult-sized change table, ceiling hoist, peninsular toilet, privacy screen or additional circulation space.
How to access the facilities
The facilities are located on lower level 2 of the original South Building and lower level 4 of the new North Building.
The South Building facility can be accessed with a MLAK key.
You can borrow a key by:
asking any staff member or volunteer at the Art Gallery

visiting the welcome desk on the ground level of the South Building or the wlecome hub just outside the North Building

calling us on 02 9225 1744
You can apply for your own MLAK key using this application form.
What the facilities provide
The Changing Places facilities provide:
a height-adjustable adult-sized change table

a constant-charging ceiling track hoist system

a centrally-located peninsula toilet

approximately 1750mm circulation space in front of the change table

an automatic door with a clear opening of 950mm at a minimum

a wall-mounted retractable privacy screen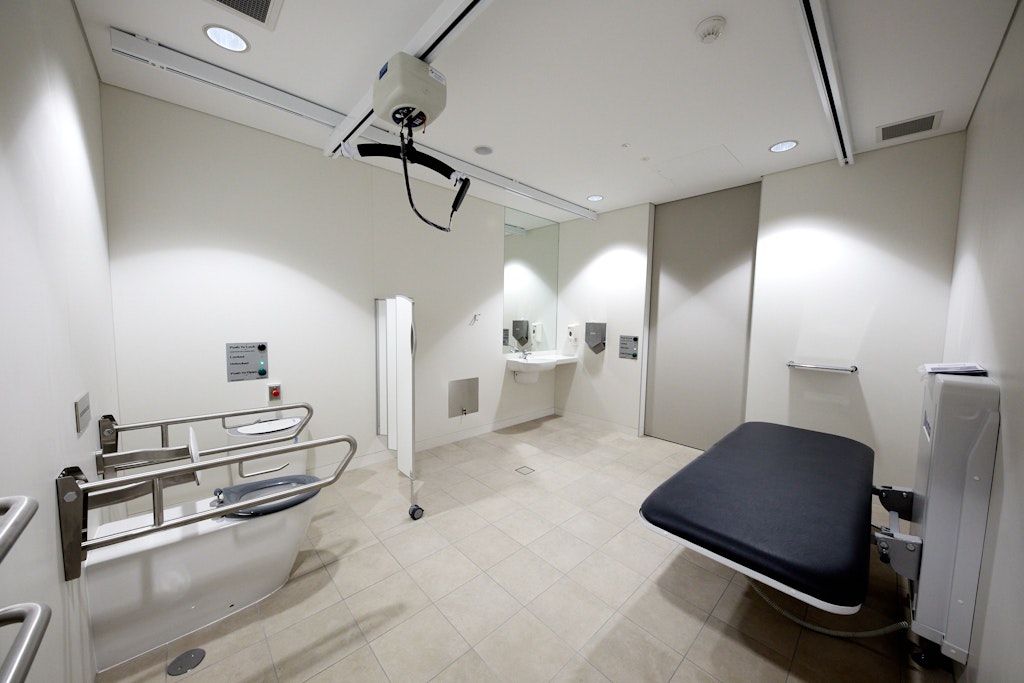 What is Changing Places?
A Changing Places facility allows people with high support needs to fully participate in the community. This may include people with an acquired brain injury, spinal cord injury, cerebral palsy, multiple sclerosis, spina bifida, and motor neurone disease, as well as many other people with a disability.
The initiative was launched in the UK in 2006 and since then has gone from strength to strength with Australia's first Changing Places opening in 2014.
In 2019, the Australian Building Codes Board released the National Construction Code 2019, which now requires accessible adult Change facilities (based on Changing Places designs) to be included in certain classes of public buildings.
There are now 165 Changing Places across Australia. Find your nearest Changing Places facility.