Hiring the Brett Whiteley Studio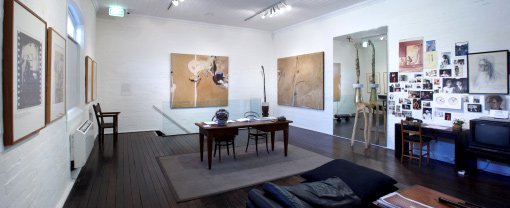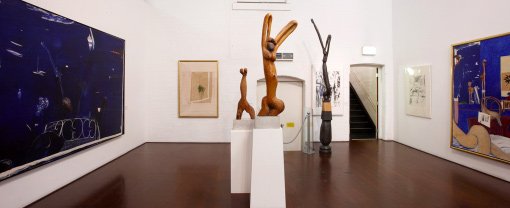 Dynamic and exclusive, the Brett Whiteley Studio is an intimate and beautiful site that perfectly suits smaller groups of up to 60 people.
The former warehouse home of Brett Whiteley, which he designed as a place he could exhibit his art, features his exhibition space, living room and studio. With Brett's artwork and personal memorabilia lining the walls of this magnificent space, your guests will be delighted by the art, decor and ambience.
Located in the heart of Sydney's cosmopolitan Surry Hills, the studio is close to public transport and the CBD, and is the perfect venue for all your functions and events.
Ideally suited for cocktail events and presentations, the ever-changing display of exhibitions provides the ultimate backdrop and the perfect platform to impress and inspire your guests or clients.
Venue capacity
Capable of hosting up to 60 guests
Functional space and size
The studio is split over two levels, providing great versatility.
Ground floor: main exhibition space
The two-storey ceiling creates a dramatic open effect that lends elegance to any event. This area includes our current exhibition for viewing.
Top floor: Brett's living room and studio
This intimate area has been renovated to show the original wide timber flooring. Brett's artwork and personal memorabilia line the walls just as he arranged them.
Accessibility
Access for people with limited mobility available on the ground floor only. Accessible bathroom facilities.
Parking and public transport
See Getting there.
Catering
No food preparation is available on site but catering can be arranged on request. You may wish to select from the many nearby restaurants or we can help you coordinate your own catered event.
Venue availability
Wednesday and Thursday 9am – 9pm
Friday and Saturday 6pm – 9pm
Additional options
Private guided tours of the Studio's current exhibition are available.
We can also offer art-making workshops if you wish to add something truly unique to your special event.
Events that would be perfect at the Brett Whiteley Studio
Meetings
Lectures and presentations
Corporate lunches
Private lunches
Cocktail parties
Christmas parties
Reunions