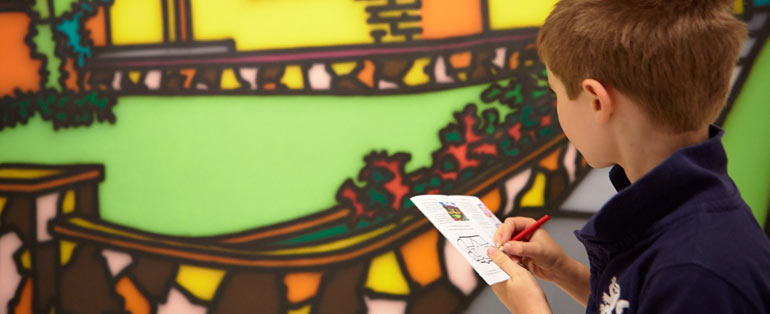 A young visitor with Howard Arkley's 1987 painting Triple fronted, Art Gallery of New South Wales © The Estate of Howard Arkley, courtesy Kalli Rolfe Contemporary Art
For kids and families
The Gallery has much to offer visitors of all ages – and most of it is free.
Entry to see the galleries and most exhibitions is free. For paying exhibitions, children under five are admitted free and there are family discounts to our ticketed major exhibitions – the exhibition pages in our What's On section give details.
Our family programs are designed to inspire families to creatively explore and experience art together. Using the Gallery's collections and exhibitions as a play box for the imagination, families are fuelled to meaningfully look, think, create and play like an artist.
We offer free drop-in workshops on the first and third Sunday of every month and in school holidays. Inspired by the Gallery's collection and exhibition program, these workshops are open to all ages and enable visitors to get hands-on with a range of art techniques and ideas.
Children's access workshops, held in the school holidays, offer children with specific needs and their families and carers to express their creativity in a fun and encouraging way.
Our popular Tours for Tots program for children aged 3-5 years and their carers runs on the last Tuesday and Thursday of most months. Each month we explore a different theme and children are encouraged to explore, investigate, play and make art.
For the more serious young artist, we offer artist-led workshops in the school holidays, designed and led by professional artists.
Throughout the year, select exhibitions have family resources and activities – again, the exhibition pages in our What's On section give details.
Are you planning to visit?
Check the latest visit information, which tells you everything you need to know, including health and safety measures and what's open.
Read the latest visit information