The contemporary project space was home to an ongoing series of exhibitions of new work by living artists.
This key part of our program enables artists working in Australia and internationally to create work on a significant scale, presented within the context of our contemporary collections. Since 1989 more than 100 projects have engaged audiences with the most current ideas and material developments in contemporary culture.
AGNSW Contemporary Projects are now located in other parts of the Gallery.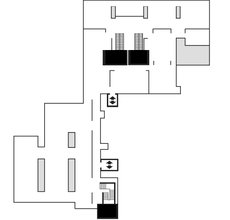 Directions
From the front entrance, ground level
Head towards the rear of the Gallery
Take the escalators down two levels
Turn right then left
The entrance to the contemporary project space is on your left
Accessible directions
From the rear entrance, lower level 1
Take the lift (on your left) down one level, to 2
Exit and turn left, then turn right
Continue all the way to the far wall
The entrance to the contemporary project space is on your right