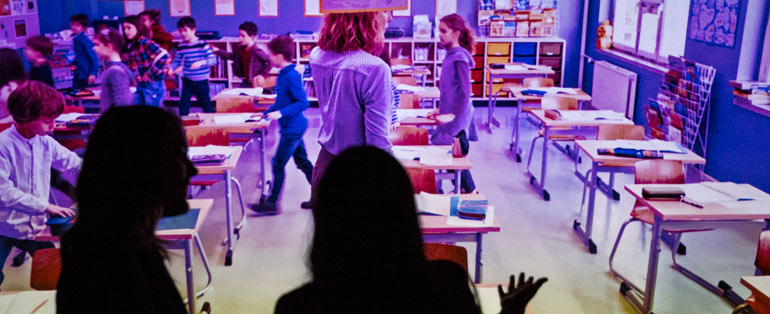 Forum participants in front of Julian Rosefeldt's video installation Manifesto 2014-15, Art Gallery of New South Wales © Julian Rosefeldt. VG Bild-Kunst, Bonn, licensed by Viscopy, Sydney
Sydney Modern Project Education Forum: September 2016
As the Art Gallery of New South Wales transforms into a global art museum, it is vital that we understand the unique needs of the arts education sector and ways to enhance student and teacher engagement with the expanded Gallery.
The Gallery invited teachers from primary and secondary schools across Sydney, Western Sydney and regional NSW who regularly bring their students to the Gallery to participate in a Sydney Modern Project Education Forum in September 2016.
The forum included presentations from both the Sydney Modern Project team and the head of learning and participation at the Gallery before teachers took part in a facilitated polling and open question session, led by the Gallery's education manager.
Key insights from the forum included:
An expanded Gallery would encourage more schools to bring their students to the Gallery, and do so more frequently.
The creation of a cultural precinct, with the expanded Gallery at its heart, would encourage teachers to participate in more cross-site program initiatives with the Gallery and its neighbours, such as the Royal Botanic Gardens, State Library of

NSW

and Sydney Living Museums.
Dedicated student facilities such as assigned lunch space for school groups and break-out discussion spaces, an education concierge and a variety of environments for participating in art-making experiences are the key priorities identified by teachers as being essential for school groups in the expanded Gallery.
Self-generated classroom resources and digital art creation workshops were identified as the key features of a new and innovative digital engagement platform developed as part of the Gallery's expansion.
Inspiring spaces, allowing art to breathe and be interacted with. Access to learning about artists, ways of working, materials, and understanding the processes that these entail. Clearly presented accessible information. Great social spaces. Connected to the arts of the future and past
—
Education forum participant
in response to a question about expectations from a 21st-century gallery