Competition Jury Selection Report
Executive summary and recommendation
Background
In March 2013 the Art Gallery of New South Wales (Gallery) announced its strategic vision and master plan under the name Sydney Modern. One of its central components is the Sydney Modern Project, a new building and refurbishment of the existing building that will transform the Gallery into a genuine 21st-century art museum.
The new building will connect with the northern facade of the existing building and be constructed over a land bridge that caps major arterial roads and the disused oil tanks to the northeast of the land bridge. The Gallery aims to realise the Sydney Modern Project by the end of 2021 to coincide with the 150th anniversary of its founding.
The NSW Government allocated $10.8 million in 2014/15 for the initial planning phase of the Sydney Modern Project. This enabled the Gallery to run an invited international design competition to select an architect and concept design. The competition concluded in April 2015 and the winner was announced in May 2015.
SANAA was unanimously selected by the jury as the preferred architect for the Sydney Modern Project.
The Sydney Modern Strategy Committee (SMS), the sub-committee of the Gallery's Board of Trustees with delegated responsibility for delivery of the Sydney Modern Project, adopted a competition model in June 2014 which was subsequently endorsed by the Australian Institute of Architects (AIA) and the Australian Institute of Landscape Architects (AILA).
The design competition process is outlined below:
Pre design competition
Selection of between 40 and 50 architectural practices nationally and internationally to be considered for invitation to participate in Stage 1 of the competition. Selection made by the Architects Advisory Panel (AAP) primarily through desk top evaluation of each practice's experience and capability against established criteria relative to the Sydney Modern Project vision.
Invitation to architects
Selection of up to 12 architectural practices to be invited to participate in the competition based on the long list prepared by the AAP. Selection made by the competition jury. The jury able to add firms to the list.
Design competition Stage 1
Issue of Stage 1 Competition Design Brief (CDB) to up to 12 invited architectural practices. Concept response assessed by the competition jury against Stage 1 CDB and agreed evaluation criteria. Submissions judged anonymously. The competition jury recommend up to five finalists to participate in Stage 2 of the competition. Fee paid to each invited practice.
Read Stage 1: Competition jury findings
Design competition Stage 2
Issue of Stage 2 CDB to up to five shortlisted architectural practices to develop their design submission. Submissions assessed by the competition jury against Stage 2 CDB and agreed evaluation criteria to determine the architectural practice able to deliver the best solutions for the project. Mandatory site visit as well as presentation and interview with the competition jury required by each shortlisted practice. Fee paid to each shortlisted practice.
Sydney Modern Competition Jury Selection Report: Contents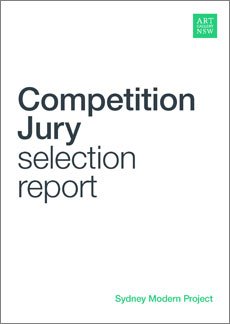 Download Competition Jury Selection Report (PDF 130.2 KB)