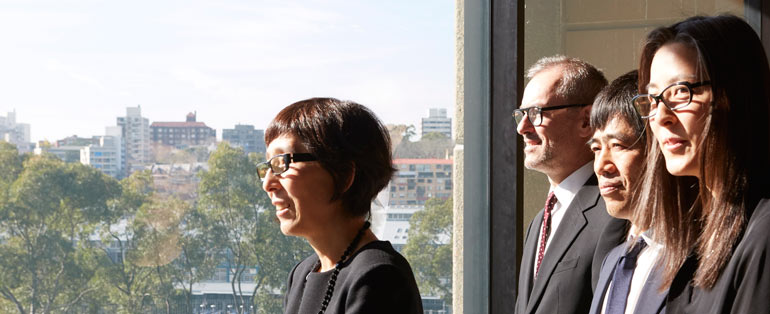 Left to right: Kazuyo Sejima, Ryue Nishizawa and Yumiko Yamada from SANAA with Art Gallery of NSW director Michael Brand (second from left)
The campaign
Help us create a vibrant new cultural hub for the arts
Our vision for the Gallery's future is bold, and our expansion can only reach its full potential through philanthropic support.
The Sydney Modern Project is the largest public-private partnership of its kind in the Australian arts. Along with the NSW Government's $244 million funding for construction, the Gallery's capital campaign has surpassed its target of raising $100 million to support our new building, designed by world-renowned architects SANAA. We are grateful to all our donors for their generous support.
Construction is expected to commence in 2019, following recent planning approval. We are setting a new benchmark for art museums globally becoming the first in the nation to achieve the highest environmental standard for design with a 6-star Green Star design rating.
As we look to our next exciting milestones, the Gallery is also moving into new phases of the campaign. We will be seeking philanthropic support for improvements to our much-loved existing building. Sustainability and access will be key features of these enhancements and modifications, and there will be more details in coming months about specific projects.
A new art acquisition campaign is also being launched this year in the lead up to the Gallery's 150th anniversary in 2021. An important focus of this campaign will be site-specific works commissioned from leading Australian and international artists. There are also opportunities to support endowments, programs and other activities.
We invite you to join the Gallery's community of donors to help bring this once-in-a-generation project to life, delivering enormous cultural and economic benefits for generations to come. The campaign – led by a dedicated committee under the chairmanship of former Gallery Trustee Dr Mark Nelson – welcomes gifts of any size. If you would like to consider joining the campaign as a Visionary Donor or Key Supporter, you can find out more here.
As a donor, you will have an insider's view of the Gallery's expansion, through special communications and events such as behind-the-scenes tours, programs and other engagement opportunities.
Together we will celebrate the Gallery's proud history and build for the future, transforming the arts and cultural landscape in Sydney and Australia.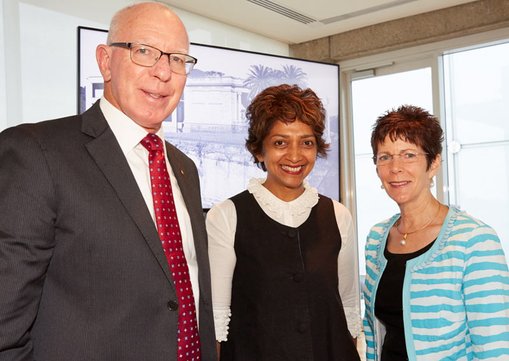 1/7
Left to right:
His Excellency General The Honourable David Hurley AC DSC (Ret'd), Governor General of NSW; Ms Tina Brand; Ms Linda Hurley
Sydney Modern event, February 2016
2/7
Left to right:
Mr David Gonski AC, President of the Art Gallery of NSW Board of Trustees with former Trust presidents Mr Michael Gleeson-White AO and Mr Steven Lowy AM
Sydney Modern event, February 2016
3/7
Left to right:
Mr Matt Moran; Ms Gretel Packer; Ms Roslyn Packer AO
Sydney Modern event, February 2016
4/7
Left to right:
Mr Ron Ramsey; Ms Lucy Turnbull AO; Mr Wayne Tunnicliffe
Sydney Modern event, February 2016
5/7
Left to right:
Mr Geoff Ainsworth AM; Ms Clare Ainsworth Herschell
Sydney Modern event, February 2016
6/7
Left to right:
Mr Paul Clitheroe AM; Mr John Richardson
Sydney Modern event, February 2016
7/7
Left to right:
Ms Kazuyo Sejima; Ms Penelope Seidler AM
Sydney Modern event, 2015
Click on one of the small images to view the slideshow
Being associated with Sydney Modern is one of the greatest privileges because it represents a defining moment, for the Gallery and the city.
—
Dr Mark Nelson
Chair, Capital Campaign Committee
These donations are a wonderful investment in an institution that so successfully connects artists and audiences. It's exciting that our donors are backing the future success of the Gallery with all the cultural and social benefits it will bring to the people of NSW.
—
David Gonski AC
President of the Gallery's Board of Trustees
Contact the campaign team
Tel +61 2 9225 1699
campaign@ag.nsw.gov.au
---
Learn more