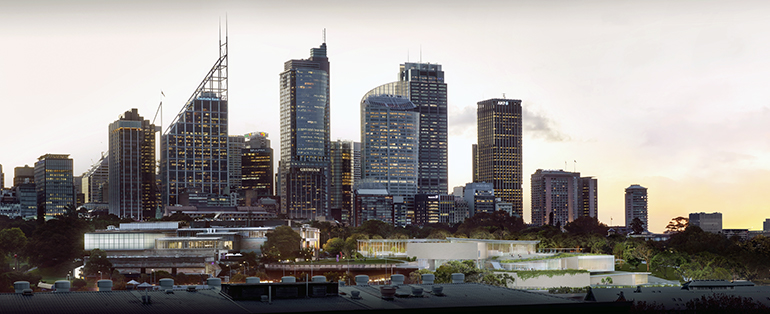 Image of the Sydney Modern Project as produced by Kazuyo Sejima + Ryue Nishizawa / SANAA
Project status
Works commence
Richard Crookes Constructions has commenced construction works on site. Construction is scheduled for completion in 2022 and the Gallery will remain open during this time.
A temporary site compound has been established at the northern end of Lincoln Crescent, Woolloomooloo. The installation of hoarding has started along Lincoln Crescent and will be progressively extended around the site over the coming weeks.
Following the installation of hoarding around the site, a permanent site compound will be established on the northern side of the existing gallery within the project site.
Hours of construction are as follows:
Monday to Friday – 7am to 6pm
Saturday – 8am to 3:30pm
Sunday and public holidays – no work.
On some occasions, out of hours works may need to take place. Separate notifications will be provided to impacted stakeholders in advance of these works.
Community information session
The community is invited to attend an information session to meet the project team and find out more about construction. This is an informal event and attendees can drop-in at any time. There will be no formal presentations.
Details of the event are as follows:
Date: Wednesday 27 November 2019
Time: 4pm to 7pm
Location: Art Gallery of

NSW
Pedestrian access changes
During construction, there will be changed pedestrian access arrangements around the project site and an increase in vehicles using Art Gallery Road and Lincoln Crescent to enter and exit the site. We ask that you please take care when near the project site and crossing roads.
Some pedestrian paths in and around the project site will be temporarily closed during construction to ensure public safety. The main change will be for pedestrians using the access path along the landbridge to/from Woolloomooloo, and recreational users of the landbridge and oil tank land. Vehicle access along Art Gallery Road is not affected.
See map below for the location of the project site, temporary site compound and pedestrian access routes. During construction, pedestrian access routes may temporarily change due to construction activities. Impacted areas will be signposted to advise of alternate routes.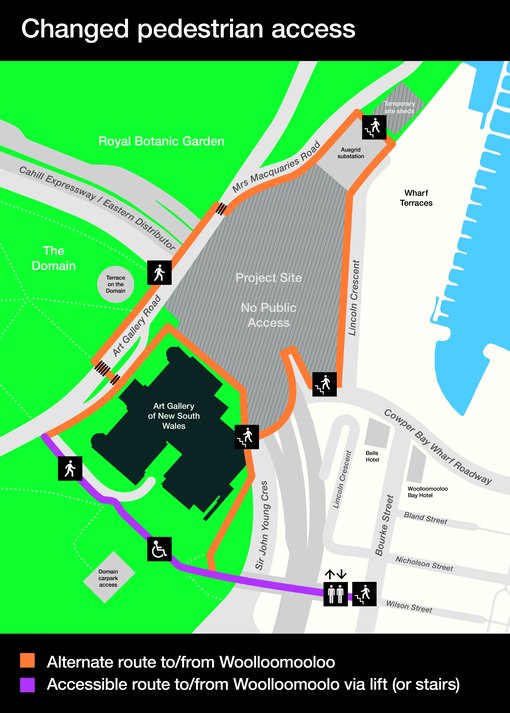 Download map of changed pedestrian access routes (PDF 4.9 MB)
For project enquiries
Tel 1800 717 705
smp@richardcrookes.com.au
For any emergencies on-site
Anthony Di Cecco
Tel 0437 677 813