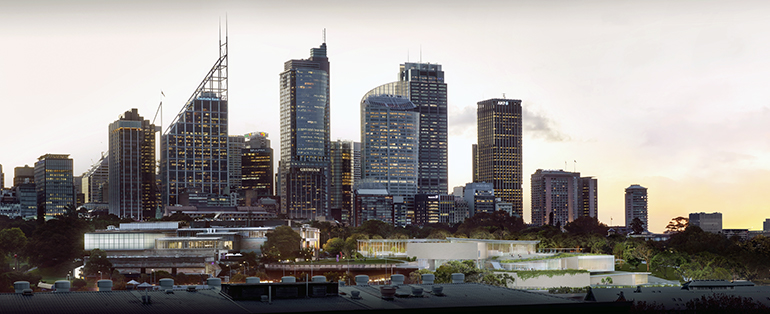 Image of the Sydney Modern Project as produced by Kazuyo Sejima + Ryue Nishizawa / SANAA
Community consultation and development application
Gallery expansion receives planning green light
The State Significant Development Application for the expansion of the Art Gallery of New South Wales was approved by the NSW Minister for Planning in November 2018. To view the approval, including Conditions of Consent, visit the NSW Department of Planning and Environment page here
Planning approval paves the way for construction of the Gallery's new building to commence in 2019, with completion expected in 2021 to mark the Gallery's 150th anniversary.
As part of the planning approval, the final design of the new building was unveiled. Designed by Pritzker Prize-winning architects, SANAA, the new building will close to double current exhibition space, enabling the Gallery to show more of its outstanding art collection and host the best exhibitions from around the world, increasing visitation to more than two million people a year.
The Gallery submitted its Development Application to the NSW Department of Planning and Environment in November 2017, and following extensive community consultation, lodged a Response to Submissions Report in April 2018, including an Addendum to the Report in August 2018. The Gallery considered all feedback received and made a number of changes to the project in response to submissions from both the public and government agencies. All information related to the Development Application is available on the Department's website at: www.majorprojects.planning.nsw.gov.au
Community consultation continues to be an important part of the expansion and transformation of the Gallery into one of the world's great art museum experiences. Since May 2015, the Gallery, together with SANAA, has been evolving and refining the design of the new building through consultation and engagement with a broad range of stakeholders, including the Gallery community, project stakeholders such as the Royal Botanic Gardens and Domain Trust and Roads and Maritime Services, neighbours, Indigenous communities, regional partners, art and community groups, artists and visitors to the Gallery.
We would like to continue to hear your views about the project.
There will be further opportunities to be part of the conversation as the expansion and transformation of the Gallery progresses. Sign up to our e-news to receive regular updates about the project and activities: see Find out more