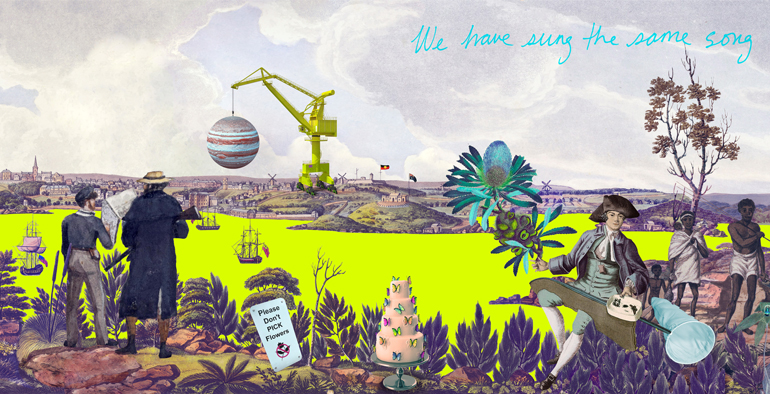 Joan Ross We have sung the same song for millions of years 2019-20 (detail), hand-painted digital vinyl print © Joan Ross
Art commission for Sydney Modern Project site hoarding
Joan Ross: We have sung the same song for millions of years
Construction of the Sydney Modern Project is creating a new home for art through the hoarding surrounding the site.
The Gallery commissioned Sydney artist Joan Ross to create a site-specific work that has now been installed on the hoarding along Art Gallery Road.
We have sung the same song for millions of years is a 20-metre-long hand-painted digital vinyl print that pays homage to the longevity of the planet while recognising our human connections to place.
This imaginative view of Sydney Harbour is not topographically accurate but quotes drawings and prints of the harbour made by colonial-era artist Joseph Lycett, one of which is in the Gallery collection.
The land and its animals speak to us in English and Indigenous language. The birds – carriers of knowledge – represent both the endurance of Indigenous culture and the ancient history of Australia's endemic plants and animals.
Indigenous figures share the space with settlers in Regency dress, including a naturalist, signifying the Enlightenment urge to collect, classify and name nature.
The 'hi-vis' fluorescent yellow colour – hand-painted on the print – symbolises authority and control and is a metaphor for colonisation. Elements from contemporary life, including the party decorations and cakes, construction cranes and warning signs, inject an element of sardonic humour into an epic tale of longevity and change.