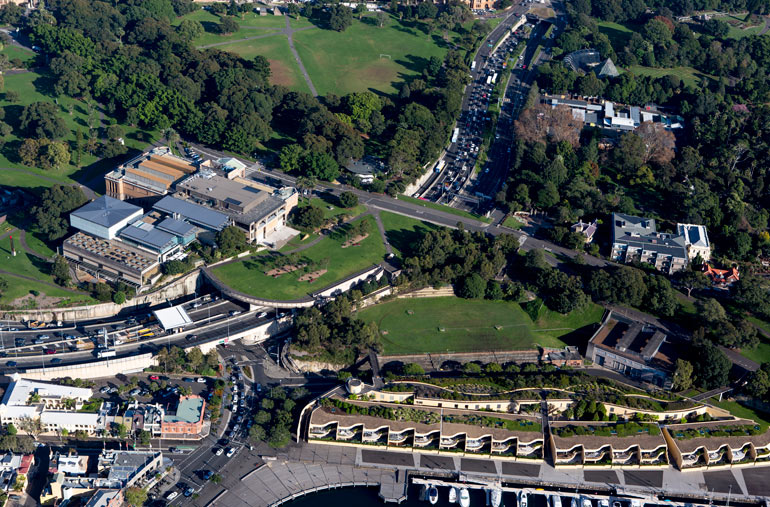 Aerial view of the Gallery 2015
About the project
When completed in 2021 for the 150th anniversary of the Art Gallery of New South Wales founding, the expanded Gallery will feature new spaces and opportunities for future generations of local, national and international artists and visitors.
At its very core, the expansion of the Art Gallery of New South Wales will provide more space for the display and enjoyment of art. It will build on our long history of innovation and leadership, with exceptional indoor and outdoor spaces in one of the most beautiful cultural precincts enabling us to embrace a variety of curatorial ideas and learning practices.
Significant increase in exhibition space to share more of the extraordinary

NSW

state art collection with the public
The nation's most prominent display of Aboriginal and Torres Strait Islander art and culture that is front and centre in the new building as well as multimedia access to the artists and their stories
State-of-the-art spaces to enable

NSW

to host more of Australia's and the world's best and most ambitious art exhibitions
More space for the display of Australian art and art from the Asia-Pacific region
Increased space to display modern and contemporary art – both Australian and international – from the past 50 years
Unique indoor and outdoor spaces for site-specific commissions and acquisitions by local, national and international artists, including adaptive re-use of disused naval oil tanks which will provide a new contemporary art space unlike any other in Australia
The Art Gallery of NSW expansion will also:
Increase visitation to over 2 million per year, delivering economic and cultural dividends to Sydney,

NSW

and Australia
Double the number of guided school student visits to over 200,000 per year, providing new dedicated spaces and facilities for learning and participation, with innovative and interactive programs
Enhance digital capabilities to expand engagement with all our communities, including artists, cultural organisations, schools, members and visitors, both at the Gallery and remotely
Create new opportunities for the Gallery's membership bodies
Improve access for pedestrians, strengthening connectivity through the precinct with the Royal Botanic Garden, the Domain and Woolloomooloo
Incorporate the latest building and operational technology to allow the Gallery to achieve maximum possible environmental and economic sustainability, including a five-star Green Star rating
Deliver an architectural landmark designed by Pritzker-prize winning architecture and design firm

SANAA

, in the heart of Sydney's cultural precinct
A Gallery for the people of
NSW
As the State's public gallery, the Art Gallery of NSW and its collection belongs to the people of NSW. As such, we continue to strive to provide communities across the state with inclusive, engaging and accessible opportunities to participate and experience the Gallery's collections, temporary exhibitions, programs and facilities, whether physically or remotely. The Gallery has a long history of strong support and partnership with other galleries, communities, educational organisations and audiences across NSW. The Sydney Modern Project will help further strengthen, support and grow this engagement.
In this city we need a stadium that celebrates culture and thought.
— Ben Quilty, artist and Trustee
The expanded Gallery will be what Sydney, particularly Western Sydney, and NSW deserve – a visionary art museum of global attraction, enhanced capacity and economic impact. Embracing the future, Sydney Modern will deliver enriched cultural, educative and community benefit.
— John Kirkman, executive director, Information and Cultural Exchange (ICE)
The new museum concept is magical. It is light, expansive and it breathes. It invites an audience to come through and not only look at art, but also its context and location.
— Lindy Lee, artist
The Sydney Modern Project is an exciting and absolutely necessary addition to the cultural offering of NSW. The Gallery provides invaluable support to artists, research, education, and public engagement. At present the Gallery is doing wonderful work, but could achieve so much more given additional support and refreshed infrastructure.
— Alexie Glass-Kantor, executive director, Artspace
This is an exciting and much-needed project that will help boost Australia's reputation as a global arts and cultural leader.
— Margy Osmond, CEO, Tourism & Transport Forum