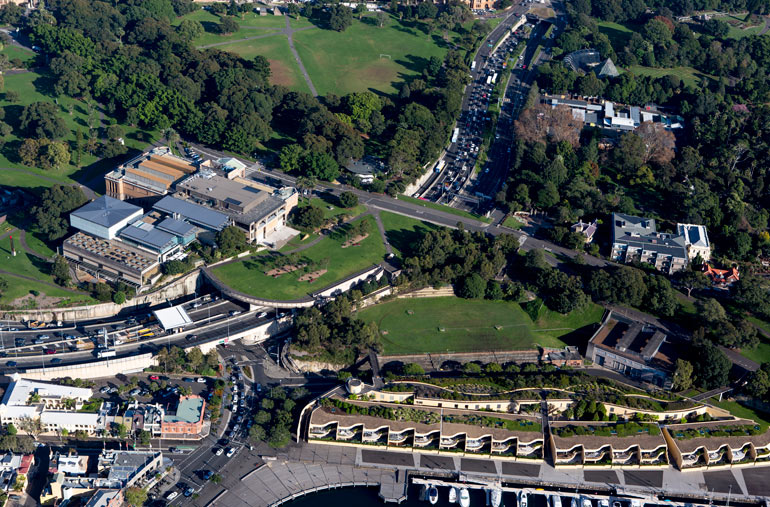 Aerial view of the Gallery 2015
About the project
When completed in time for the 150th anniversary of the Art Gallery of New South Wales in 2021, the expansion of the Gallery will feature new spaces and facilities for future generations of local, national and international artists and visitors.
Landmark building
Designed by architectural firm SANAA, the new building will create new indoor and outdoor spaces and significantly increase the Gallery's capacity to share art with the many audiences it serves by day and by night.
Creative precinct
Collectively the new and existing buildings will create an expanded Gallery campus that will be the heart of a new unified cultural precinct, linking the Gallery with the Royal Botanic Gardens, Sydney Harbour, Sydney Opera House, State Library of NSW, CBD and Woolloomooloo, while improving connectivity and wayfinding and supporting a variety of precinct events and activities.
Entrance plaza
An outdoor entrance plaza will provide Gallery visitors with a unique arrival experience before entering the new building. It will serve as a meeting place for the expanded Gallery, allowing visitors and school groups to orient themselves, as well as being accessible 24/7 to anyone walking through the site. It will link the existing and new Gallery buildings, and feature art commissions from local, national and international artists.
Display of art
The expanded Gallery campus will be flexible and adaptable to a variety of curatorial ideas, and enable the Gallery to embrace new and emerging art forms.
Increased space for sharing the Gallery's collection with the public
The nation's most innovative display of Aboriginal and Torres Strait Islander art and culture, including multimedia access to the artists and their stories
More space for the display of Australian art and art from the Asia Pacific region
State-of-the-art spaces to enable

NSW

to host more of Australia's and the world's best art exhibitions
A comprehensive display of modern and contemporary art – both Australian and international – from the past 50 years
Specialised spaces for works on paper, photographs and the moving image
Lifelong learning and engagement
Dedicated spaces and facilities for learning with enhanced digital capabilities to expand online engagement with regional communities and visitors both at the Gallery and off-site.
A sustainable art museum
The incorporation of the latest building and operational technology to allow the Gallery to achieve maximum possible environmental and economic sustainability, including a five-star Green Star rating.
In this city we need a stadium that celebrates culture and thought.
— Ben Quilty, artist and Trustee
The expansion opens a world of wonderful possibilities and potential for the Gallery, for the people of NSW, and for our national and international identity, guests and artists. I look forward to being mesmerised by the art, the facilities, the events, and the growth of our unique cultural expression. This is such an exciting forward-thinking initiative and I can't wait to see it come to life.
— John Fink, creative director, Fink Group
The new museum concept is magical. It is light, expansive and it breathes. It invites an audience to come through and not only look at art, but also its context and location.
— Lindy Lee, artist
The Sydney Modern Project is an exciting and absolutely necessary addition to the cultural offering of NSW. The Gallery provides invaluable support to artists, research, education, and public engagement. At present the Gallery is doing wonderful work, but could achieve so much more given additional support and refreshed infrastructure.
— Alexie Glass-Kantor, executive director, Artspace
This is an exciting and much-needed project that will help boost Australia's reputation as a global arts and cultural leader.
— Margy Osmond, CEO, Tourism & Transport Forum