The Art Gallery of New South Wales' transformation is reflected not only in our physical expansion, but in how we consider, present and interpret art.
As we deliver a new art journey for visitors across our expanded art museum, we are working with major Australian and international artists on a range of new site-specific art commissions. The new building provides new ways for visitors to experience art within a unique setting, melding museum, art garden and harbour.
Opening program unveiled 
The Art Gallery unveiled its new exhibitions, collection displays and inaugural Tank commission as part of the Sydney Modern Project. Featuring works by more than 900 Australian and international artists, the program is free for visitors to experience in our transformed art museum.

Read the media release
Nine extraordinary artist commissions
From artworks that share Indigenous knowledge to fantastical bronze figures of a super-human scale, the Art Gallery has commissioned nine leading Australian and international artists to create major new works for our transformed art museum campus.
Art commission: construction site hoarding 2021
Kaylene Whiskey: Ananyi – travelling
For the second Sydney Modern Project hoarding commission in 2021, the Art Gallery worked with Yankunytjatjara artist Kaylene Whiskey. Kaylene's 20-metre-long public artwork Ananyi – travelling, spanned several panels of the construction site hoarding on Art Gallery Road.
The work featured Kaylene, along with her friends and heroes Cathy Freeman, Dolly Parton, Cher, David Bowie, Princess Diana and Wonder Woman like you've never seen them before – taking a magical trip from Kaylene's home in Indulkana on the APY Lands in South Australia to Sydney.
Kaylene's work Dolly visits Indulkana 2020, which is in the Art Gallery's permanent collection, is featured in the Art Gallery's collaboration with the Sydney Opera House, Badu Gili: Wonder Women.
In this video, hear from Kaylene and Coby Edgar, the Art Gallery's curator of Aboriginal and Torres Strait Islander art, about this love letter to travel and the places we hold dear.
Artist statement 
I've been thinking a lot about travelling and all the different journeys that we take – especially at the moment while none of us can really travel. Like when me and other artists travel together in our art centre Toyota and on planes for special exhibitions, or the travel that happens in Anangu tjukurpa (ancestral stories) like the huge journey by the Kungkarangkalpa (Seven Sisters) trying to get away from the cheeky wati (man) Nyirru. There's also the type of travel where if you listen to your favourite music or watch your favourite shows you can feel like you're escaping to somewhere else or that somebody special (like Dolly Parton!!!) is coming to visit you. 
So this artwork is all about all those different types of travel. It shows a special trip for me and all my friends and heroes starting out from my home in Indulkana on the APY Lands and ending up in Sydney – both of these places are important to me.  
It all starts when a young malu (kangaroo) finds a space rocket at the Iwantja creek, just past the football oval there. The rocket belongs to Catwoman, who wants to take the malu all the way to Sydney to see Kaylene's exhibition there! They fly over some beautiful Anangu country on their way and see malpa tjuta (all their friends): David Bowie throwing the boomerangs, Tina Turner playing 'Proud Mary', Princess Diana carrying putipulawa (flowers), Cher with her pet pussycat, kungka wala winki (really fast lady!) Cathy Freeman, and more! 
They arrive in Sydney and then it's starting to get dark. Now it's night time in Sydney, but the party is just getting started! We're all getting dressed up to go out dancing and have some fun! What an amazing trip! 
Wherever you travel, please stay safe and have fun with your friends and family.   
Love,  
Kaylene W 
Art commission: construction site hoarding 2020
Joan Ross: We have sung the same song for millions of years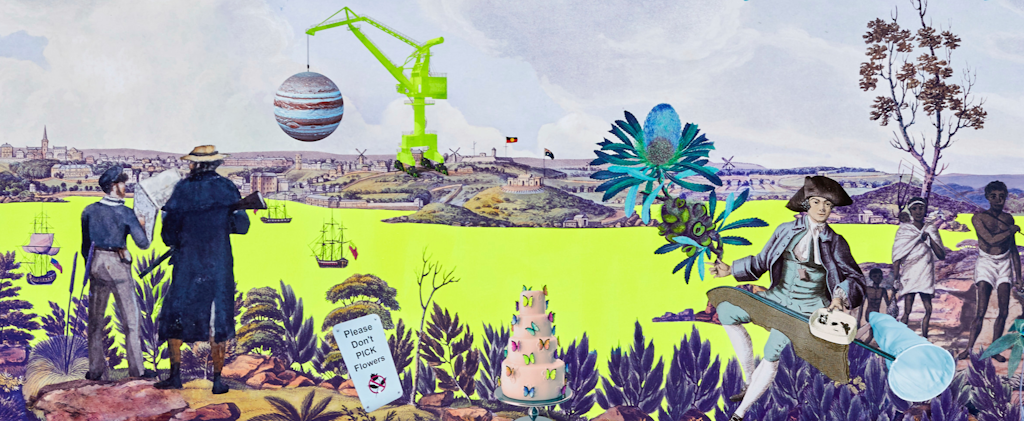 Construction of the Sydney Modern Project is creating a new home for art through the hoarding surrounding the site.
In 2020, the Art Gallery commissioned Sydney artist Joan Ross to create a site-specific work that was installed on the hoarding along Art Gallery Road.
We have sung the same song for millions of years is a 20-metre-long hand-painted digital vinyl print that pays homage to the longevity of the planet while recognising our human connections to place.
This imaginative view of Sydney Harbour is not topographically accurate but quotes drawings and prints of the harbour made by colonial-era artist Joseph Lycett, one of which is in the Art Gallery collection.
The land and its animals speak to us in English and Indigenous language. The birds – carriers of knowledge – represent both the endurance of Indigenous culture and the ancient history of Australia's endemic plants and animals.
Indigenous figures share the space with settlers in Regency dress, including a naturalist, signifying the Enlightenment urge to collect, classify and name nature.
The 'hi-vis' fluorescent yellow colour – hand-painted on the print – symbolises authority and control and is a metaphor for colonisation. Elements from contemporary life, including the party decorations and cakes, construction cranes and warning signs, inject an element of sardonic humour into an epic tale of longevity and change.