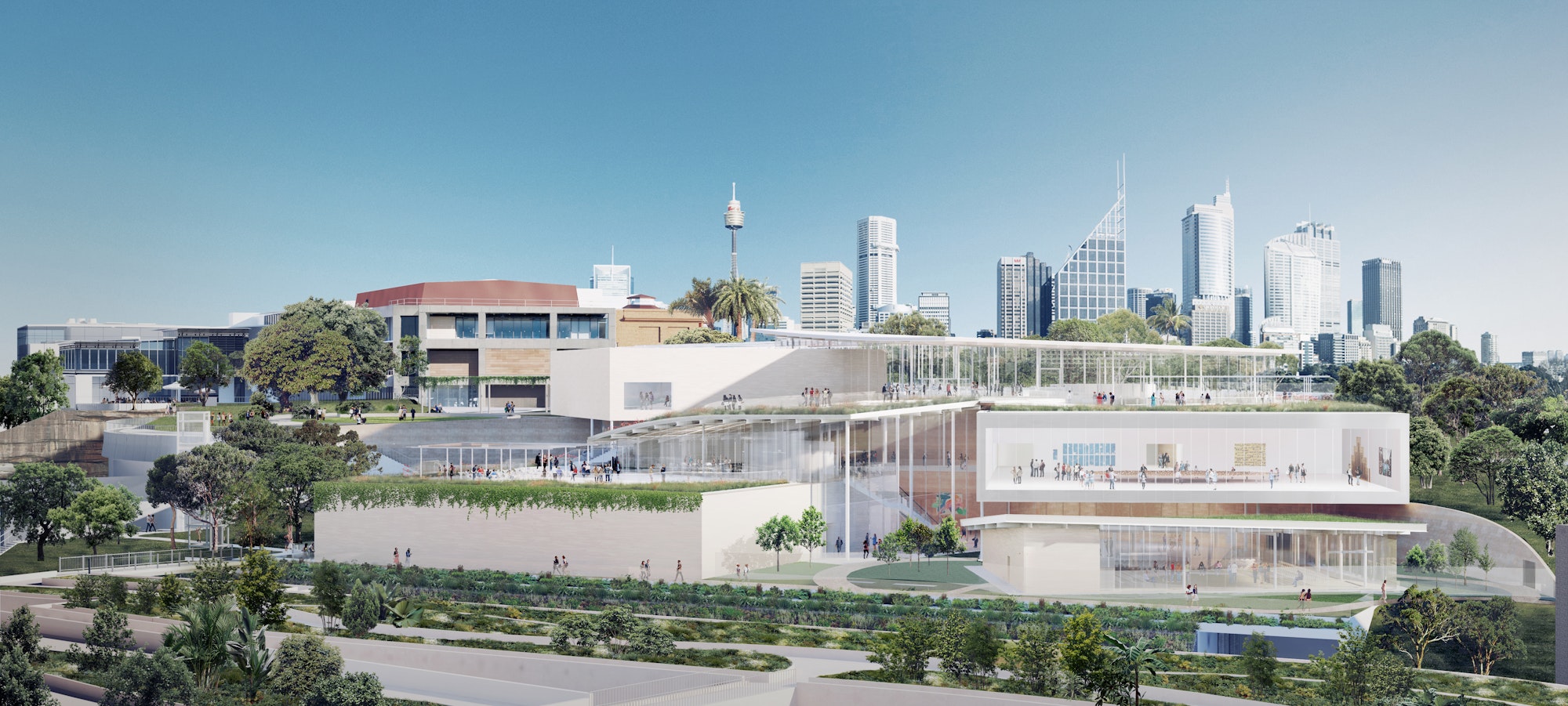 The Art Gallery of New South Wales' transformation – the Sydney Modern Project – will create a new art museum experience across two buildings connected by a public art garden. The project involves the construction of a new building, revitalisation of our existing building, and significant landscape works.
The new building, designed by SANAA, will almost double current exhibition space with seamless connections between indoor and outdoor spaces, delivering rich and diverse experiences for all visitors.
The revitalisation of our existing building, designed by Tonkin Zulaikha Greer Architects, will restore original architectural features of the building, provide more space for art and scholarship, and enhance the visitor experience and sustainable operations.
The project will create an exceptional experience of art, architecture and landscape in one of the world's most beautiful urban locations.  Kathryn Gustafson, Seattle firm Gustafson Guthrie Nichol and Australian landscape architects McGregor Coxall are working together to design feature landscape elements as well as an overall campus landscape strategy that draws upon endemic ecological communities that give Sydney Harbour its rich character.
The $344 million project is the largest government and philanthropic arts partnership of its kind to be achieved to date in the arts in Australia. Together with the NSW Government's $244 million in funding, the Gallery has attracted unprecedented philanthropic support, exceeding its fundraising target of $100 million.
Infrastructure NSW is managing the delivery of the project on behalf of the NSW Government and Gallery. Richard Crookes Constructions is the contractor for the new building. Architectus is executive architect. The Gallery remains open during construction, which is scheduled for completion in late 2022.
Project benefits

A new building providing close to double the current building's exhibition space to enable the Gallery to show more of the State's outstanding art collection and attract major national and international exhibitions to Sydney

Revitalisation of the existing building to restore original architectural features, provide more space for art and scholarship, and enhance the visitor experience and sustainable operations

A new prominent destination showcasing Aboriginal and Torres Strait Islander art and culture

Increased visitation to at least 2 million per year, including capacity to significantly increase student and teacher visits

Dedicated spaces and facilities for learning and participation, with innovative and interactive programs

The first public art museum in the nation to achieve the highest environmental standard for design with a 6-star Green Star design rating from the Green Building Council of Australia

Architectural and cultural landmark where people, art and ideas come together in the heart of Sydney's eastern cultural precinct

A design that maximises and enhances open space across the site with significant landscape works, courtyards, green roofs and three landscaped accessible roof terraces

Improved 24/7 public access, landscaping and civic amenity for all visitors and an improved universal pathway with two new lifts to better connect Woolloomooloo with the CBD

Wider economic benefit to the NSW economy of more than $1 billion over the next 25 years, including the creation of 242 full-time jobs

Enhanced digital capabilities to expand engagement with schools, communities, artists and visitors

Exciting new opportunities for the Gallery's staff, volunteers and membership bodies

Key milestones