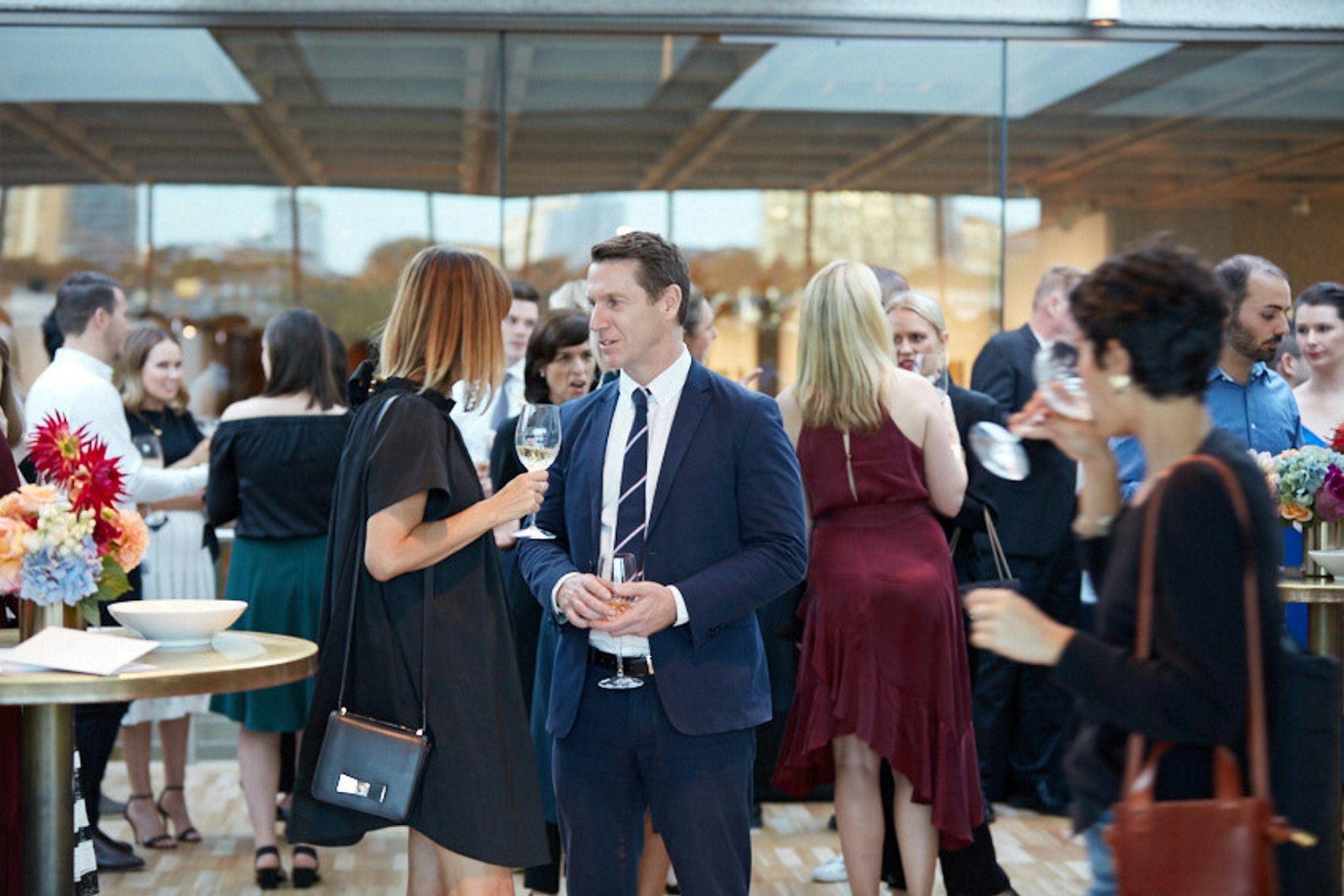 Our corporate membership program provides you with exclusive exhibition viewings and corporate hospitality opportunities at the Art Gallery. Contact us to find out more about membership types, prices and the annual program.
In the endless panorama of corporate events, nights at the Art Gallery are something entirely different – memorable occasions which enchant the senses and elevate the spirit in one of the most elegant yet welcoming venues in Sydney.
The opportunity to share this experience with clients is something no amount of everyday business contact can match.
Exclusive exhibition viewings

During the year, corporate members and their guests are invited to enjoy out-of-hours viewings of our  exhibitions, hosted by the Art Gallery. Some exhibitions will have more than one viewing.

All you need to do is choose a date that suits you, invite your guests and send us their names. We'll do the rest – planning, organisation, entertainment and catering.

Every corporate member also has a personal account manager at the Gallery to ensure your experience is as seamless and stress-free as possible.

How your business can benefit

Corporate membership can help your business to:

reward key clients

develop business and networking opportunities

celebrate achievements with valued clients, staff and partners

introduce new prospects to your business in the exclusive forum of the Gallery

enhance perception of your business as creative, innovative and supportive of the arts

Current members

Allen Jack + Cottier
Allens
Arab Bank Australia
Architectus
ARUP Pty Ltd
AXA XL
Baker McKenzie
Bing Technologies Pty Ltd
BDO
Clifford Chance
Cox Architecture
Cundall
Directioneering Pty Ltd
Energy Industries Superannuation Scheme Pty Limited
Eric & Tonia Gale
Essence Project Management Pty Ltd
ExpertsDirect
FM Global
Gilmore Interior Design
Goldrick Farrell Mullan Solicitors
Group GSA Pty Ltd
Holman Webb Lawyers
IMB Ltd
Jackson Teece Architecture
Liberty Specialty Markets
macpeople
McGrathNicol
Mosman Art Gallery & Cultural Centre
Mundipharma Pty Ltd
Nanda\Hobbs Pty Ltd
NBRS ARCHITECTURE
Precision Group
Sparke Helmore Lawyers
Stantec
Steensen Varming
Surface Design
Taylor Thomson Whitting
Teece Hodgson & Ward
Woven Image

Allens Arthur Robinson has a longstanding commitment to supporting arts in the community. Our corporate membership is a small but significant part of that commitment. Membership has also helped us to build relationships with key clients who have consistently enjoyed the high quality events that the Art Gallery Society runs. We've found their team both professional and most importantly focused on ensuring that our needs, and those of our clients, are met.

— Ian McGill
Senior Executive Partner, Client Services, Allens Arthur Robinson (now Allens)