Research library and archive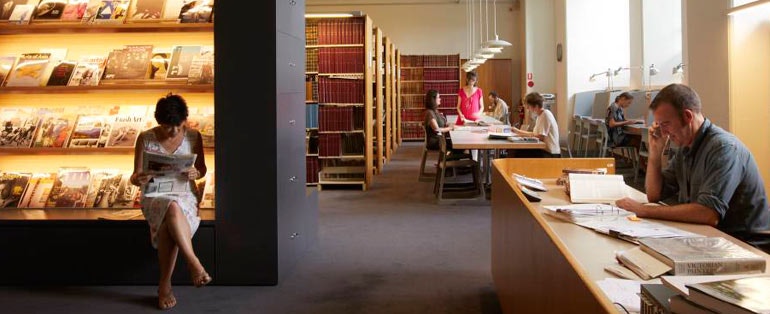 Support library and archive programs, research and projects by joining the Library Benefactors
Our research library and archive has one of the most outstanding collections of fine art publications, rare books, manuscripts and artists' files in Australia. A resource for Gallery staff, it is also used extensively by art scholars, curators, artists, dealers and the general public.
The archive's resources include the papers of many important artists such as Margaret Preston, John Passmore, Grace Crowley, Tony Tuckson and Max Dupain. The operations of historically important dealers such as the Macquarie Galleries are also on record in their preserved papers.
The present collection is a testament to the vision of the early Gallery trustees who recognised the importance of collating information as a legacy for future generations. We now face the challenge of sustaining their vision. Continuity and growth are essential if the collection is to continue to document the evolution of art in Australia and the region.
The Library Benefactors help us with this valuable work. Ongoing projects into which funds are directed include the purchase of catalogues, artists' books and other rare volumes, the microfilming of fragile documents and digitising of archival film, a program of archival exhibitions with published guides, and the compilation and publication of a complete index of exhibitions held at the Gallery since the 1870s.
The Library Benefactors organise two or three events each year, including visits to private collections, lectures and guided tours to exhibitions to which anyone interested is welcome to attend.
To join and pay by cheque or EFT payment