Curatorial support
Support the curatorial support fund by joining the Women's Art Group
Established in 2007, the curatorial support fund directs funding to non-acquisition projects such as study trips for curators, expansion of the library's collection of artists' books, the restoration of a rare run of catalogues and the digitisation of artists' archives.
The Women's Art Group (WAGs), currently under the stewardship of Helen McKenzie, has a program of art-based events, held both within and outside the Gallery, for the people supporting this area.
Give your support
Contact the Foundation for more information – or join and pay now, either online or download a form (right).
The Foundation is the Gallery's major acquisition fund and the umbrella organisation for all Gallery benefactor groups and funds. Read more
Contact the Foundation
Jane Wynter
Tel 02 9225 1818
Fiona Barbouttis
Tel 02 9225 1684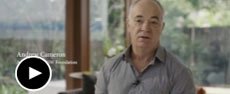 Experience the art of giving