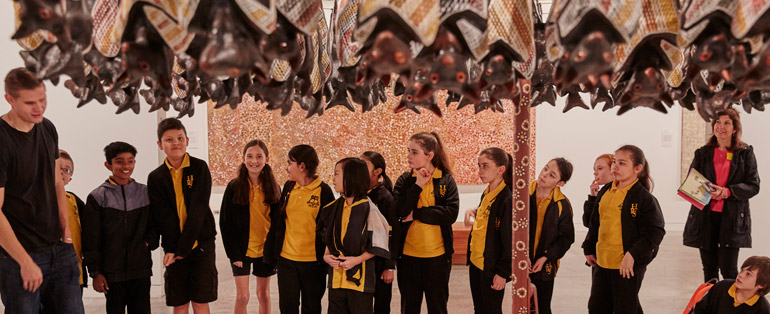 Students from Hilltop Road Public School, Merrylands visit the Art Gallery of NSW for Art Pathways
Grants
The Art Gallery of NSW delivers a vast range of important projects and resources that support our art collection and the community that engages with it across all ages, cultures, interests and abilities.
Many of these projects begin as donor initiatives and develop and grow through larger grants from philanthropic trusts and foundations or government agencies.
We are very appreciative of the grants we received in 2017.
Philanthropic grants
The Crown Resorts Foundation and Packer Family Foundation
Visionary grants supported curatorial and audience development as well as Art Pathways, an education program engaging students and teachers from Western Sydney with the Gallery in a life-long connection with art.
The Balnaves Foundation
Supported the development of the Balnaves Foundation Australian Sculpture Archive and the ongoing Edmund Capon Fellowship (with support of several distinguished donors) for professional exchanges with Asia.
Campbell Edwards Trust
Provides ongoing support of the Djamu Indigenous art program, which introduces Indigenous students in Years 5-12 to vocational pathways into the arts through engagement with Gallery staff, collections and resources.
Copyright Agency Cultural Fund
Allowed the Gallery to develop new digital resources for Home: Aboriginal art from NSW, a project, stimulating engagement between artists, schools and communities with local Aboriginal art practices throughout NSW.
Gordon Darling Foundation
A travel grant enabled Dr Paula Dredge, head of paintings conservation at the Gallery, to complete a residency at Sidney Nolan's studio in Wales, UK, in the centenary year of the artist's birth.
The Keir Foundation
Supported artist Alex Martinis Roe to develop work for The National 2017: new Australian art at the Gallery and lead a series of public programs.
Nelson Meers Foundation
Supported the development of a new digital platform for The National 2017: new Australian art to improve access options via audio descriptions, transcripts, Auslan interpretation and captioned video. This platform unified resources for the project partnership with Museum of Contemporary Art Australia and Carriageworks.
The Pohl Foundation
Enabled the Gallery's conservators to undertake major conservation of Julian Ashton's iconic 1889 painting The prospector, including the creation of a much-needed new frame.
Government grants
Australia Council for the Arts
The Gallery's Amanda Peacock, Aboriginal and Torres Strait Islander art programs producer, and Shari Lett, archivist, Aboriginal and Torres Strait Islander collections secured a career development grant to present the Gallery's work at the World Indigenous Peoples Conference on Education in Canada, followed by research visits to cultural centres in the region.
City of Sydney Community Services Grant
This grant will enable the Gallery to deliver RAW, a two-year creative digital skills development project for disengaged youth from Woolloomooloo area suburbs in partnership with Artspace and Save the Children and seed local community engagement.
Liveable Communities Grant (
NSW

Family and Community Services)

In partnership with UTS this grant enabled the Gallery to develop the expansion of its popular Art and Dementia program for off-site delivery to people constrained by location or mobility.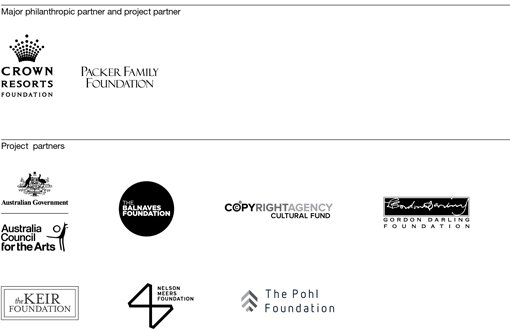 The Gallery's grants manager is available to explore current Gallery projects that may align with the interests of your foundation or trust.
Ivana Jirásek
Tel 02 9225 1734
ivana.jirasek@ag.nsw.gov.au