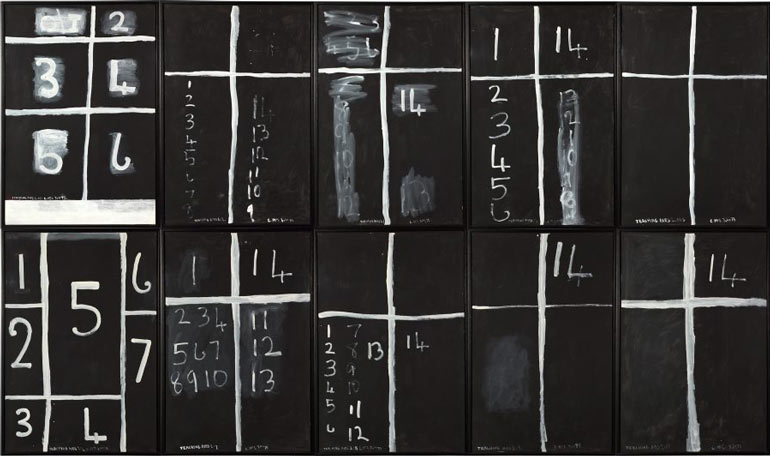 Colin McCahon Teaching aids 2 (July) 1975
Friends of New Zealand Art
Support the New Zealand art acquisition fund by joining the Friends of New Zealand Art
In 2014 the Art Gallery of NSW Foundation acquired Colin McCahon's Teaching aids 2 (July) 1975 – the first work by this great New Zealand painter to enter the Gallery's collection.
Friends of New Zealand Art (FoNZA) builds on that commitment. This new group of supporters of the Art Gallery of NSW is dedicated to developing a New Zealand collection at the Gallery and strengthening ties between our countries and their art.
We welcome new members
As a Friend of New Zealand Art, you will be contributing directly to the growth of the New Zealand art collection at the Gallery.
You will also be offered a program of exclusive FoNZA events each year, usually in Sydney and timed to coincide with the Biennale of Sydney in March and Sydney's art fair week in September. In addition you will be invited to four Foundation events at the Art Gallery of NSW each year. And we'll keep you updated about the growth of the New Zealand collection and its presence in the Gallery.
Levels of support
Membership is AU$2500 per year ($500 membership + $2000 donation tax deductible in Australia)
Levels of FoNZA membership take into account financial donations and gifts and pledged gifts of artworks.
Founding Governors $25,000 and over
Founding Patrons $10,000 – $25,000
Founding Members $2500 – $10,000
Donors contributing to FoNZA in the 2015–16 financial year will be recognised as 'founding' supporters.
FoNZA founding gifts, pledged gifts and donations
To kick-start the New Zealand collection, FoNZA Founding Governors, Patrons and Members have gifted or pledged to gift 15 works by 13 major New Zealand artists to the Gallery: Frances Hodgkins, Len Lye, Gordon Walters, Milan Mrkusich, Don Driver, Tony Fomison, Peter Peryer, Gretchen Albrecht, Richard Killeen, Et al., Shane Cotton, Michael Parekowhai, Kushana Bush
In addition, FoNZA Founding Governors, Patrons and Members have contributed funds to acquire New Zealand artworks.