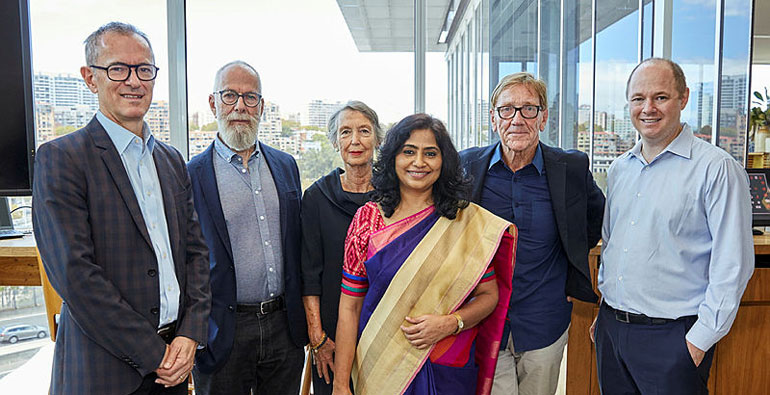 Michael Brand, John Kaldor AO, Joanna Capon OAM, 2017 Edmund Capon Fellowship recipient Vandana Sinha, Edmund Capon AM, OBE, Hamish Balnaves.
The Edmund Capon Fellowship
The Art Gallery of New South Wales announced the Edmund Capon Fellowship in 2013 to honour Edmund Capon AM OBE for his 33 years of leadership.
The Fellowship has been a major Australian initiative for a strategic staff exchange program between Asian museums and art centres and the Art Gallery of New South Wales. The program builds on the legacy of Edmund, who was the first art gallery director in Australia to cultivate engagement with Asia, promoting Asian art and culture through scholarship, collection and exhibitions.
The long-term objective of the Fellowship is to foster a closer relationship with key museums that will lead to the exchange of ideas, programs, individual works of art and temporary exhibitions between Australia and Asia, including sending exhibitions of Australian art to Asia or other Art Gallery of New South Wales self-generating exhibitions being offered to Asian museums. The Fellowship also aims to offer development opportunities for Gallery staff and position the Gallery as a leading international cultural institution.
The Art Gallery of New South Wales is grateful for the generosity and support from arts philanthropist Neil Balnaves AO who proposed the Fellowship and has provided funding for the program through The Balnaves Foundation since 2013. Additional support has been generously provided by VisAsia (the Australian Institute of Asian Culture and Visual Arts) as well as founding donors including Mr Luca Belgiorno-Nettis AM and Mrs Anita Belgiorno-Nettis AM, Ms Jillian Broadbent AC and Mr Olev Rahn, Mr Andrew Cameron AM and Mrs Cathy Cameron, Mr Edmund Capon AM OBE and Mrs Joanna Capon OAM, Hon Mrs Ashley Dawson-Damer AM, Mr John Kaldor AO and Ms Naomi Milgrom AO, Ms Maureen Kerridge and Mr Keith Kerridge, Mr Anthony Lewis, Dr and Mrs Mark Nelson, Ms Susan and Mr Garry Rothwell and Mrs Penelope Seidler AM. Additional funding was raised through an auction of works donated by artists Bill Henson, Lindy Lee, John Olsen AO OBE, Alex Seton, Tim Storrier AM and Guan Wei.
The Art Gallery of New South Wales is deeply grateful to The Balnaves Foundation for their additional significant contribution of $250,000 to the Edmund Capon Fellowship in 2019. Their increased support, in honour of the life of Edmund Capon, will broaden the curatorial opportunities of Fellowship recipients internationally, beyond Asian art. In Edmund's honour, his wife Joanna Capon will contribute to the selection process of Fellowships applicants, alongside the senior curatorial team of the Art Gallery of New South Wales.
The Fellowship supports one AGNSW-based Fellow and one international Fellow per financial year. Increased support from The Balnaves Foundation in 2019 will support more than two Fellowships annually.
Support the Edmund Capon Fellowship
Support the Edmund Capon Fellowship with a tax-deductible donation by selecting 'Edmund Capon Fellowship (Memorial Fund)' under 'Current fundraising campaign/s' using the online donation form
A donation receipt will be emailed to you.
AGNSW

Fellows

2015 Richard Beresford, senior curator, European art, international art – India
2015 Matt Cox, curator, Asian art – Singapore, Malaysia, Philippines
2016 Lily Yang, head of Asian art conservation – China
2017 Yuki Kawakami, youth programs producer – Singapore, Japan, China
2018 Dr Natalie Seiz, curator, Asian art – Korea, Taiwan, Hong Kong
2019 Melanie Eastburn, senior curator, Asian art – Japan
International Fellows
2014 Dong Li, head of the Exhibition Department, Shaanxi History Museum, China
2015 Pitra Hutomo, Indonesian Visual Art Archive in Yogyakarta, Indonesia
2016 Dr Ana Labrador, assistant director, National Museum of the Philippines, Philippines
2017 Dr Vandana Sinha, director, Centre for Art & Archaeology, American Institute of Indian Studies, India
2019 Dr Lyu Xiao, director, Research Department, Beijing Fine Art Academy, China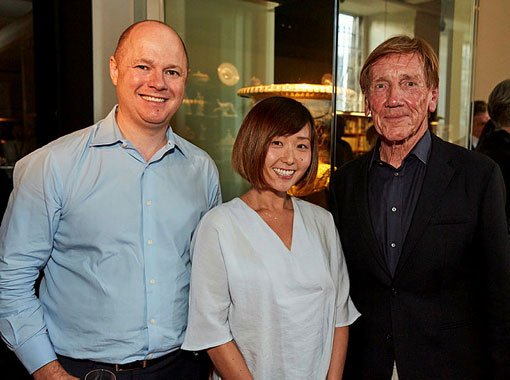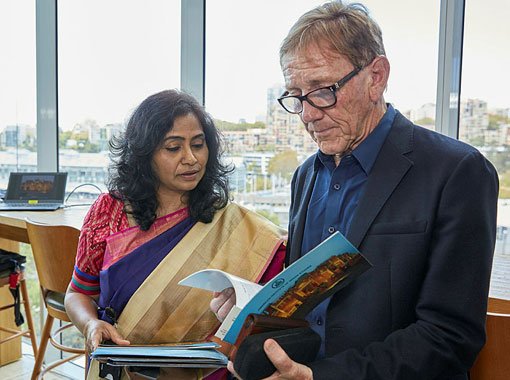 Read more about Edmund Capon